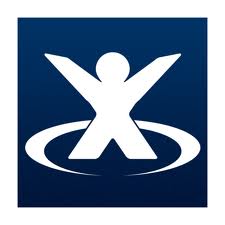 Confluence 5.1.2 is Now Available
---
Atlassian have just released a new version of their flag ship Confluence 5 wiki platform. The new version is Confluence 5.1.2 and with it comes some great new improvements. I quickly upgraded my own personal Confluence 5 installation so I could give some of the new features a test run.
Before upgrading I read through the Whats New Page for Confluence 5.1, http://www.atlassian.com/software/confluence/whats-new/confluence-51
It seems the focus has been on improved collaboration by improving areas such as,
Meeting documents and note keeping. 

Attachment file list improvements including, versioning and instant previews.
Ability to manage product requirements
No more flash in the attachment document previews!
For me personally I think the most useful feature is the improvement to the file / attachment management and previewing. Whilst I try to avoid using Confluence as a file server, the ability to bundle all documentation for a particular project into one area is very useful!
Below I will run through some of the things I noticed after my upgrade to Confluence 5.1.2.
The upgrade process (from 5.0) was easy, simply followed the upgrade instructions as listed at,
One interesting note is the comments about Confluence no longer bundling in a MySQL driver due to a change on licensing for partners since MySQL was bought by Oracle! Another bad decision by Oracle?
Upon first login I was presented with the usual popup introducing me to some of the new features that Confluence 5.1 had to offer.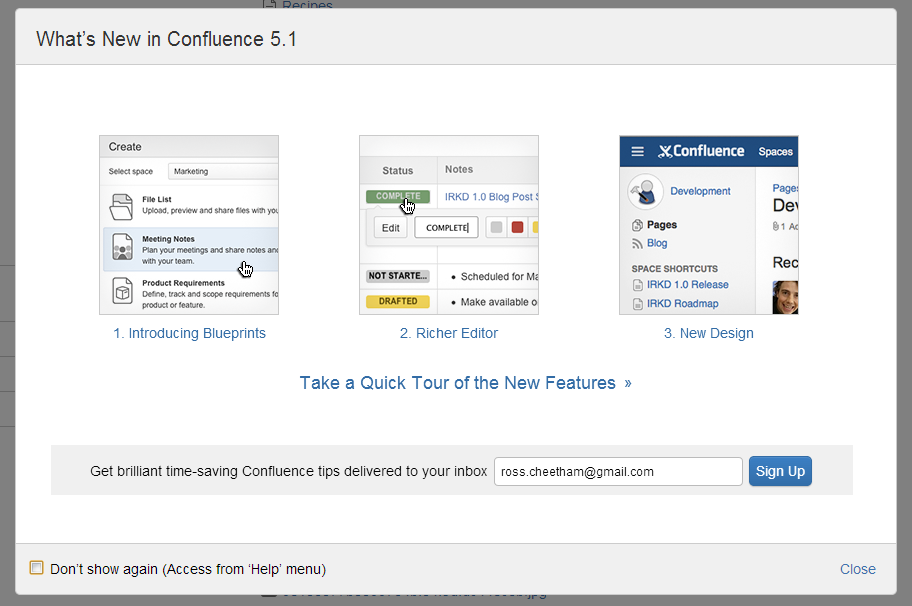 I then gave the new File List feature. Basically the idea is you can create a "page" which is a File List. This File List lets you store files, and has versioning, previews (on certain file types) and a bunch of other useful options.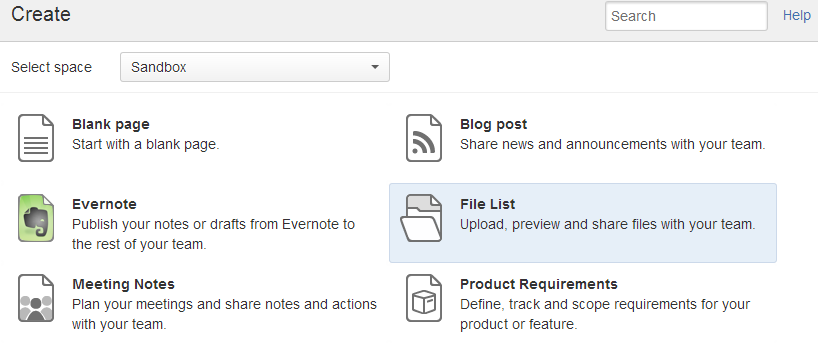 The upload process was simple, I simply dragged the files I wanted uploaded onto the page and away it went!
I uploaded 5 common Office file types, a Word 2013 Document, a Powerpoint 2013 Presentation, an Excel 2013 Spreadsheet, a Visio 2013 Diagram and a PDF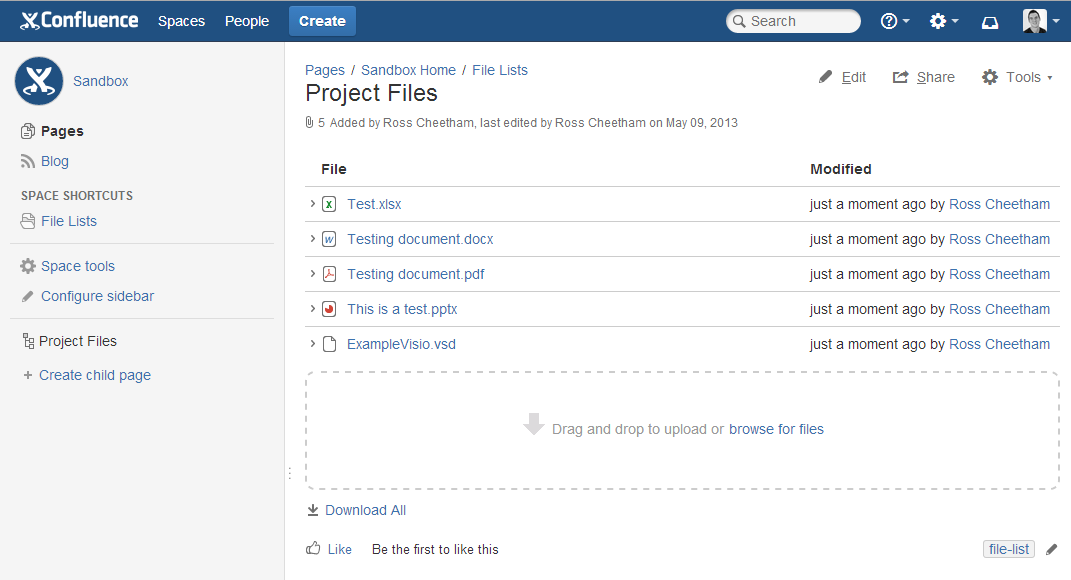 The Preview Feature only worked for the PDF and the PPT. Hopefully in the future there is some further support for some of these common office file types.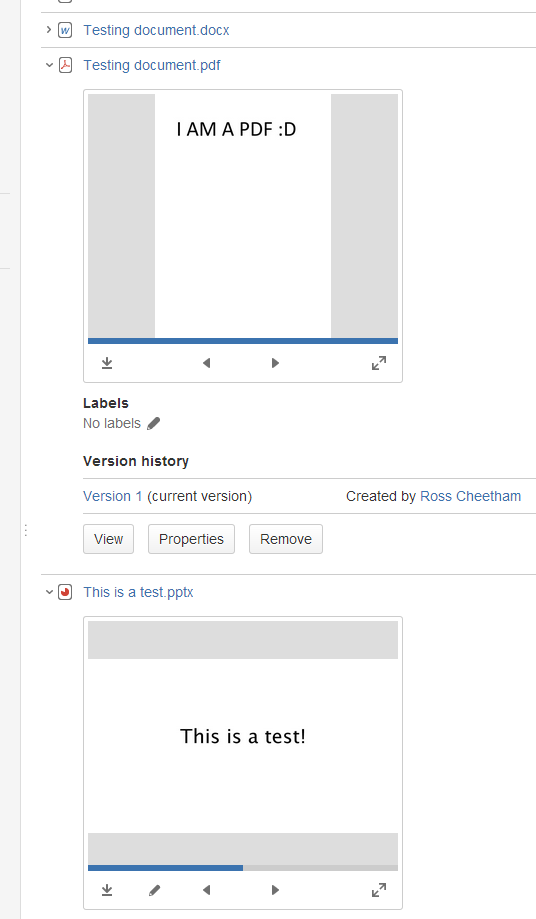 Say you modify one of the files, and want to upload it again, it will not "copy over" the original file, but instead create a new version of the file, and make the original file an older version. This is how versioning works. Great if people want to see what has changed in documents and keep up-to-date. A simple note though, versioning is  NOT a replacement for a proper backup solution.

One cool little idea I liked is the "Edit in Office" button when you are viewing office file types in the list.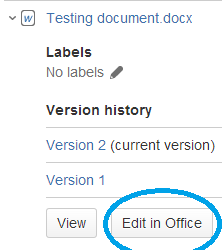 However upon testing out the feature I got the following error,

This was a little disappointing, but browser support is a pain, so I get it! Hopefully in a future release Google Chrome is fully supported. I stopped using Firefox a long time ago when the memory leak problem was at its worst!
The next feature I took a look at was the introduction of the "Meeting Notes" blue print. Essentially this is just a built in template for Confluence. To use this feature simply create a new page, and choose the "Meeting Notes" page type., and hit Create.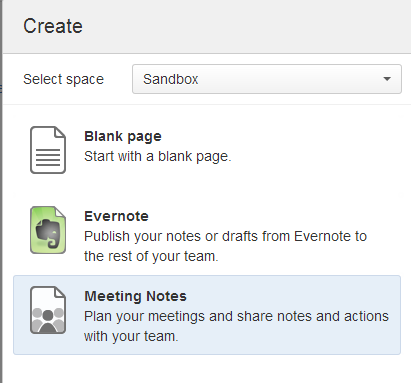 The first time you do this you will be presented with a little advert promoting the 3 main things you can do with the Meeting Notes blue print.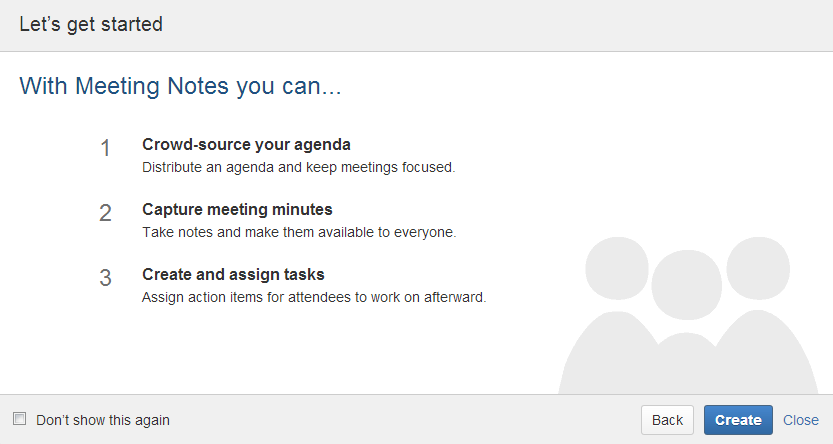 Once the page is created you will be in the page editor with the page title already filled in with the date and the title "Meeting Notes".
In the page content you will see 4 key area's for you to edit and populate with information,
Attendees – You can @mention these people and they will then receive a notification in their notifications area within Confluence. 

Goals – Outline the main objectives of the meeting.
Discussion items – You can breakdown how the time of your meeting will be sent.
Action Items – Any action items before or during the meeting.
You are free to edit the page as you see fit, so you can add content such as powerpoint presentations, images, more information, totally up to you! This is a good idea, its a quick easy way to layout your meeting notes, and keeps the format to a standard.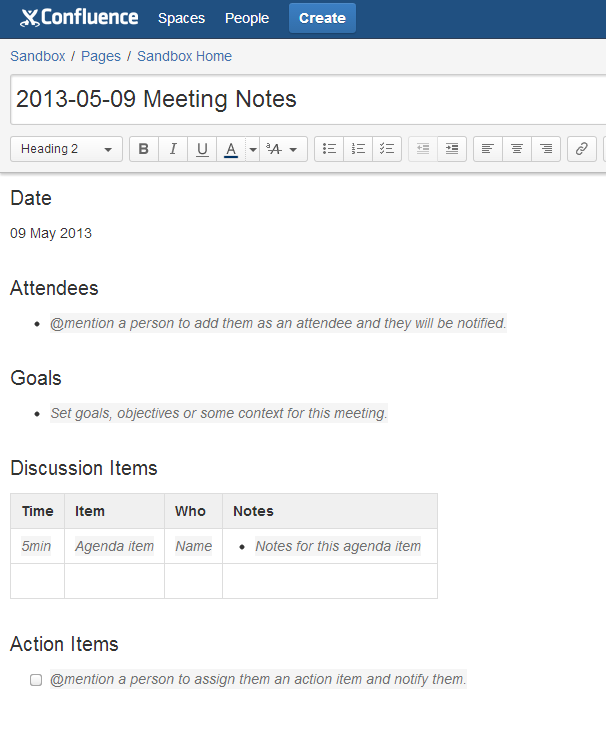 I hope that has given you a small taste of what Confluence 5.1 has done, and you should take the time to plan your upgrade and get playing with all the new features.
If you like any of the other new features, feel free to leave a comment and let me know why.