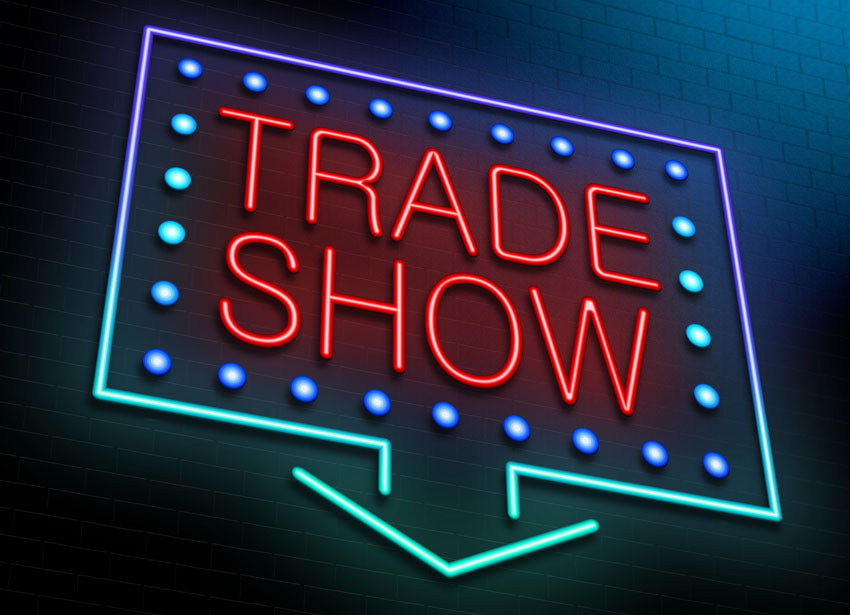 6 Tips For Exhibiting at a Trade Show or Conference
---
If you've spent any time wandering around the exhibition booths in between speakers at a conference you may have noticed a few familiar things.
Here's a list of personas you might see at a trade show:
The bored business manager who is slouching over his table and waiting for someone to chat to and brighten his day.
The keen beans working on their laptops who look too busy to talk to you about what they are trying to promote.
The promo team who are trying to get you to put a business card in a fish bowl to win an iPad. Hey you might not win, but you will at least get a dozen emails about their new product.
It's a visually cluttered space full of screens, pop up banners and bright colours – some of these exhibitors could be your next business partner but you might never know because they fail to do the simple things right.
When you exhibit at a conference the company you represent, or that you own, you have committed a potential investment of thousands of dollars for you or your staff to be there. As most of you know these days you have a very short time to capture an individual's attention – so leave the laptops at work and start using some simple techniques that the Crucial team have learned to help you extract the most from exhibiting at conferences.
#1 Have a clear concise message and stick to it
When someone walks past your booth you need to let them know very quickly, who you are and what you do. Invest in pop-up banners that say exactly that and nothing more, the results will be outstanding when its a clear message that you convey
#2 Be available to talk
Motivate your staff to steer clear of hiding behind ipads and laptops at the conference, they are there promote your brand, and nothing is more engaging than having a chat. The investment to purchase the space on the floor plus all the other associated costs mean that you need people working hard to promote your brand and services and get the most out of the opportunity.
#3 Have a game plan
Do you have a new product that you wish to promote or a new approach to the way you do things? Write them down and make sure all parties present know what you want them to talk about to customers. A really great way to achieve this is have 3 key points you want your potential customers to walk away with after they talk to you. It will keep your team on point and concise with the delegates precious time.
#4 Talk to other exhibitors
While the delegates are listening to the latest discussion on how you're not using social media correctly, go and talk to the other exhibitors. Chat to your competitors and find out what they have coming up, chat to your neighbours and find out if they could be interested in the services or products that you provide. There's opportunities everywhere and assuming you are at the right conference, this should be a gold mine for you.
#5 Leave the selling for the office and network while you can
Dont try and close deals while you are there, thats best for the office. Delegates and exhibitors want to be at a conference to learn. They dont want to be sold to. Exchange business cards and have a chat about how the day went and what they learnt. Build rapport and then set up a meeting once they are in the working frame of mind.
#6 Have fun
The most important part! Enjoy the opportunity to meet new people and learn about how your industry is evolving. Relax and dont worry about what is waiting for you back at the office. The less you stress and the more fun you have, the more approachable you will be to the attendees.
Love the list?
If you liked what you read drop me a comment or share this article!