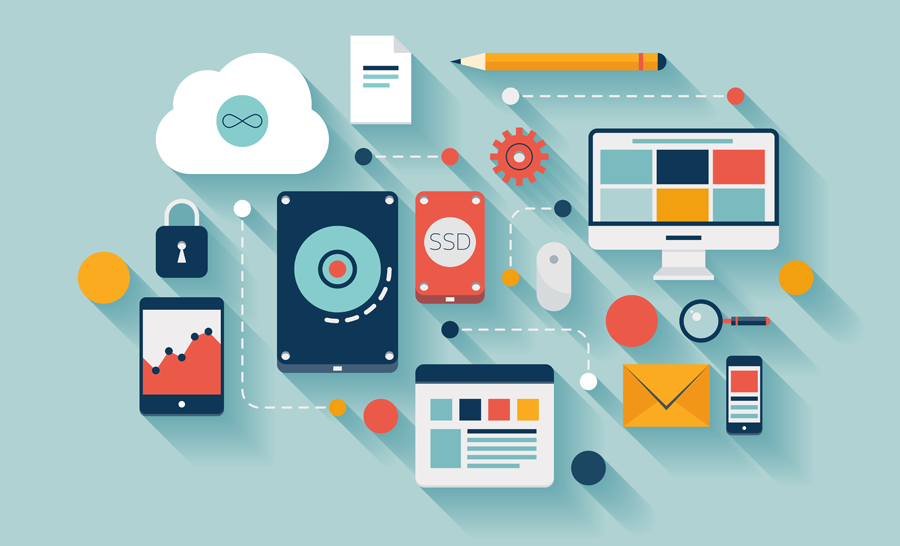 5 Key Web Hosting Terms Everyone Can Learn
---
We've decided to put together a common concepts and terms of web hosting terms which you might see on our website or hear from our team. Web hosting can sometimes be a confusing topic, so we'll try to break down some common terms and give you something new to learn today. Enjoy!
1. Hosting package
A hosting package represents a set of resources you are actually paying for when you buy web hosting. Typically, web hosting plans and packages contain the following:
Disk Space / Storage
Disk space is the amount of storage space available for storing your website's contents, databases and applications. Cheaper hosting plans usually limit disk space to amounts suitable for static websites where new pages or posts are not added on a regular basis.
As the website grows in size, these requirements increase, which is why highly dynamic websites often run on premium plans that offer more disk space.
Bandwidth / Data Transfer
Bandwidth refers to the amount of data your website can transfer in a given time period. Again, a website's necessities in this regard grow proportionally to its size, number of pages and the amount of traffic. For example, when a single visitor looks at your entire site, he or she downloads a small amount of data. However, the more the visitors and multimedia materials they upload or download through your website, the greater the bandwidth requirement.
Other features
Besides these two primary elements, a hosting plan also includes a specified number of domain names and subdomains, email accounts or applications that you can use to manage your website. In addition, some web hosts offer 24-7 support for all packages, while  others limit for cheaper or free plans. Crucial have always focused on delivering great support, our support extends to live chat, phone and ticket channels for total coverage.
2. Hosting platform: Windows or Linux?
One of the things that define your overall website management experience is the choice between Windows and Linux web hosting. Linux-based hosting is a preferred solution among web experts because of the advanced features it includes, while Windows is useful for websites that require certain Windows-specific applications.  The crucial differences between these two come down to the following:
Supported applications
As noted, these two types of hosting platforms essentially differ in supported integrations. While Linux supports PHP, PERL, Joomla, WordPress, Drupal, etc., Windows integrates with NET Framework, .ASP, ASP.NET, PHP and the like.
Admin panels
Depending on the type of hosting platform, website management would rely on different admin panels. For Linux-based hosting plans, there are cPanel and WHM (Web Host Manager), while Windows-hosted websites run on Plesk.
Price
The most obvious difference, however, is that in price. Since Linux is an open-source operating system whose distribution requires low fees, it is usually a much cheaper solution than Windows hosting.
3. Hosting environment
The server your website is hosted on is one of the key things that affect its overall performance, as well as the price of your hosting package. There are three basic types of hosting: VPS, Shared hosting and dedicated servers.
Control
The major difference between these three types is in the amount of control you have over the server itself. The essential feature of shared hosting environment is that your website shares a server with various other sites or applications. This means that configuration and maintenance part are responsibilities of your provider, which is not the case with VPS and dedicated server where you're solely in charge of these aspects.
Security
When it comes to features, security is typically the main reason why an admin chooses VPS or, better yet, dedicated hosting. Since these two give more control over server properties, there are seen as more convenient for handling security breaches or unexpected downtime. Shared environment means that if a single website on a server is a target of an attack all the other websites may become compromised too.
Price
Again, the thing that makes shared hosting a preferred choice among some website owners is the price. VPS and dedicated servers may require larger management teams in addition to the hosting price, which is why they are more expensive than shared environments.
4. SSL encryption
Nowadays a popular notion in the world of the web, SSL refers to Secure Socket Layer that encrypts data transmission on the website. SSL is a critical feature of reliable web hosting because it minimizes risks of data breach or unauthorized database access. Even though most website owners are aware of its importance, SSL is not necessarily included in a web hosting plan. This is because some websites that don't deal with large user databases or otherwise sensitive information may not even need it.
However, for websites that accept payments or collect users' personal data, SSL is certainly a thing that gives both website owners and potential visitors a peace of mind.
5. Managed hosting services
In terms of web hosting, managed services refer to different activities a provider may manage instead of a client's in-house staff. This is one of the areas where the complexity of web hosting comes into the spotlight; by choosing a set of services your provider will manage, you practically define its role the way you want it.
Depending on your team's experience, you may choose to hire external experts to handle particular areas of server and website management. These types of services are usually offered to dedicated hosting clients who want maximum control over their servers for the sake of security, yet they do not want to hire additional staff for managing security, databases, virtualization and the like.
Conclusion
Considering the increased relevance of web hosting services in the modern age, almost any website owner needs to be familiar with such relevant concepts in order to develop a successful website. In a turbulent industry such as web hosting, some rules change too rapidly, making it highly difficult to keep in touch with all the emerging trends.
Understanding some basic concepts may come in handy not only when choosing a hosting plan and building a website, but also when planning your business's growth online.