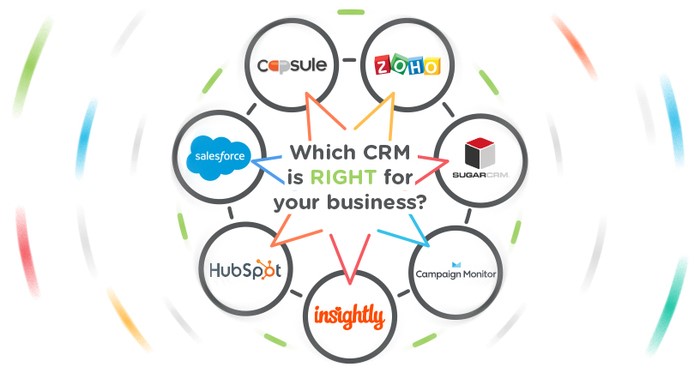 Best CRMs for Growing Businesses: Top 7 Services Compared
---
Customer relationship management (CRM) software can make all the difference when it comes to managing growing businesses. Whether you're in the need for powerful and robust CRM software, or you seek a simple and free solution to fit your budget, choosing the right CRM can be crucial. We are taking a closer look at some of the most popular, affordable and versatile CRM software products for various types of growing businesses.
Salesforce
Perhaps the most obvious choice is Salesforce. This all-around, cloud-based CMR solution has everything you need in a CRM and it is typically associated with larger businesses and enterprises, so if you want your small business to come off as a big league player, Salesforce's small business edition would be the right choice. This edition will provide you with the product's robust set of CRM tools and resources, but at an affordable price. The platform is also quite user-friendly, while it includes all the key features like lead generation, contact and opportunity management, sales forecasting, workflow automation, etc. Since it also comes with top-notch customer support, which means you can get help any time you need it, Salesforce would be our top pick for the best CRM software for small and growing business.
Other Benefits
Perhaps even the biggest advantage of using Salesforce is that it offers nearly endless possibilities for expanding its basic functionalities. Here are some of the main examples of how robust Salesforce's capabilities can be when integrated with other business applications: real-time data, outlook integration, marketing automation, sales performance management, customer service; while the Salesforce AppExchange offers third-party integrations in sales, customer service, marketing, human resources, finances, enterprise resource planning, collaboration, analytics and IT.
Hubspot CRM
Hubspot is also one of the most popular inbound marketing and sales platforms available. Hubspot CRM streamlines your sales process across multiple channels in your company, while it works in the background which saves you precious time as you don't have to manually perform repetitive sales and manage marketing tasks. One of Hubspot's greatest advantages is that the software specializes in automatically logging and syncing data from different sources of communication – your website, emails, phone calls, social media, etc.
Hubspot's Adaptability
The biggest advantage of Hubspot is that it actually takes minutes to learn how to use it. HubSpot adapts to your process, while with some other CRMs it can be the other way around. Your team will hit the ground running, stay focused on selling, and will not lose precious time learning a new tool.

Capsule
As its name suggests, Capsule is a CRM software solution which tends to make customer relationship management as simple as possible. Capsule does this by providing six crucial options and capabilities of running your business – managing relationships, organizing emails, managing the sales pipeline, saving contact histories, arranging and performing task management and completing customization.
Why Capsule?
It is extremely easy to use, pretty intuitive, you don't need a server to install or maintain, it is safe secured and back up is always available, you won't be bound by any contacts, and last but not least, it is customizable.
Campaign Monitor
Another powerful player in the CRM space is Australian-based Campaign Monitor, a tool that provides advanced email marketing services and is known for excellent customer support. The company moved to Silicon Valley earlier this year, thus significantly expanding their market and demonstrating their readiness for constant innovation.
Feature-wise, Campaign Monitor is probably best known for its simplicity, i.e. the intuitive interface that lets you create amazing email templates and monitor campaign statistics efficiently. Of course, their excellent pricing plan that starts at $9/month is another major reason to choose this service, especially for businesses in the early phases of digital expansion. Afterwards, of course, they can upgrade to better plans and use the full potential of the suite.
Zoho CRM
Like Salesforce, Zoho is another robust CRM piece of software, but it tries not to make compromises when it comes to its capabilities just because it is free. Zoho provides you with all the core functionalities you need from a powerful CRM software solution. Zoho users also have access to their data anytime and anywhere via Zoho CRM's mobile app, also free of charge.
One of our top picks for the best free CRM software, Zoho will provide you with all the basic features, while it will also offer quite a lot of premium capabilities and will let you add up to 10 users, all this free of charge. No other free CRM piece of software is that generous.
SugarCRM
Another excellent piece of CMR software for small businesses is SugarCRM. This simple yet powerful CRM software manages to integrate sales, marketing and employee tracking. The base plan offers a robust set of features – sales automation and forecasting, lead management, unlimited customizations, call-center automation, reporting, and unlimited online support. It is also available as a cloud-based software option.
Pricing Plan
Professional edition of SugarCRM will cost you $40 per user monthly, Sugar Enterprise goes from $65, while the Ultimate plan costs $150 per month. All plans are billed annually.
Insightly
Just like its name suggest, this CRM software is simple, insightful and feature-rich CRM solution ideal for micro-businesses. Insightly offers all the core capabilities, but since it is also highly scalable, this versatile piece of software is our top choice for growing business. Insightly is quite affordable, however there is a free version as well, to help you get started. Given it offers both basic and advanced features, one can start with a free standard plan, and then upgrade as their business expands.
Pricing Plan
Insightly's free plan lets you store 2,500 records and onboard up to three users, so for microbusinesses that need only core features, this is quite a deal. If your business, however, needs a full-featured plan, you can get one for $12 per user (monthly). Since this is practically only a fraction of the price other CRMs cost, this is one of the most popular pieces of software out there.
And the Winner is?
We definitely recommend Insightly as the best CRM choice for small and growing business. As all growing enterprises have quite unique needs and these companies can't really choose the same software solutions as other businesses, they need to find the optimal customer relationship management software. Some CRMs out there tend to be too technically complex and packed with so many features these businesses simply can't benefit from and will likely almost never use. Plus, these complex CRMs tend to be far too expensive the budgets microbusinesses are able to provide.
Insightly CRM software starts with all the necessary core functionalities, with the option to be expanded as the business grows. The best of both worlds.