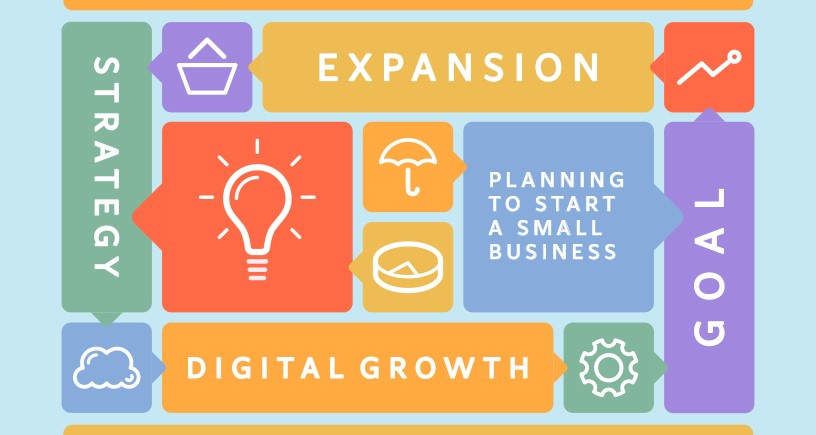 I Want to Start a Small Business, Where do I Start?
---
Setting up an online business can be quite a lucrative way to attract customers, expand your market and increase sales. However, starting a small business online comes with additional legal and financial considerations. Nonetheless, before we move on to all the technicalities, it is useful to mention the popular and proven sequence of steps you should follow in order to succeed in this major endeavor. Of course, nothing is a guarantee, but thousands of successful businesses started by following these steps. You will need to:
Find a need and fill it
Write copy that sells
Design and build an easy-to-use website
Use search engines to drive traffic to your site
Establish an expert reputation for yourself
Follow up with your customers and subscribers with e-mail
Increase your income through back-end sales and up-selling
Following these steps can be rather beneficial for your small business, whether you are a newbie or an experienced online entrepreneur, and once you let them sink in, it is time to focus on some of the most important technical issues when it comes to setting up an online business in Australia: Applying for an ABN, Getting the .au domain, and Choosing the reliable web host. So, let's get cracking.
Setting up an ABN
Getting your own Australian Business Number (ABN) will help identify your business in public records and facilitates interactions with banks, the tax office (for GST registration), and other government departments. Even though setting up an ABN is not obligatory for all business owners, most businesses need this identification number for invoicing or to create purchase orders.
If you plan on operating as an incorporated entity, the company needs to be registered with the Australian Securities and Investments Commission, or ASIC. ASIC will assign an Australian Company Number (ACN) to your company, and this number will be used for all your business transactions. You need to get the ACN before you apply for an ABN. Goods and Services Tax, or GST, is also necessary for businesses that earn $75,000 or more.
Registration Requirements for the .au Domain
Creating any .au domain name is the first step towards developing an Australian web presence and for getting noticed in local search engine results. AuDA's regulations say that .com.au and .net.au domains may only be registered to Australian sole traders, businesses or companies which already have an Australian Business Number (ABN), Australian Company Number (ACN), and Trademark Number or Incorporated Association Number, in order to prove they are eligible. As for .org.au domains, the registration requirements are the same, except they are further restricted to only Australian non-profit organisations and registered charities. Non-profit associations, clubs, sporting groups, political parties and close equivalents may register the .asn.au domain names.
The .id.au domain is a ccTLD extension specifically designed for Australian individual citizens or residents, and this type of domain name must be clearly based on the registrants' name or nickname, while the photo ID must also be provided. All in all, each .au domain must have a close connection to the person or business using it.
Choosing a Reliable Web Hosting Service
Ok, if you want to develop your online presence to boost sales, this one is paramount. When you choose your web hosting service, you are not only picking a supplier responsible for taking care of the online part of your small business, you are also investing in the future of your business. If the platform via which you get your web hosting services becomes unavailable, you will start losing sales immediately, upset your customers and end up wasting valuable time. In fact, your choice of a web hosting provider influences multiple factors of your future digital strategy, most notably through a website speed, which is why it is important to choose wisely.

Now, let's take a look at some of the most important factors and pointers you should pay attention to when choosing the right web host for your future small business.
Location – When it comes to the location of your web hosting service, you would want to choose an Australian web host whose servers are located in Australia. You should always ask about the physical location of the servers, as some cheaper Australian web hosts tend to cut costs by having their servers located in the US.
Technical Support – As far as technical support is concerned, the variety of the service is what counts. Some web hosting companies offer only email support, which has proven to be inadequate if you end up having problems with your email account. This is why it is smart to pick a web host which also offers telephone support, so that you capable of reaching a real-life person on the phone that can help you right away should things go south (figure of speech). Make sure you find out the working hours of their technical support as well. It is perfectly fine if they are available only from 9 to 5, however, if something goes wrong and your web page goes down outside those hours, you will want to be able to contact the technical support 24/7.
Backup Strategies – Backup solutions depend on the level of your deal with your web host, which basically means – the more money you pay, the better backup you get. The web hosting service will provide you with one or more backup strategies to deal with possible hazards. So, before you choose your package, make sure you ask your provider the following questions:
If the server crashes and it can't be recovered, will there be a backup of my account available?
Should the entire data-centre be gone, will there be a backup of my account available somewhere else?
Should there be malicious breaches and my account ends up being deleted, will the backups also be destroyed?
Speed – How fast websites load are one of the most significant factors when starting up your online business. Since there is no limit to the number of web pages your host will put on a single server, you might end up with an extremely slow site, which will eventually drive your visitors away and you will end up losing potential clients. The more activity on a single server, the slower the server becomes – and the trick is that this affects the load speed of all the websites hosted on a particular server. Thus, the web host must make a decision regarding how many sites they are prepared to assign to each of their servers, which can directly affect the load time of your web page. Again, the general rule is – the more you pay for your web hosting service, the less crowded that server is going to be, and your site will have a better response time.
Developing a digital strategy for your small business
Although physical stores, restaurants, coffee shops and similar offline businesses mostly rely on traditional channels to acquire customers, developing a digital strategy is essential for their expansion. Once you set up the basics mentioned above, you're ready to start expanding your small business's digital identity and reach more prospects. Depending on the actual channel you find most profitable for your businesses specifically, you should consider investing time in social networking, online advertising or content marketing. However, investing in a stable website is probably the most valuable strategy you can choose to ensure successful small business development.
At the end of the day, it all comes down to sheer logic. The more passion, time and money you invest in your small business, the better results you will get.