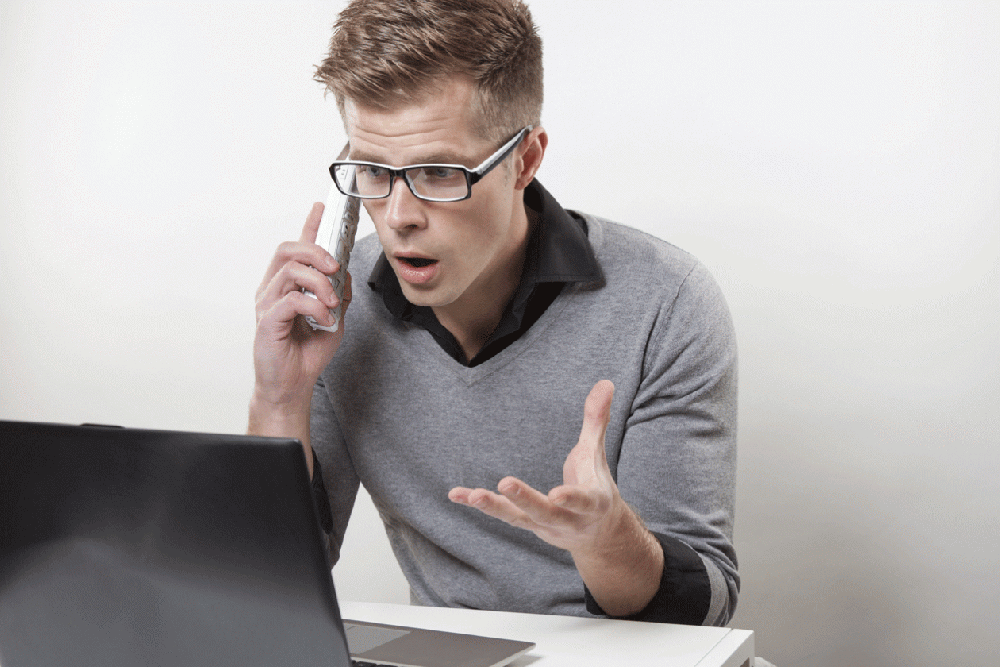 How Does Website Speed Affect Consumer Behaviour?
---
Did you know that the Google page loads in about 737 milliseconds? Or that Amazon.co.uk can load roughly 5.6MB in around 3.19 seconds? This alone shows that website speed is an important factor of website performance and regarded by some as Google's obsession. Slow loading websites are a pain, but can be overcome.
How bad is it?
Google is almost like Big Brother in terms of website speed — they're watching you at all times to ensure that you're 'making the web faster'. One of the greatest consequences of slow loading speeds is its negative effect on Google rankings.
Website speed is one of Google's 200+ ranking factors, and an important consideration for small business as it determines where a website will be shown on a Google search page. Users love fast sites and Google loves users.
Also a part of the Google package is the news that Google has recently updated its algorithm earlier this year for mobiles, that favours websites with large text, simple links, and a platform relative design that resizes to fit whatever screen it's viewed on, be it a laptop, phone, or tablet.
In summary, website rankings on Google have changed according to mobile-friendliness, which is great for some, but horrible for others. Essentially, a slow mobile website is an invisible mobile website.
A decrease in user experience is another significant consequence of slow loading websites — users who don't tolerate slow loading sites, don't bother with them at all. According to Radware, approximately 51% of users in the US said that site slowness is the top reason they'd abandon a purchase. That means that having a slow website cuts your traffic (and potential sales or clients) in half.
Website speed is highly considered by users, and many users will give up on buying something simply because the checkout process is taking too long (even my girlfriend said that she's done it).
What makes it bad? How can I fix it?
Having images that are larger than what they're supposed to be is a critical downfall for websites. Choosing the right file type is essential: JPEGs have a smaller file size than PNGs, so use JPEGs for images wherever they're needed. PNGs are to be used more so for icons, logos, illustrations, sign, and text.
While uploading images to your website, make sure they're a small file size (in bytes, e.g. kb's are better than mb's), otherwise your website will be slower, and will not be properly mobile optimized — which is crucial if you want Google to like you.
Image optimization can easily be done with Adobe Photoshop:
Open your images in Adobe Photoshop
Go to File > Save For Web
Reduce the image to 70%.
The quality is almost the same, but the file size is nearly halved, making it much smaller and easier to load.
So, you've got a creative side and you've showcased that all over your website, that's fine but it may turn out to be a regretful decision, as over-designing web pages by adding loads of banners, images, icons, and other additions can lead to slower loading times.
Advertisements are important, no doubt about it, but too many can cluster your page and cause it to load at a slower rate, especially if they're extravagant ads — for example, with videos or moving images (GIFs).
If you can handle your code and know your way through it, this one's for you. Having inefficient, unnecessary, or overall just lengthy, "bulky" code for your web pages can slow down your website speed by a small amount.
External Media, plugins, widgets
Obviously, the more high-tech your webpages are, the slower it's going to load. By having external media or plugins, like music or video players, or images slideshows, it adds a big bunch of code to your page, making it longer to load.
First are foremost your where your server are hosted can have a massive impact on your website speed. Using servers within the country you operate in, will increase your website's speed.  You will also want to keep in mind the hosting service you have purchased, If your websites are using a shared server and there is an increase in traffic, it will negatively affect your websites loading speed. This could be a good indicator into changing your web host, or web hosting package to a virtual private server.
You can try counteract all the issues above and shave a second or two off your website, but that may not help some that have loading times of over 10 seconds!
As an example, say your website is living in a neighbourhood with 9 other websites, and those other websites build skyscrapers out of their properties, it's going to be uncomfortable for your website and the road traffic to your house will be dense and slow. This is how your website achieves low loading speeds with a mediocre web host.
With Crucial's Web Hosting package, you won't have to worry about slow loading speeds again. With 24x7x365 support, Australian servers and CloudLinux, we'll take the greatest care of you and your website speed.
Find out your website speed now!
Test your website(s) and website speed with this funky tool from Pingdom. It's not perfectly accurate, so try it a couple of times and take an average. Then, try some of the solutions above and test your pages again to see how they work for you.
If you'd like a simple review of your website from Google, go to PageSpeed Insights and see how your web pages rank in loading speed and design.