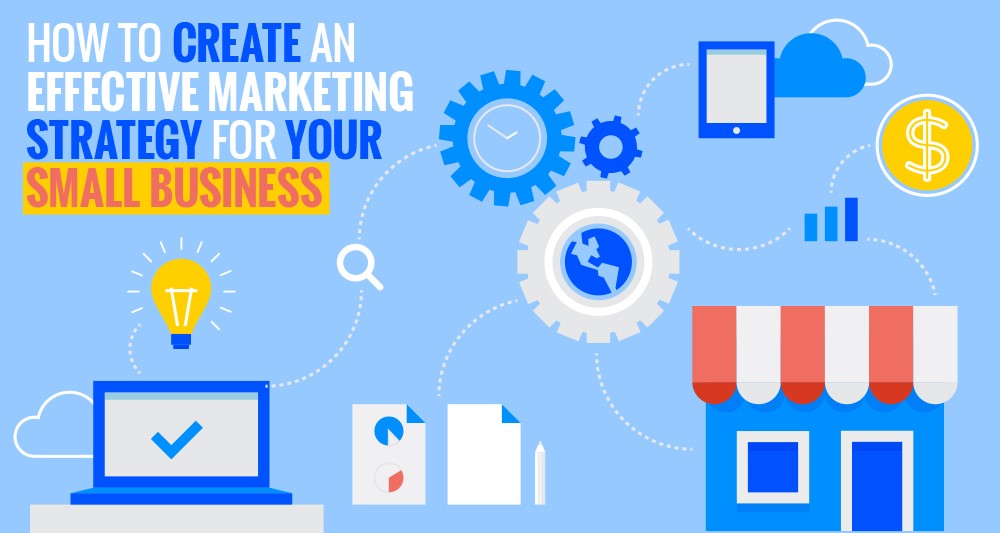 How to Create an Effective Marketing Strategy for your Small Business
---
Your online businesses can stand out from the rest, by having a clear, well-organized and effective marketing strategy. Having an amazing product or fresh and interesting content is definitely a must, but a well-planned marketing strategy can make all the difference between a successful company and a small business that is constantly operating on the brink of its own demise. Sure, a strong and structured business plan leads your company in the right direction, but an effective marketing strategy can secure for your company a bright future and smooth sailing through turbulent online markets. In the end, it all boils down to creating firm customer relationships based on trust and mutual benefit.
Marketing Strategy and Setting Up Goals
Small businesses often overlook creating their marketing plan and setting up some basic goals and objectives, this will need to be followed and achieved in order to assemble a marketing strategy that works. Business owners usually get caught up in the plethora of other, equally important daily marketing tasks and chores — like creating a web page, communicating with customers, coordinating employees, sending emails, optimizing a landing page, and other small jobs an online business is comprised of — that they simply don't have the time to make a detailed marketing strategy that will improve the performance of their company in the long run.
Creating an effective marketing plan isn't something that should intimidate you, but it is neither something you should take lightly. There are many decisions you need to make and you will also need to take a look at your business as a whole and put it under a different light. Your marketing strategy is the foundation for generating your client's interest, closing potential sales and achieving full-on customer engagement. So, let's delve a little deeper into what needs to be considered when crafting a successful marketing strategy.
Asking the Right Questions
When we said you need to look at your business under a different light, we meant approaching your company goals from a different angle. Instead of setting up generic rules and objectives, try asking the right questions and answering them as clearly as possible. In order to make your tactics work better and for your business to grow, you need to find the focal point of your company in which all the aspects of your marketing strategy will meet and paint a realistic yet promising picture of where you are at right now, and where you could be one year from now. Try answering the following questions as clearly as possible:
Have you narrowly defined your target customers?
Is your SEO tactic focused on only one search engine?
Are you keeping your business category clear and concise?
How can your customer benefit from your service?
How exactly are you better/different from your competitors?
Have you narrowly defined your target customers? – SEO and online marketing strategy shouldn't only be focused on generating and grabbing as much traffic as possible. You need to attract potential customers who are genuinely interested in a product or content you are offering. Make sure you pay attention to what your target audience is searching for and where your customers are located (demographics). Fine-tune your SEO and marketing strategy for more effective results. Google Analytics tool is an excellent way to start gleaning this useful data.

Is your SEO tactic focused on only one search engine? – Search engines are expanding and it might be a good idea to think outside the box on which only Google is written. Sure, Google is the major search engine worldwide, but you shouldn't be focusing only on Google and Google alone. Browsers are looking at other search engines as well – Firefox is opting for Yahoo as its default search engine, while Bing, Ask, and AoL are also quite widely spread.
Are you keeping your business category concise? – Aspiring business owners often have a need to overcompensate for certain flaws in their businesses and tend to over-embellish and go too far with their company descriptions. This can result in your potential clients being unsure of exactly which services your company provides, which can seriously decrease your marketing effectiveness. Keep it simple and clear. Less is more.
How can your customer benefit from your service? – Right after making your business category clear and concise, you need to figure out and state the unique benefit your company is providing to your customers. Your unique benefit should highlight some of the most important things your product or service delivers that are the most beneficial to your target customer. Bear in mind, this should not be a list of all the features of your product, just the one or two main and unique benefits.
How exactly are you better/different from your competitors? What is your unique selling point? – Defining your competition is not crucial, but it might be rather useful. Once you know who your biggest competitors are, try to emphasize everything you do better and differently, and then rank these factors by the level of their importance. Once this is done, pick the top 3 things or features and put them on your homepage. Your target customers need to see why you are better, however, make sure you don't overdo this step as you don't want to confuse and repel potential clients by bragging too much.
Social Media as an SEO tool
As the closure for this article, we would like to mention the importance of social media and SEO for your effective marketing strategy. These two can have the pivotal role in your marketing plan — if you play your cards right, that is. Social platforms are evolving and becoming the number one device for selling products or sharing content to your customers. These viable marketing devices play a major role in attracting customers and smartly targeting new ones. As people will come to your website through social platforms, you will need to optimize your online presence and adjust your SEO tactics as well, by keeping an up-to-date and engaging approach to marketing strategy.
Also, be sure to monitor and track everything. Pick your analytics tool which can provide you with useful information via which you will be able to understand what needs to be changed in order to increase your traffic volume and, ultimately, your conversions.