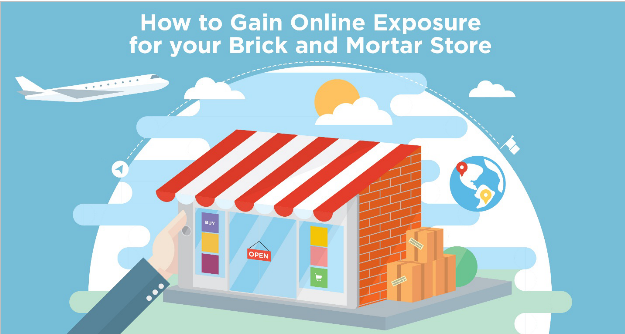 How to Gain Online Exposure for your Brick and Mortar Store
---
If you own a good old-fashioned brick and mortar store but still don't have a suitable website to help your business grow, this article is definitely for you. Stick around.
You have probably heard of a certain little retail company called Amazon.com and you are wondering what you can do to gain at least a tiny portion of online exposure that this online retail leviathan is getting. The way to do just that is to, aside from your awesome physical store, allow your customers to purchase your products through your online website and other products you offer via your online product catalogs.
If you are a shopper who prefers the in-person customer experience; being able to try on and experience products or services first-hand before the purchase, you are not alone. To ensure the growth of your business, you should explore the option of the online world as well.  Of course, traditional shopping will always have that tangible and intrinsic value, but adding an online store and gaining the much coveted online exposure will get your product to the right people and open the door to new possibilities.
Advertising, EDM's and newsletters are all great ways of creating a good marketing strategy, but perhaps the most vital step towards gaining the needed online attention is to have a neat website that Google will be able to detect and place it high in the search engines. In order to do just that, you need to optimize the heck out of it. Aside from the common methods of bringing awareness to the targeted audience and creating traffic in both your online and physical store, there is another great and simple ways of being caught in the eye of the customer and reaching a larger audience.
How running promotions can seal the deal
Running a giveaway or organizing a contest promotion is an excellent way of attracting your target audience and selling your product. Just look at the following stats!

Helpful tips for creating a successful promotion online
Duration of the Contest – It has been proven that two weeks is the optimal amount of time to run a contest promotion. Going drastically over or under this amount can be tricky if you want to gain just the right amount of exposure, without annoying your customers by taking too long. Going for a few days or up to a week has proven to be insufficient, as you might not get the desired number of entries, while promotions that are too long can also backfire as they might cause your audience to lose interest. On the other hand, if you want to experiment with longer contests (say one month long ones), you really need to think about the content fillers so you don't make your participants less incentivized.
Wrong Product – You need to really think about what exactly you are planning to give away. This needs to be a win-win situation, so the main idea here is to give away something that is interesting and valuable enough for the average Joe in your target audience. The giveaway needs to make you stand out from the crowd so people will take notice of your page. Don't think about the price of the item you are giving away. You gain much more in the long run.
Time to hit the social networks
This step is pretty much crucial in sealing the deal with your exposure gaining strategy. Once you have decided how long the promotion will last and which killer product you are giving away, you need to fire everything off to all relevant social networks. Time is of the essence here, as always, so make sure everything is up and running as soon as the contest begins. You can also tease your audience with previews prior to the contest. In these teasers you can leak only partial info on what you are planning to do. This will definitely get their juices flowing.
Also, it is vital to have a step by step plan for each social platform, as they do differ when it comes to marketing strategies. Customizing your promotion according to a particular social network is always a good idea. For example, if you have a Facebook page for your store you can highlight the post with a link leading to the blog post containing the promotion, and make sure you adorn it with a neat image of what you are giving away. You can use Gleam's Facebook tab to pin it to the top of your Facebook page (if you don't know about Gleam, we'll get to it shortly). As for your Twitter account, you can Tweet the link and pin to top of feed, much like you did with FB. Instagram is also where the magic happens, so make sure you post a photo of the contest promotion via which your followers can access the contest. Also, don't forget about Pinterest where the tactics is pretty much the same as for Instagram.
What is Gleam?
Gleam is a useful tool for running an awesome online contest promotion. This online contest promotion app is probably number one on the current marketplace. One of the big players from Reddit has been working on Gleam for years and has managed to build this amazingly useful and user-friendly giveaway application. Here's how it works. The participants need to signup using their Facebook, Twitter or Instagram accounts to earn one entry to your contest. They can also sign up via their emails, for people without any social network account. During the signup process (which takes only a few minutes), they're prompted to earn extra entries by taking different social or goal-oriented actions.
This is a nice way for your target audience to truly engage with your brand, which has all along been the main idea of getting the much coveted online exposure, don't you think?