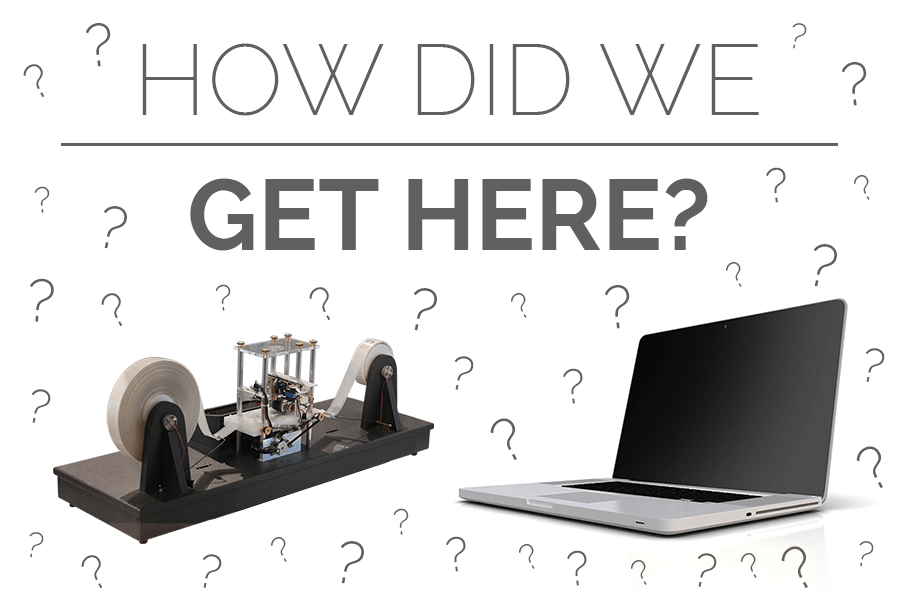 How Did We Get Here?: The History of the Modern Computer
---
What was the first computer? Was there an actual first? More importantly, how the heck did you end up with a smartphone in your pocket? Or a computer at work? Or a smartwatch on your wrist? Where did these all these magical things come from?
Here I am, to answer those very questions and so many more, such as, what was the first laptop? Or the first smartphone? HOW DID WE EVEN GET HERE?
First concept of a modern computer:  Turing Machine

When: 1936
Who: Invented by Alan Turing
An abstract machine that manipulates symbols on a strip of tape according to a table of rules.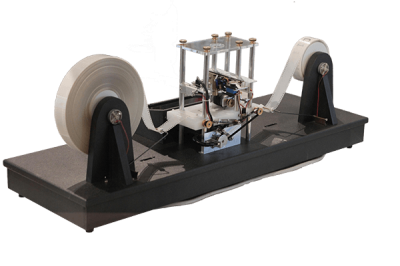 First Electronic Digital Computer:  Debatable…

Atanasoff-Berry Computer (ABC)

When: 1942
Who: Created by professor John Vincent Atanasoff and graduate student Clifford Berry
Not programmable, non-Turing complete, being designed only to solve systems of linear equations. It pioneered important elements of modern computing.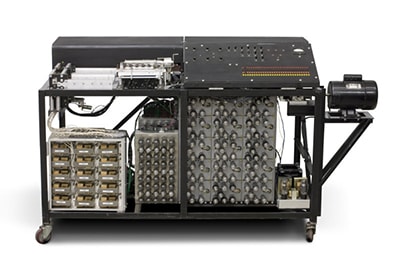 OR
Colossus

When: 1943
Who: Designed by British engineer Tommy Flowers
Used vaccum tubes and thyratrons to perform Boolean and counting operations.
Developed to help British codebreakers read encrypted German messages in World War II.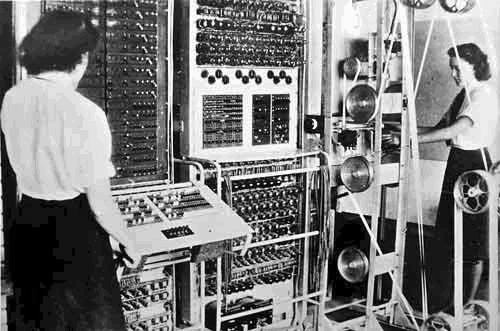 OR
ENIAC (Electronic Numerical Integrator And Computer)

When: 1946
Who: Designed by John Mauchly and J. Presper Eckert
Considered a "Giant Brain" by the press.
Turing-complete and could solve "a large class of numerical problems" through reprogramming.
Occupied about 1,800 square feet and weighed almost 50 tonnes (50,000kg)!
Used to calculate artillery firing tables for the US Army's Ballistic Research Laboratory, as well as to study the feasibility of the thermonuclear weapon.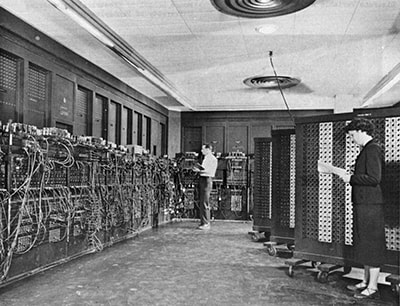 First commercial desktop computer:  Programma 101

When: 1965
Who: Invented by Italian engineer Pier Giorgio Perotto and produced by Italian manufacturer Olivetti
Price: US$3,200, about 44,000 sold
Memory: 240 bytes
NASA bought around 10 to use for calculations for the 1969 Apollo 11 Moon landing mission.
The ABC (American Broadcasting Company) Network used it to predict the 1968 presidential election.
The US military used it to plan their operations in the Vietnam War.
It was used in schools, hospitals, and government offices, and marked the begging of the era of the personal computer.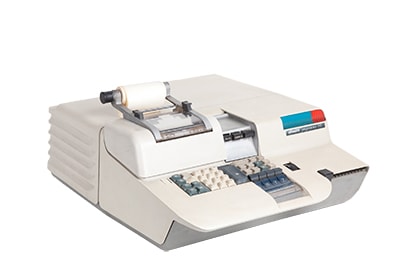 First portable computer / laptop:  IBM 5100

When: 1975
Who: IBM
Price: US$8,975 – $19,975
CPU: IBM PALM processor @ 1.9MHz
Storage: 16-64 kB
Memory:

16-64 kiB (RAM)
32-64 kiB (ROM)

Weight: 24 kg
A single integrated unit which included a keyboard, 5" CRT display, tape drive, processor.
Was the size of a small suitcase.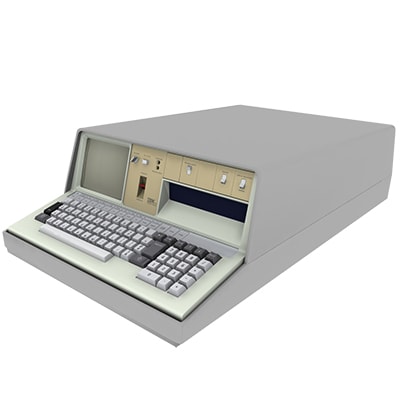 First Apple computer:  Apple 1

When: 1976
Who: Designed and hand-built by Steve Wozniak, sold by his friend Steve Jobs, and Apple Computer Company
Price: US$666.66
CPU: MOS 6502 @ 1MHz
Memory: 4 kB, expandable to 48kB
The start of an empire for the world of commercial computers
Not a whole kit: needed a case, power supply transformers, power switch, ASCII keyboard, and composite video display.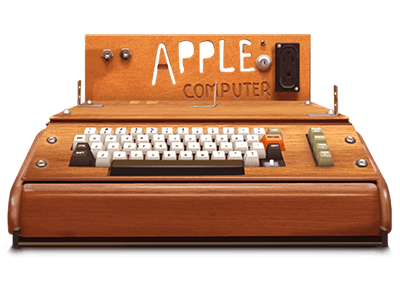 First portable microcomputer:  Osborne 1

When: April 1981
Who: Developed by Adam Osborne and designed by Lee Felsenstein
Price: US$1,795
CPU: Zilog Z80 @ 4 MHz
Memory: 64 kB
Weight: 10.7 kg
Had 10 prototypes built.
Power directly from a socket, as it had no battery — still considered portable.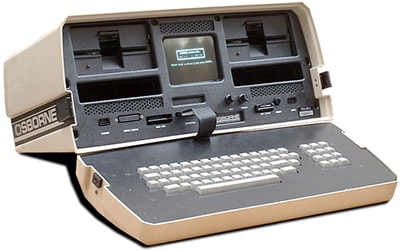 Influential computer:  IBM Personal Computer (IBM 5150)

When: August 1981
Who: IBM
Price: US$1,565
CPU: Intel 8088 @ 4.77 MHz
Memory: 16 kB ~ 256 kB
Used Charlie Chaplin's "The Little Tramp" character for a series of advertisements, which become very popular and award-winning.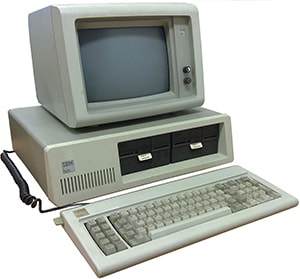 Highest-selling computer model:  Commodore 64

When: 1982
Who: Commodore International
Price: US$595
CPU: MOS Technology 6510/8500 @ 0.985 – 1.023 MHz
Memory: 64 kB (RAM) + 20 kB (ROM)
Listed on Guinnes World Records as the highest-selling single computer model of all time — selling between 12.5-17 million units.
Around 10,000 software title have been developed for it, including development tools, office applications, and video games.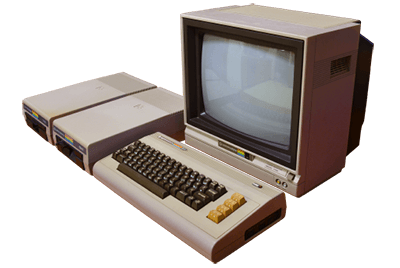 Influential computer:  Commodore Amiga

When: 1985
Who: Commodore International
Price: US$1295 + $300 monitor
CPU: Motorola 680×0 @ ~7 MHz
Memory: 256 kB
Best-selling model was the Amiga 500, selling 4-6 million units.
Become popular for gaming and programming demos, as well as desktop video, video production, and show control business.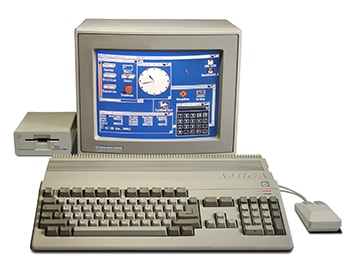 First Personal Digital Assistant (PDA):  Apple Newton

When: 1993
Who: Apple Inc.
Price: US$699
Originated the term "personal digital assistant".
Was the first to feature handwriting recognition.
Apple invested US$100 million to develop it.
Was a predecessor technology to Apple's current multi-touch devices (iPhone, iPad, etc.)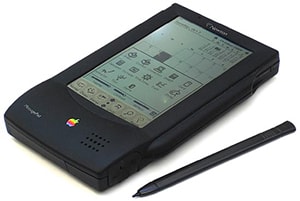 First "smartphone":  IBM Simon

When: 1994
Who: IBM
Price: US$1099 (without contract), sold around 50,000
CPU: Vadem 16 MHz
Memory: 1 MB
Storage: 1 MB
The first handheld, touchscreen cellular phone and PDA.
Able to send and receive faxes, e-mails and cellular pages.
Included a calendar, appointment scheduler, address book, world time clock, note pad, world time clock, handwritten annotations, and screen keyboards.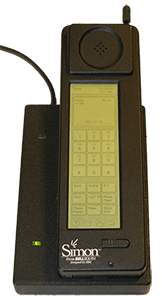 Influential computer:  iMac G3

When: 1998
Who: Apple Inc.
Price: US$1,299
CPU: 233 MHz – 700 MHz PowerPC 750 G3
Memory: 32 – 512 MB
Storage: Up to 128 GB
Known for innovative design and range of brightly coloured plastic cases.
Criticized for using USB drive instead of floppy disk drive.
Saved Apple from financial ruin in late 1990s.
Had a handy handle on the back for easy transportation.
In come the 2000s – Present day:
There are too many modern computer technologies to keep up with these days! Every tech company wants to get in on the boom, and so far, many are succeeding, i.e. Apple, Microsoft, Lenovo, Dell, Samsung, HP, even Google. Here are just some of the hightlights in recent years:
Influential laptop: Apple Macbook (2006)
Influential smartphone: Apple iPhone (2007)
First "tablet": Apple iPad (2010)
First "smartwatch": Omate Smartwatch (2013)
And of course the various gaming consoles along the way: Playstation, Xbox, Nintendo, etc.
Who know what's in store for the future? Optical computers? DNA computers? Neural computers? Quantum computers?