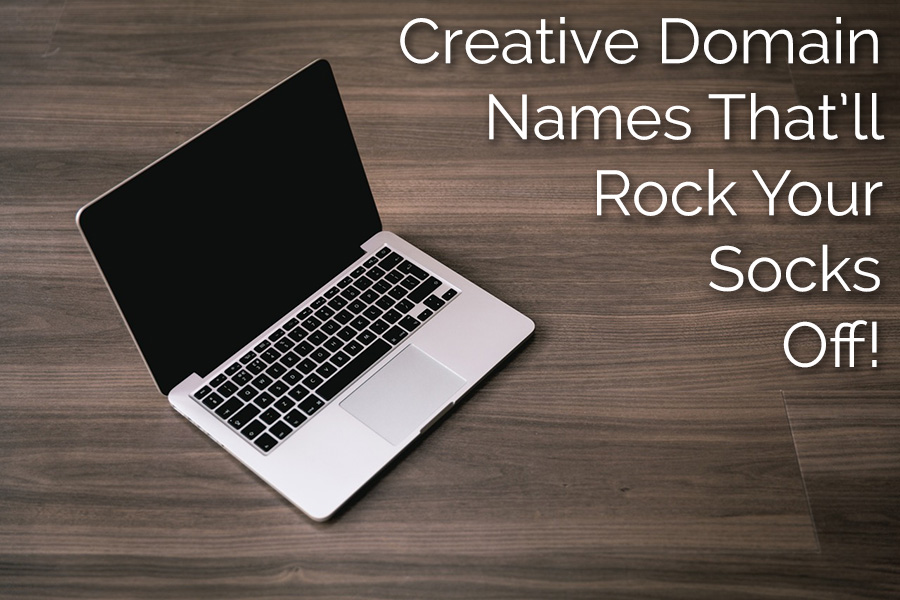 Creative Domain Names That'll Rock Your Socks Off
---
If you've ever pondered of the infinite possibilities of creative domain names for websites, then you've come to the right place. For I have surfed the Interwebs for some of the most fascinating and undoubtedly entertaining domain names in the world, if not universe (maybe)!
Short and simply wacky
Creative domain names don't always need to be extravagant and out-there in order to be whimsical. In its essence, creativity can come from just simplicity.
1234.com.au — an information service for your mobile that most Australians will know about from their somewhat humourous advertising campaign within the past decade. The adverts involved a green sock puppet mascot appearing in random places and informing spooked individuals about the Telstra service.
Although a wacky and straightforward advert, 1234.com.au makes an easy-to-remember domain name — it's just numbers!
Fun with extensions
These days, the new trend for creative domain names is to play around with the domain extensions. As thousands have come into existence over the past couple of years (and undoubtedly thousands more are coming), there are almost limitless opportunities for unique and creative domain names that, in a decade or so, it'll just seem like the fitting way to name your website.
Here are some funky examples:
About.me — free online profile service
Who.is — search engine for domain name, website, and IP tools
Last.fm — music streaming service
Home.barclays — Barclays Bank, the UK's largest bank
Printnw.rocks — offset printing company who think they rock!
Thegreen.diet — official Green Diet website
Jermyn.consulting — consultants on business continuity and information security
It doesn't stop there, you can get anything from: .fashion, .design, .estate, .photography, .law/.lawyer, .cricket, .fish, .fitness, .poker, .games, university, .healthcare, .vet, .coffee, .beer, .vodka, .travel, .hospital, .data, .hair, .food, .events, to .cloud.
Long (and totally necessary) creative domain names
Sometimes, creative domain names actually can be extravagant and out-there in order to be whimsical. And these ones really made me chuckle.
Legally, the longest "label" (part of the domain name separated by dots) is 63 characters. Whereas 253 characters is the maximum length for a full domain name (including dots).
Thelongestdomainnameintheworldandthensomeandthensomemoreandmore.com
 – Unofficially the world's longest domain name, although not confirmed by Guinness Records.
thelongestlistofthelongeststuffatthelongestdomainnameatlonglast.com/wearejustdoingthistobestupidnowsincethiscangoonforeverandeverandeverbutitstilllookskindaneatinthebrowsereventhoughitsabigwasteoftimeandenergyandhasnorealpointbutwehadtodoitanyways.html
 – It's pretty self-explanatory, they're really taking the piss.
Llanfairpwllgwyngyllgogerychwyrndrobwllllantysiliogogogochuchaf.org.uk
– Named after a Welsh village of the same name (without "uchaf", which is Welsh for "higher"). Also, considered the world's longest domain name in the 2002 Guinness Book of World Records.
www.abcdefghijklmnopqrstuvwxyzabcdefghijklmnopqrstuvwxyzabcdefghijk.com
– Pretty much the alphabet two and a half times, BUT it is also the longest email address extension; 10 points to Gryffindor.
3.141592653589793238462643383279502884197169399375105820974944592.com
– Pi to a million decimal places? Groovy baby!
oooooooooooooooooooooooooooooooooooooooo.com
– No clue why, but it has canned blueberries…
o0o0o0o0o0o0o0o0o0o0o0o0o0o0o0o0o0o0o0o0o0o0o0o0o0o0o0o0o0o0o0o.com
– Home of OzTiming, a race timing company.
dowebsitesneedtolookexactlythesameineverybrowser.com
– Why not name your domain based on your marketing question?
For more of the Internet's longest creative domain names, check out these pages: