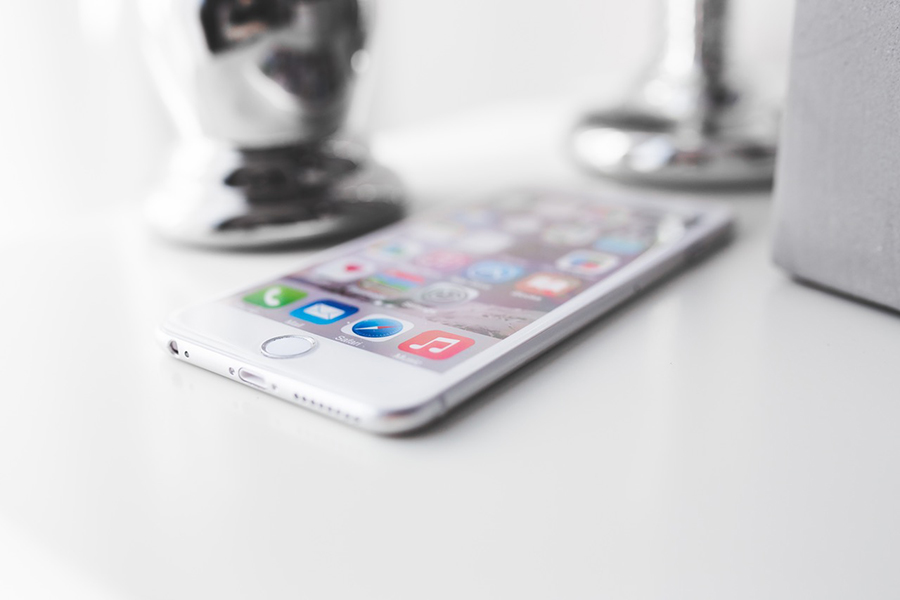 Using Social Media Marketing to Attract the Right Audience
---
Social media marketing has undergone countless transformations over the past decade and continues to do so. Just like any other marketing vessel, social media marketing is becoming consumed by the creative and outside-of-the-box thinkers. We're already seeing creative agencies take on social media marketing accounts and producing content as if they were TV advertisements!
In order to understand who to market to in the social media realm, you must assess what you or your business offers and to whom it is offered. Observing and categorising the people you're looking to market to is called market segmentation.
From my experience as a social media enthusiast, I've stumbled upon some intriguing social media pages (let's leave it at intriguing), but I've also come across some entertaining pages, mainly from businesses and brands that are really trying to align themselves with the current trends and social media cultures that are emerging and evolving,
I've compiled a few from what I consider to be worthy of the spectrum: from dank memes, to mainstream, to sincere themes.
On the meme-train:
For the millennials
So, what was once a simple Australian whitegoods rental company, took the Australian meme community by storm with their creative and extravagant social media marketing content strategy. They gave life to the Mr Rental mascot and gave him an exuberant persona that's always cheerful and full to the brim with wisdom. He replies to most of the top comments on his posts, which is great consumer engagements, and frankly, we love him! ~Cheerio!~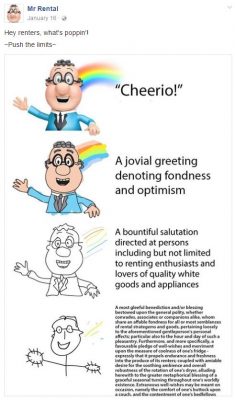 The Twisties brand has also given life to its products as they have dawdled inside the meme community with their homemade memes, and although some disagree with their attempts to squirm into the community, Twisties often reply to the haters with what could be considered sick burns or savage replies; Exhibit A: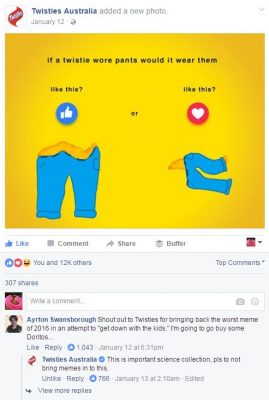 BONUS: Clive Palmer
The infamous Australian politician has become fairly infamous within the meme community recently, with what would seem like absolute non-sense from any political figure. He's either writing poems or recording videos about various themes (mainly dogs on grog or his love for hamburgers or Tim Tams). We don't know if the guy has gone completely insane, or become insanely smart and employed a few young content producers to create memes about him, in order to be loved by the Australian millennial community. Either way, I'm loving it!
VIDEO: https://www.facebook.com/CliveFrederickPalmer/videos/1434964216523111/
Somewhere in the middle:
Casually professional
Kingpin Bowling Darling Harbour
These guys are doing pretty well in terms of being both a casual pop culture referencer (usually quality Simpsons references) and a promotional tool.
The Pepsi brand have come out of nowhere to perform their social media marketing very well. They get their points across with their video content, with some more creative than others, but they also like a little corny dad humour, which I personally think is completely necessary.
VIDEO: https://www.facebook.com/PepsiAustralia/videos/10154209927190919/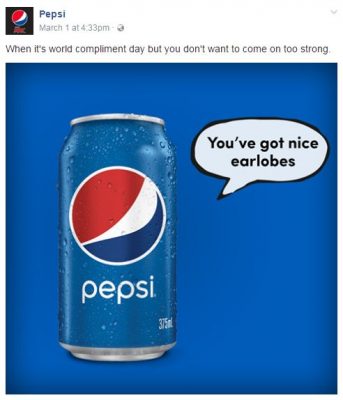 A more professional approach:
The modern suit and tie
Commbank's marketing efforts are doing amazingly, mainly because they've poored millions into it, but it's really paid off for them. They're considered an attractive brand — which can be attributed to their "we care" marketing approach — and it really shows with their social media content, as it looks like it's (again) been produced for TV as spots. They also keep their customers up-to-date with frequent posts.
VIDEO: https://www.facebook.com/commonwealthbank/videos/1467616473251661/
It's hard to keep up alongside Adidas nowadays, among other sports-related clothing brands, but Nike seem to be doing it with ease. Their social media content also looks like it's been created by a famous director with a multi-million dollar budget, but what Nike does apart from others is they seem to have opinions on serious matters, such as in the International Women's Day video below.
VIDEO: https://www.facebook.com/nike/videos/10154706085838445/
Follow us on social media!