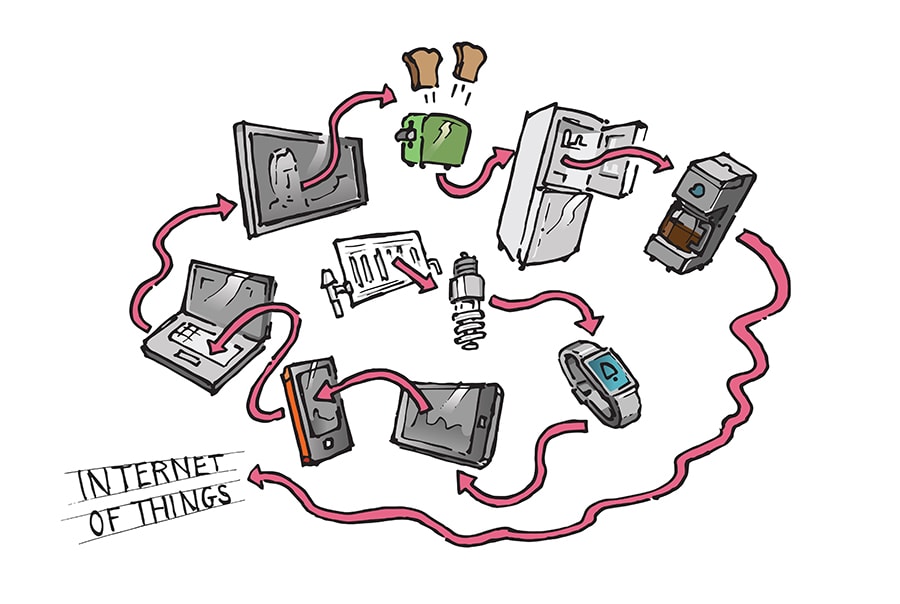 The Internet of Things: The Future is Now!
---
Ever wanted to control everything in your household, as well as your vehicles, from one device? You now can with the Internet of Things! 
But firstly…
What is the Internet of Things?
The Internet of Things (IoT) is the concept that "smart" devices, appliances, and electronics can connect to one another and be controlled via the Internet. These can then all be connected to a control device for your home, car, workplace, etc.
Possibly the best way that I can show you how Internet of Things products operate and collaborate is through a relatable, hypothetical scenario:
Firstly, you arrive home.
The general idea is that you use your smartphone to control all your Internet of Things devices or even an AWS IoT Button that you can easily program to perform wireless actions with just a single button. You could simply use the specific application on your phone or even a voice-controlled feature; for in-house uses, a device like Google Home or Amazon Alexa and Echo is possible.
You open your garage door by asking your phone or using a Chamberlain garage system–that can also notify you if your garage is left open.
Your car automatically parks itself for you: just like this!
You smile for your outdoor (as well as indoor) security cameras and doorbell camera (August) as they scan your face and detect that you're a member of the household. If you weren't, they would've taken an image and sent it to your smartphone, alerting you of any visitors or intruders.
This disables your home security system, including the house alarm and door and window sensors.
You unlock and open the house's door by asking your security system.
You turn on your lights by asking your home device.
Your house temperature is already regulated to a comfortable temperature via a smart thermostat (Norm) or smart vents (Keen Home).
You open your energy bill email to see that it's somewhat cheaper, as your smart switches (WeMo Insight Switch) turn off selected appliances and electronics that you aren't using, helping your home become more energy efficient.
As you pass by, the art screen on the wall (E01) changes the artwork that it was showing to something new.
You turn on your home robot vacuum cleaner by asking your home device.
With your smartphone, you track your pet(s) with a smart collar (Whistle) to make sure they're not wandering off.
Even track your kids via their smartwatches to, well, make sure they're not wandering off.
You reach the toilet, that you find has little toilet paper left, so you click the nearby Amazon Dash Button that sends Amazon a command to purchase and deliver toilet paper to your home. You can even simply ask your home device to order it for you, after all, it's connected to your online account.
Considerably stressed, you feel like a coffee. By asking your home device, you choose to brew a latte on the connected Nespresso machine, which is ready in less than a minute.
You start your favourite music playlist on your Sonos speakers by asking your home device.
You place the (uncooked) dinner in the smart oven (June) and control its actions, temperature and time from your device, while you relax on the couch navigating your smart television, also via your device.
And that's all I've got right now, but I can assure you that there are heck loads more Internet of Things products out there, as well as in development now!
Check out an abundance of Internet of Things products for your home that you can buy or pre-order now at iotlist.co.