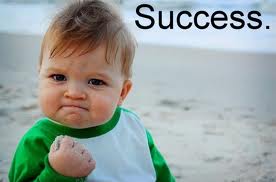 Helping Small Business Succeed Online
---
In my role at Crucial I have the privilege of speaking to a lot of our clients firsthand, I often hear a consistent theme from Small Business Owners. They may have some experience with online, they may have a website or a domain name but their website is not seen as a major source of revenue it is merely created to say they "Have" a website.
I often find that with a bit of education on the possibilities that the internet can bring they soon realise that they need to invest more time and effort into promoting themselves online.
I think the overwhelming consensus as to why these businesses are not utilising online to their advantage is the fear of the unknown.  Facebook seems daunting, an online shop seems too complicated and expensive and twitter, Google + it all seems too much.
What small businesses need to know is that there are simple ways to dip your toes into the pool. Setting up a domain for your business, getting your business a hosting account and ultimately setting up a website is now easily accomplished by even the most novice user of the internet.
I can recall a conversation with one client, where he advised me he had a website for over 5 years. I asked him how much business he gained from his website and he said to me "Andrew, I don't get any business from the website; it's just there so people can view my products then call me".
I said to him "wouldn't it be easier if they could just buy them online and not have to call you?"
That's when I put him in contact with another small business like him that specialised in web design. They created an online store for him which enabled his clients to buy his products online. They also registered him with Google Shopping and Google Places
I called him just recently when I was about to write this article to see what his answer would now be when I asked him "how much business he gained from his website" his response was now slightly different he said he now sells online only. He rented his shopfront out to a florist and uses the warehouse at the back to pack his orders and warehouse his stock. So not only has he gained extra revenue from renting the front of the shop he now has a streamlined business selling online.
This is the power of the online world, it opens your business up to new opportunities, Some people we deal with on a daily basis have been  in business 20-30 years and there continued success will require them to continually innovate and utilise the online world for all it has to offer them.
That same business owner now emails me regularly with some great companies he now uses to enhance his online store. He emailed me recently to tell me he was setting a virtual assistant for his online store from My Cyber Twin and is investigating the use of augmented reality to assist with customer service using Pointcloud.  He surely has moved on from just a brochure ware site now using cutting edge technologies to enhance his business online.
We love hearing of success stories from businesses succeeding online and it's even better when we can feel like we were a part of that success.
At Crucial our Purpose is to help everyone succeed online we want to help as many people succeed online why not speak to us today and see what we can help you succeed at. Here is a link to some of our business hosting packages that well set you on your journey; you can register your domain name whilst you're at it. If you have any questions along the way feel free to give us a call we are more than happy to explain things to you.
We have also setup strategic partnerships with other companies that exist to help people succeed online once you have built your website you may need to get the message out, get in contact with Web Marketing Experts they will be able to help you market your website and also help you with Social Media.
I hope this information has helped you on your journey of succeeding online.
Hosting Options & Info
VPS
Web Solutions & Services
---