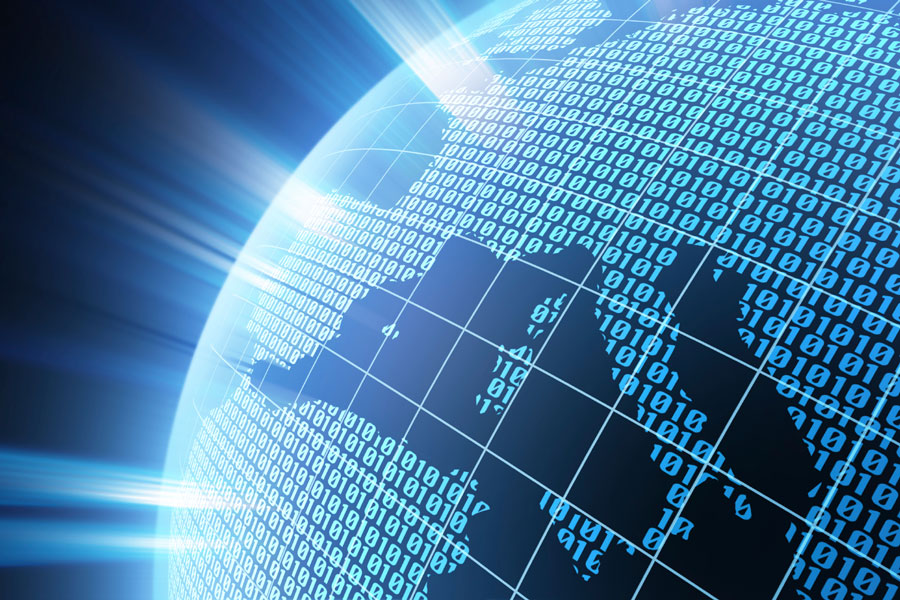 The Importance of Hosting Locally and Reputably
---
Speed is a term used loosely by everyone; quite frankly, 'speed' can relate to pretty much anything. In some scenarios speed comes with an offset, such as reliability, in others it comes exponentially over time, such as broadband connections.
Generally speaking we all want more speed, more performance, more everything, this quintessentially makes us human – stop at nothing, evolve or perish. The Internet, which is the backbone for all common global trade, expansion and growth, has been both a by-product and example of speed for more than twenty years now.
For all intents and purposes, connection and transit speed over the internet is determined by location. This is clearly evident when visiting say bmw.com.au compared to its parent site bmw.de – have a peek at the latest machines from BMW whilst you're at it. This geographic difference affects the speed of everything we know, such as light which takes over eight minutes to reach the earth's surface.
Most people also apply the same geographic rule to their hosting also, and here's why.
Latency
This is hugely based on the proximity of you, the user, and the location of the host that you are downloading or uploading to. Hosting a website on a Virtual Server in the United States through crucialp.com may be cheaper due to economies of scale, however this can increase the latency (measured in miliseconds) more than ten-fold.
Here are the ping results between our Australian and US websites: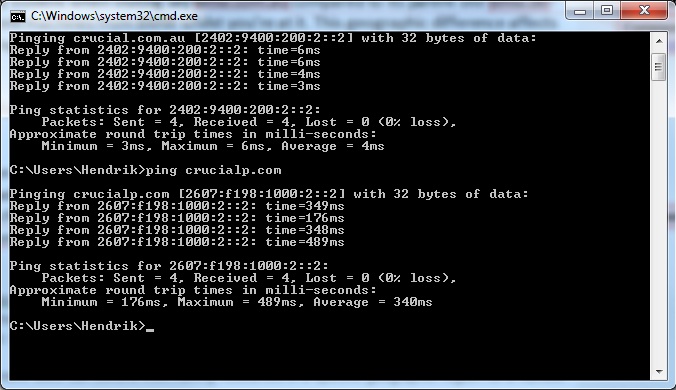 Another example, Optus' local website against its parent company located in Singapore: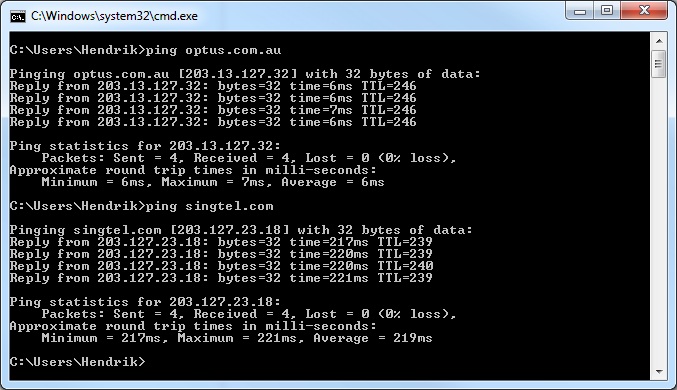 Latency is as equally important as page-load times, which is defined by the time it takes to load specific content on a page (e.g. images, text, scripts). eCommerce stores are now focussing greatly on having low latency sites to retain users on a single page, as the common online shopper is now impatient and will 'lose interest' if pages load slowly.
Benefits of Superior Upstream Providers
 Using local network routes is not only is faster, they are also tuned to the local ISPs and mobile network providers. Local upstream providers can offer superb routing through Telstra, Optus and the alike.
As mentioned in my previous blog post, using local upstream providers such as NTT can not only improve your brand recognition but also improve the hosting experience for your customers. We at Crucial use long-term provider Vocus and new addition NTT as our upstream providers, both are fail-over redundant and offer 100Mbit burstable connections; we rarely experience anywhere near our burstable threshold however. On top of this we also have dual-redundant peering partners; Equinix Peering and PIPE peering.
But how does all this translate into hosting with Crucial's Australian services?
Hosting with Crucial Australia will provide the benefits mentioned above plus the added benefit of being centrally located in one of the region's top-tier datacentres. For those who are now curious about Equinix, here's a transcript from their website:
 "Sydney is the largest corporate and financial centre in Australia and an important financial center in the Asia-Pacific region. The Equinix Sydney IBX® datacentres are strategically located near the Central Business District, with access to Southern Cross Cable Head. The datacentres offer a full array of premium datacentre and support services with extensive network choice and the ability to interconnect to partners and customers across the digital supply chain."
For some extra information about Equinix's newest facility, SY3; take a look at their YouTube video of the new complex which we migrated into in July 2011:
Ultimately the location of a datacentre and the upstream providers is hugely important for web hosting providers, which is why everyone should factor the location of their datacentre when choosing a host. On top of this the quality of the upstream providers and DC provider is equally important.  When promoting an online business, all aspects of your hosting must be factored in; design, performance, reliability and speed.