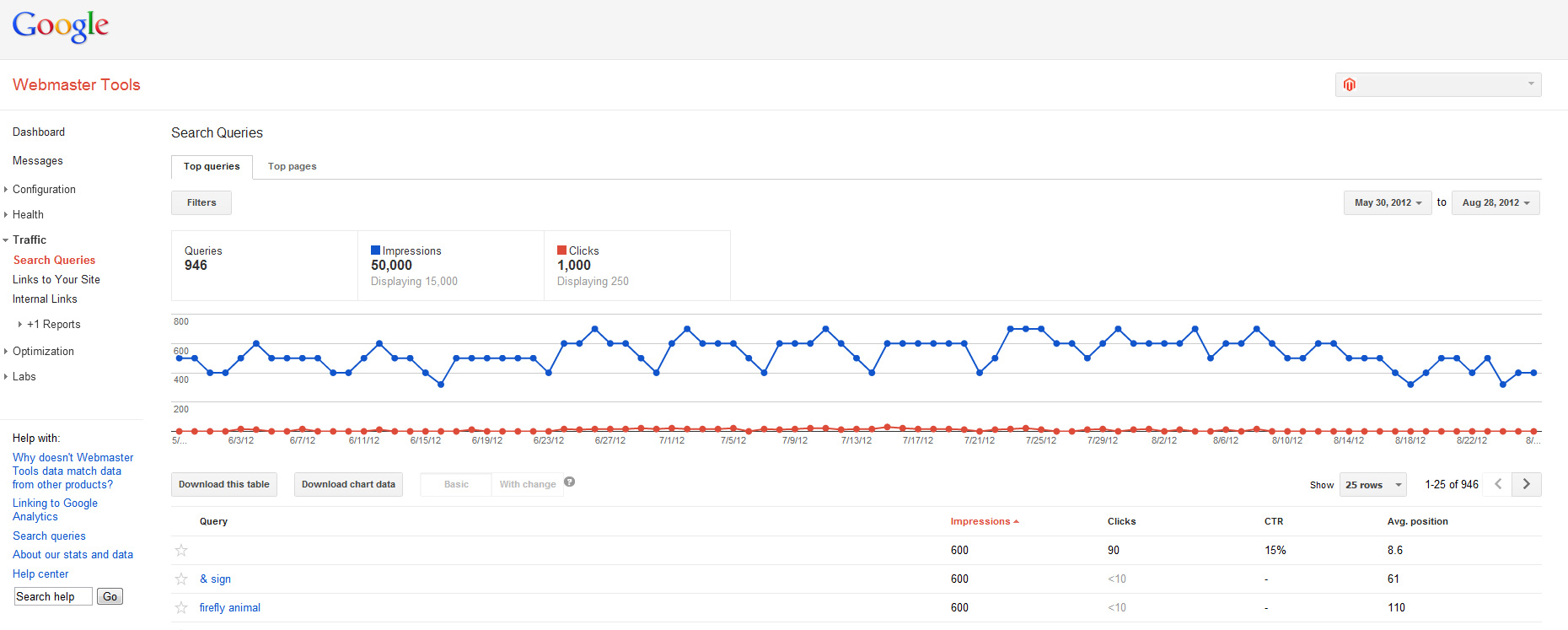 How to Benefit from the New Google Webmaster Tools
---
It is sometimes very hard to keep a track of your site , especially when your site is booming and more and more content is being added everyday by multiple staff members some who may not know the importance of SEO and ensuring things like keywords are placed in the right place.
I have been using Google Webmaster tools for a very long time and just recently Google announced they would be extending the functionality of Google Webmaster tools which i think is great as it is an excellent resource. I going to describe the various functions I use most below.
Note: If you haven't setup Google Webmaster tools before here is a great tutorial on how to setup your account. Click here to view the instructions
The DashBoard
Here is the dashboard, Click on the image below to get a better view. This dashboard is where the most important stats are kept and it gives you a overview of things like your crawl errors and how many searches and clicks you have received. It also shows you any issues with the sitemaps you have been submitting.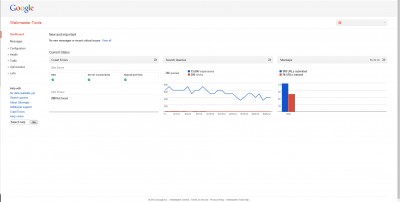 Site Errors
The site errors will show you any errors with your DNS settings , It will also show if your server is offline via the "Server Connectivity" checkmark and also whether your Robots.txt file is accessable. This file is used to instruct the Googlebot what to index and what not to.
URL Errors
I use this section Quite a bit, It will tell you which pages are throwing 404 errors(404 is a page not found error). This section can help you find links that are broken on your site. I find this extremely useful especially when dealing with an eCommerce site which may have thousands of links. The list is ordered by Priority based on how many links are pointing to the page that is missing. You will need to click on the URL of the missing page to see what pages are linking to that missing page.  When you click on the link you will see the 404 error details including a tab that says "linked from" this is where you will need to visit to fix the broken link.  It will also tell you when the problem was detected and the last time it was crawled.
Sitemaps
You can submit a sitemap for Google to index via webmaster tools. This is a great way to tell Google about all of your pages of your site. It is very time consuming to continually update a sitemap and submit it via google webmaster tools. If you are using a CMS based system such as WordPress or Magento there are a number of extensions or plugins that can automate this process for you. A good one for WordPress is Google XML Sitemaps the functionality is built into Magento. Here is a great tutorial to show you how to set it up if you are using magento. 
HTML Improvements and duplicate meta descriptions
Google Webmaster Tools will also show you how to improve the HTML of your site. Under the Optimisation tab you can see if you have duplicate Meta Descriptions , Long Meta Descriptions and Missing Titles Tags. Great for optimising your content.
Search Queries
Click on the image below for a larger image of the search queries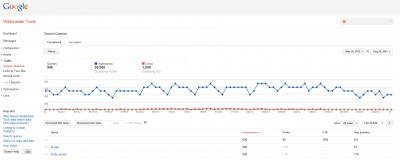 Here Google will tell you how many times you have come up in searches and for what terms. This will show you what keywords you will need to optmise on your site and what content you should be promotion based off what people are searching. As with most reports here you can download the list so you can analyse all the search terms.
Page Load Times
Click on the image below for a larger image of the Page Load Times

Page Load times need to be low for people to enjoy visiting your site, But Google also likes low page load speeds as well. There are numerous articles advising that low load page times can boost your seo efforts. So this is a great section to use to fine tune your server for maximum performance.
As you can see Google Webmaster Tools is a great companion to Google Analytics for your Business. It will help you optimise your site and get great performance from your site.
Hosting Options & Info
VPS
Web Solutions & Services
---