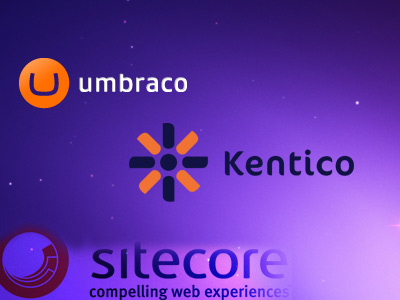 Umbraco, Sitecore and Kentico: My Week of Content Management Systems
---
Today, I would like to talk about the various options available when you are looking to deploy an enterprise grade content management system. You would most likely be familiar with WordPress and Joomla. These Content management systems power a large number of websites, there is one main difference between Joomla,wordpress and Umbraco, sitecore and kentico.
The last three content management systems are coded using ASP.net and are hosted on a windows environment, whereas Joomla and wordpress are generally coded in PHP/HTML and hosted on a Linux operating system.
The .net content management systems are regularly used for things such as enterprise grade websites that have greater requirements for functionality and security. Some of the largest sites on the net currently are using one of these Content management systems to power their site. For example National Geographic uses Umbraco to power its site, Sony Australia uses Kentico to power its online store and Cricket Australia built their site using Sitecore CMS. As you will see there is a common theme of large corporations using these enterprise grade content management systems. This is largely because most of these corporations will have enlisted the help of a digital agency to build and develop their website. Digital Agencies appreciate the fact that these content management systems make it easy to deploy and manage large websites. I have listed the three systems below and will show you the more common uses of each CMS below:
Umbraco
Umbraco provides great support and ready made packages which makes deployment of a new site easy and straightforward. You can customise the editors for full functionality of strip them right back to provide a simple interface in order to be able to simply post your content with a minimum of fuss. It supports multi language websites and gives you full control over your designs CSS and Code.
Umbraco's Portfolio of clients can be viewed here
Sitecore
Sitecore's main features involve intelligent tools to assist your business with serving content, analysing and reporting. They have cross channel capabilities built into the system which enable you to track customer engagement on your site. They place a large focus on customer interaction and incorporating the use of social media and making the CMS easily integrate with these systems. Sitecore has a number of different modular additional elements which can be added to extend the functionality of the CMS including Intranet, eCommerce and fully functional digital marketing system.
Sitecore CMS's Portfolio of clients can be viewed here
Kentico
Kentico is commonly used for enterprise grade eCommerce systems, however it is also a very powerful intranet CMS.  It as some of the other content management systems has the ability to extend the base installation with the additional of modular elements. These include WIKI's, analytics modules and Social networking. Kentico has a large list of clients who use their content management system, advising the system is deployed on over 15,000 websites in 87 countries.
Kentico's Portfolio of clients can be viewed here
As you can see there are numerous options available to you when you are in the market for an Enterprise grade content management system. These systems require enterprise grade hosting as well so if you haven't already start planning your hosting requirements for these content management systems by visiting our Cloud VPS Packages so you can see what infrastructure will be required to run these content management systems.
Are you using one of the above content management system's? Share your thoughts below.
Hosting Options & Info
VPS
Web Solutions & Services
---