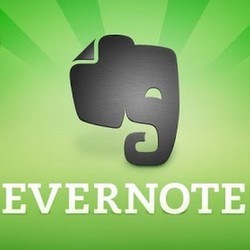 Evernote: The Solution to Note Taking
---
We all struggle with note taking, the common scene is either we have lots of pieces of paper scattered around or notes stored in different file formats and on different devices and of course the note that you need right now is always somewhere else or you simply cannot find it within the plethora of notes because you cannot remember what you had titled you had given to  your note.
I battled with this challenge until I started using Evernote. Evernote allows you to capture information from any device (I use my Android Smartphone, Tablet, PC's and Laptop) and in any format be it a voice note, photo, handwritten note on paper or simply text, and makes all the data accessible from anywhere and at any time through the use of their Cloud platform.
Storing data in the Cloud and making it accessible is really nothing new or special but what Evernote does do incredibly well is that it allows you to to add tags to your notes as well as categorise your notes into notebooks which are all easy searchable. One of my favourite features of Evernote within the search tool is the use of OCR which can detect text in images and can be recognised and annotated this allows me to take photos of whiteboards, advertisements and even handwritten notes which I can then later search for instead of having to browse through hundreds of photos on my phone only to upload them somewhere else.
Evernote is also available for businesses and it provides you with a simple to use centralised management interface where you can can share all your notes, photos and so on quickly and easily with your staff and colleagues which enables collaboration on a whole new level.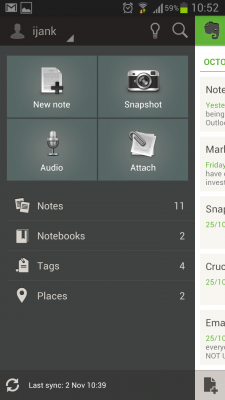 The easy to user interface in Evernote
While Evernote solves a lot of problems before you jump head first into using it I suggest thinking about whether or not it's solving problems that you are faced with today. There are other tools out there such as www.todoist.com which is an online to do list and even Google Drive which is more so a collaborative suite which are both extremely power and may be more suited to your exacting needs.
I'm a fanboy of Evernote because It's given me back a lot of my time which is the one resource I can never get back so If you have a smartphone give it it a try and let it enable you to get the most of our day!


Hosting Options & Info
VPS
Web Solutions & Services
---