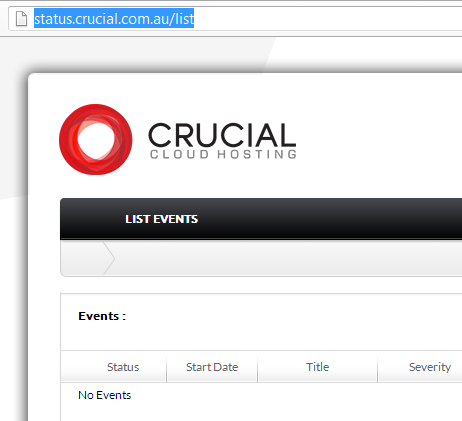 New Event Status Page for Customers
---
With the recent re-launch of our website (https://www.crucial.com.au) we have also introduced a new page that will be used for putting up any known service wide faults, this can include problems with servers, network faults, critical events and any maintenance windows.
The url for this new status page is, http://status.crucial.com.au
Bookmark it now! 
Currently we put all event notices and maintenance notices on our forum page (http://forum.crucial.com.au) which we have found to be hard for our customers to find and not clear as to what is going on. This is all based on feedback from our customers.
So as a result we have prepared this new status page which is hosted externally so if there is an unlikely issue with our website or your service, you can first check the status page before contacting our support team.
The status page will include the following information,
Event date / time
Event severity
Event name
Event description
Event updates
Event e.t.a
This will all be updated by our staff during a known event or maintenance window.
Whilst we get customers used to the new status system, we will still continue to place information on the forum, however we will reference back to the status page.
If you do have any feedback about the status page, please do not hesitate to email it to us on feedback at crucial.com.au
The ultimate goal here is to make an easy to use and central area that give customers a place to go, when something is not quite right!
We will also be planning to make improvements to the status page over the coming year as we being to use it more heavily.  So if you have think of anything that could be worth adding to it, let us know, we would love to hear from you.
The layout of the website is quite simple as can be seen below,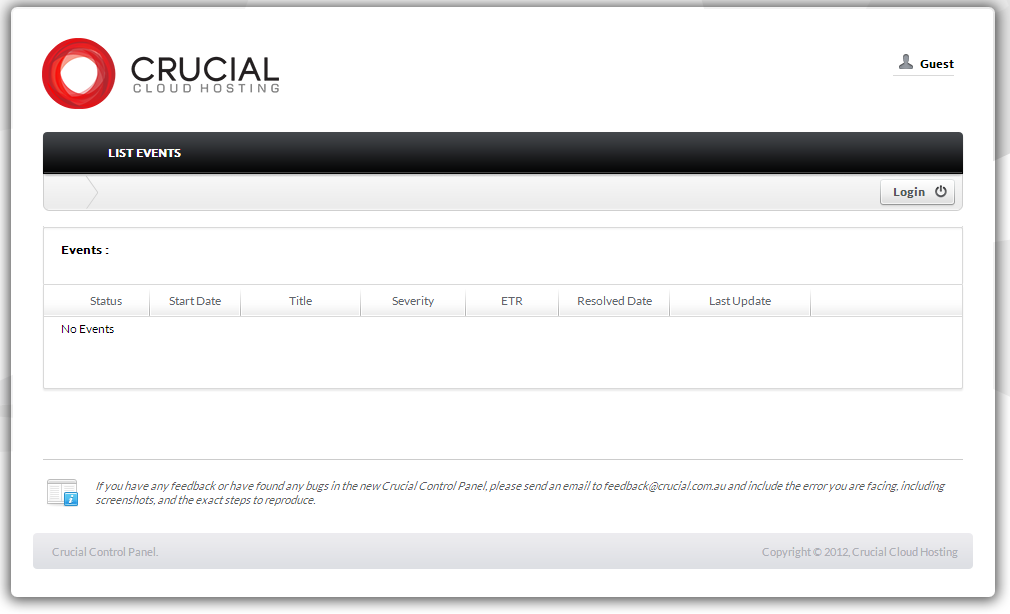 We will be sending out a general notice via email to all our customers informing them of this new page, so keep an eye out.
Also on a side note, for our customers with our US division (http://www.crucialp.com) we have also setup a Status Page for you too, http://status.crucialp.com
It is identical in operation and layout, just with a different skin, to reflect our US branding.
This is a great feature that benefits our customers, and is just one of the many improvements happening this new year.
Hosting Options & Info
VPS
Web Solutions & Services
---