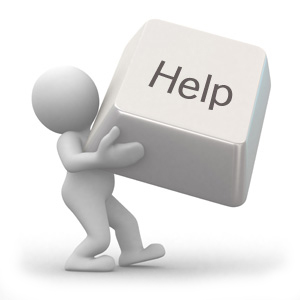 Maximizing Your Support Experience
---
Here at Crucial we pride ourselves on providing the best service around, however there is always room for improvement. One of the key things we highlighted for this year was to focus on customer education. In other words, how can we resolve a customer's issue without even needing to talk to them via phone, email or a ticket. The ultimate goal is to improve the overall support experience.
There are some key area's we are focusing on that will help achieve this goal. I thought I would highlight each area that makes up the support experience, and indicate why it could be useful to you.
Before diving in, a good place to always start for support is our support page, https://www.crucial.com.au/support.
Is It Just Me?
One of the first things we want customers to think about when they think they need support is if the issue or fault affecting them is specific to them or everyone else. For example, if you were trying to login to cpanel, now all of a sudden you can not access your website. On your screen your website is down, however for everyone else they can still get to your site as you've been blocked for entering your password in wrong 3 times! So simply waiting for your temporary block to clear, will return you the access you need.
Simply trying to reproduce the issue from another computer / internet connection, can make the difference between a high priority and a low priority issue. Often issues may be temporary, so getting someone else to try and reproduce the problem, can confirm that the issue is actually no longer present.
A great tool for checking if your website is up or down is, http://www.downforeveryoneorjustme.com. You simply enter your website URL in, and it will let you know if it can access it. This is a quick way to confirm if the issue is just you, or others as well.
Another great place to check is our Status Page, http://status.crucial.com.au. Any major events currently affecting our services will be put up there by one of our staff, this is a manual process, so you may want to check if a few times just to be sure. If you do see an event on the status page that matches up with your service, please monitor the updates via the status page rather then submitting a ticket. As you can imagine, during a large scale fault, ticket queue's can jump dramatically, so we provide updates via the Status page to keep you informed quickly.
The Mighty Knowledge Base
Late last year some of our team spent a good portion of time adding a large amount of articles to our KB area. The main point of the KB area is to provide documentation on how to do certain tasks, fix certain known issues, make particular changes and some recommendations on general usage.
We recommend you give this a thorough going over before you drop us a line, as there is a good chance the answer is there. We have articles for all of the services on offer, VPS, Cloud VPS, Shared Hosting, Reseller hosting. We cover some of the main Control Panels in use such as cPanel, Plesk, and Direct Admin.
There are a bunch of other articles worth reviewing, so make sure you give it a comb over. There is a search function to help you find what you are looking for.
Power of Video Tutorials
We recently upgraded our website, and added to our existing video tutorial library. As we come across more video tutorials we will continue to grow our library. A quick link to take a look now, https://www.crucial.com.au/support#video-tutorials
The videos are primarily aimed at basic usage of control panels, configuring email clients, and some other great walk through videos. For those very new to the hosting experience, this is a great place to start. However even those who are more experience, the tutorial area can be a great way to refresh and make sure you are following the right steps.
Search Google (Googlefu)
I hear you, searching Google can be a pain, especially when your issue is important to you or your business. However Google searching can be useful when you are trying to make changes, or work out an error with your site. Not every situation will fit this point, but sometimes Google might point out a simple fix to your problem.
The main goal here is to see if your error message is a common one and if so, is there a simple solution.
Software Vendor Documentation (RTM)
A large portion of our customers run websites that are developed using third party web software. Some good examples are WordPress, Magento, and Drupal. Each software vendor has a website, and in most cases will have documentation, a forum and sometimes even a knowledge base of their own. So we would suggest you give that a read through to make sure none of the issues you are experiencing are mentioned there!
This is especially useful for those first starting out with setting up their website! As much as we avoid it, sometimes reading the manual can prove useful.
Contacting Us!
If you are satisfied that all the other area's have not been able to answer your query, then by all means let our team know. However here are some things to keep in mind,
Please consider the support level of your service. We have varying services, some come with support bundled in, however some services require you to purchase support as an optional add on. If you are not sure, check with our sales team.
Any change requests, are best submitted through our ticket system, https://support.crucialp.com. This way we have a record of your request, and can then action that in the appropriate manner.
When you are explaining an issue in an email or ticket, please be thorough, descriptive and clear. The more information you provide us, the easier it is to understand or reproduce the issue.
Take screenshots! Often customers report errors, but we can not reproduce them, so please take a screenshot and upload it as an attachment when you submit your ticket.
Ultimately submitting a ticket first with all the details, will be the most beneficial to you and us.
Feedback
By this point you have either resolved your issue using one of our online tools, or our support team has helped you out. Either way, we would love to hear from you. The only way we can improve our support service is by hearing your thoughts and suggestions. To submit feedback head over to the following link, https://www.crucial.com.au/company/information#feedback
Further if you have contacted us via email or ticket, once your query is resolved and then closed, you will get an email from us asking how we went. We would appreciate if you took a minute to fill in the brief survey so we can continue to improve our support team.
For those reading this who want to just give feedback about something not related to support, go ahead and send it through via https://www.crucial.com.au/company/information#feedback. We would love to hear from you!
Hosting Options & Info
VPS
Web Solutions & Services
---