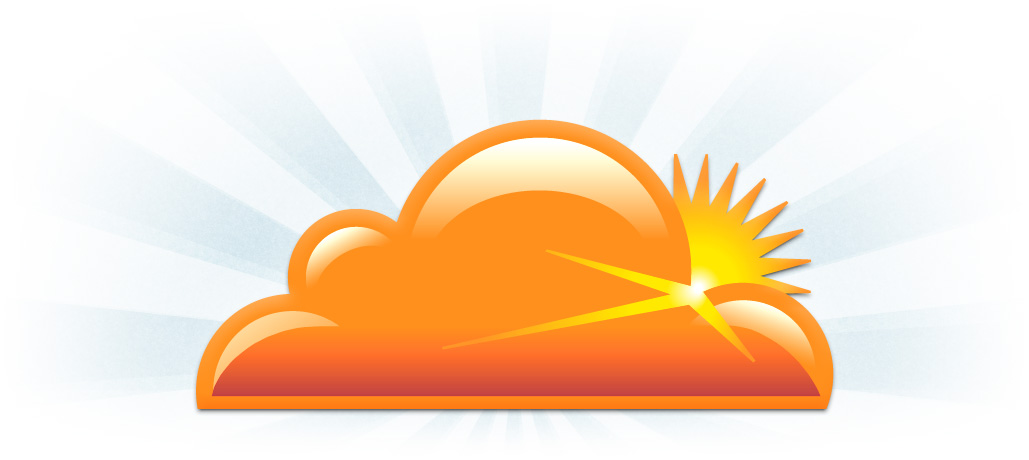 How CloudFlare has Helped Our Customers so far!
---
Back in early January we began offering the CloudFlare cPanel plugin across our Web Hosting and Reseller Hosting services. Some of our keen customers were quick to jump on board the CloudFlare solution and benefit from it straight away, and each week we get more and more customers signing up!
I wanted to share with you some quick stats so far on how CloudFlare is helping those customers that have enabled the CloudFlare solution on their cPanel account. I hope that some of the stats and information in this blog will help convince other customers out there to give it a shot!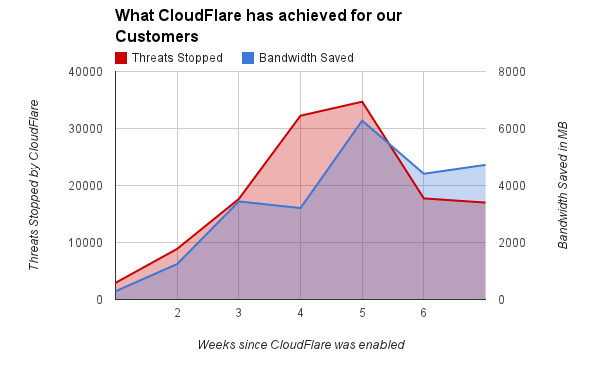 If you look above at the chart, there are two key takeaways that are important to both us and you as a customer. I will explain why this is beneficial in the rest of this blog.
Threats Stopped
The first key point worth noting is the amount of threats that have been blocked or stopped by CloudFlare so far. One week CloudFlare had managed to stop or block over 35,000 threats or attacks.
One question you might be asking is, what threat or attack are they stopping?
CloudFlare block a range of threats and attacks which include (but not limited too),
Reputation-based threats – The process of blocking known malicious threats from accessing your website. 
Comment spam protection – Blocking automated / bot processes that attempt to place spam comments on your blog or website.
Content scraping protection – Stop attempts for the content on your site to be scraped by other sites.
Block visitors by IP range or country – Block access to your site based on an IP Address, IP Address range, or Country IP Address block.
Collective intelligence to identify new threats – CloudFlare gets smarter about new threats. As more sites join the CloudFlare solution so does CloudFlare's ability to intelligently learn about new threats and then block them.
Visitor Notification – CloudFlare will notify certain visitors whom are accessing your site, if there computers are compromised with certain threats.
Network Floods / DOS / DDOS protection – CloudFlare will also attempt to mitigate Denial of Service attacks on your site.
The free (standard) CloudFlare plan includes the above. They also have other plans which include many other features. I would suggest you check the Plans section of CloudFlare's website to get a better understanding of what they have to offer.
Saving Bandwidth
The second key point is all about how CloudFlare can save you bandwidth costs! Each and every cPanel based plan we offer has a bandwidth limit whether you are on our Business hosting, Reseller hosting, Virtual Server, or our Blaze Cloud VPS service.
CloudFlare saves bandwidth by using the following features,
CloudFlare CDN – Just like a normal CDN, CloudFlare will cache your static content on your site across many of their CDN servers. So when a visitor accesses your site, some of the content is loaded from the cached locations. This saves you bandwidth and also speeds up load times for your visitors. 
CloudFlare optimizer – This is an advanced collection of tools that further improve our site's load time. The best way to explain this is to simply head over to, http://www.cloudflare.com/features-optimizer
Threat Blocking – As mentioned earlier, CloudFlare has a broad variety of security features which keep your site safe, but also reduce the bandwidth being wasted by the threats which are now being blocked!
Enabled CloudFlare Now!
I hope this quick blog post has given you some stats and evidence to strongly consider enabling CloudFlare on your website.
If you are wondering how to enable CloudFlare (for FREE!) on your cPanel hosting account with Crucial Cloud Hosting, then please follow the below simple steps.
Login to the cPanel Control Panel with your provided login details (Check your Welcome email).
Once logged into your Cpanel control panel, just look out of the CloudFlare icon and choose the domain you want to enable and then click the orange cloud.
That's it!

More Questions?
If you have a few more questions about CloudFlare we have prepared a FAQ with some common questions and tips which should help you.
Further you should head over to the CloudFlare website or alternatively drop our Support Team a line.
Hosting Options & Info
VPS
Web Solutions & Services
---