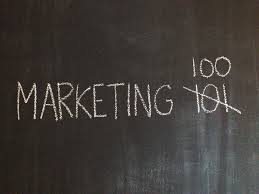 Forget Marketing 101: Let's Look at Marketing 100
---
Let's look at some of the fundamentals of marketing today, a lot of businesses spend tens of thousands of dollars every year on marketing without actually measuring the success and they wonder why they don't get the results that they were after. On top of this they fail at conducting effective marketing because they don't understand who they are marketing to.
Marketing 100
Here are three tips that will greatly improve the success of your marketing efforts.
Understand who your customers are BEFORE you start marketing.
System for measuring the success of your marketing campaigns are more important than the marketing efforts themselves.
Don't throw all your eggs in one basket.
Front End Systems
Every business is different however you can still create a strong front end marketing system, some of the methods may include Online Marketing  Landing pages, TV and Radio advertisements or even billboards. If you're already doing this the next question is how is all going? What tools are you using to measure the success of your campaigns? If you operate a website and require people to either purchase a product or sign up for a newsletter there are lots of useful tools out there that can help you, these include CrazyEgg, Google Analytics and KissMetrics. Google Analytics is a great tool for understanding where your website traffic is coming from as well as how they funnel through your site, our Managing Director Aaron wrote an article about getting started with Google Analytics which you also may find useful.
Back End
Next up is our back end  system, before we get started ask yourself this question' "Is the discussion you have with an existing customer the same as you would have with a new customer?" Of course it's not! An existing customer is already more inclined to purchase from you so your marketing system must also be looked at from a different perspective!
The easiest way to get your back end marketing system running is through a really well made newsletter that actually provides value to your customers. Create and offer your customers something that will enhance their business or their lives and if it's in a way that is easy to implement even better! One great way to do this is find other businesses that share your target customers and allow them to write a piece each month for your newsletter. Another method is by including advertisements on your invoices that you send out each month, just make sure they aren't too intrusive. If you're looking for a tool to conduct email marketing I can also suggest taking a look at Vero.
Sales Funnels
Last but not least how does your sales funnel look right now? Not sure? That's because you either don't have a system or you're not doing it right. Here's a quick and easy way look at your funnel.
Each product or service can have a different funnel.
Keep up selling until your customer says no then don't give up start down selling until you can up sell again!
Here's an example of a sales funnel:
You buy a new car which is $39,990, the sales person then asks you.. would you like metallic paint and the leather trim for the additional investment of $4,000? Of course you do so you take both of these options however when they get to the sunroof option that cost $2,500 you say no. What happens next? They offer you three year fixed servicing for only $500, and you take it!

You don't have to get everything right from day one, start working away at your systems and start collecting data, with information comes your ability to make smarter decisions and therefore drive more profit to your business.
Hosting Options & Info
VPS
Web Solutions & Services
---