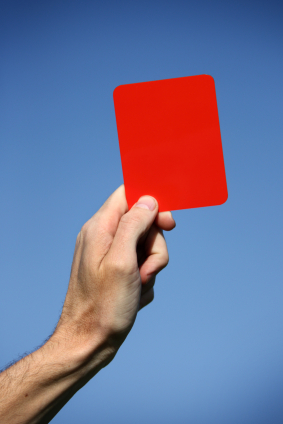 Site lost rankings? A guide to the Penguin 2.0 Update
---
The SEO industry is a scary place for an honest sales guy these days. It seems as though almost daily I find myself chatting to upset and angry business owners, ranging from 1 to 2 man bands all the way through to multinational companies who have experienced SEO penalties and severe drops in their sites rankings and traffic after paying tens of thousands of dollars for so called "SEO" services from "experts".
The common theme I see here in all of these Business owners, Marketing managers, Digital Managers and Directors is that all of them are able to diagnose the results and see that their site is penalised, but none have any idea of why or how this has happened, and in most cases what their SEO agency has done to cause the penalty in the first place. So I am here to give you a crash course on:
What gets a site penalised
All you need to know about the Google Penguin 2.0 update
What you can do to keep your SEO honest.
Tools you can use to get better transparency on what your SEO is actually doing.
What causes sites to be penalised
Although there are a number of different areas that you can manipulate on your site that can get it penalised, I can safely say that 90% of the sites that I come across that have had some adverse drop in rankings and traffic has been caused due to their dodgey backlinks and the Penguin 2.0 update in May 2013 which cracked down on deceptive linking.
All you need to know about the Penguin 2.0 update
What was the Penguin 2.0 update for?
Google has been working imperviously to stop people from manipulating their search engine into giving good rankings through spammy SEO tactics. The biggest area of contention here was business owners using unnatural, and manipulative inbound links to get great rankings.
What types of links do Google penalise?
So some of you may be asking, well what makes a bad link? Some examples below:
Links coming from poor quality or irrelevant sites
Links coming from websites that have nothing to do with your business or niche
Links coming from blog comments, or links that are hidden in user names in blogs
Links where the anchor text (the blue clicky text) is highly optimised with your keywords
Why the hell would anyone do any of the above or something to penalise their site in the first place?
The smarter of you will now be asking something along the lines of: Why on earth would I knowingly go and build links on poor quality sites, irrelevant to my business that can get me in trouble. The sad truth is that the most common answer here is that most business owners simply don't know what their SEO company gets up to, and fall for the "Guarantees" and "Pay as you get results" schemes even despite the warnings on Googles own guidelines as well as the ACCC and SMH giving the industry a spanking for dishonest behaviour and guarantees.
The reason why people engage in these dodgey SEO linking tactics is because it is still possible to trick the Google search engine into increasing your rankings through dodgey links in a short amount of time. Sounds great right? Quick results? Wrong. What the SEO's won't tell you is that although it will work in the short term, the strategy will inevitably fail and cause a lot of pain and business loss. This is explained briefly below.
How does back linking work and why do SEOs build dodgey links?
Google loves websites that are popular and favours them in their search algorithm. Google determines how popular your website is by looking at the quality and quantity of links pointing to your site. If you have lots of links from other site's talking about you that must mean you are popular right?
In the past Google would only look at the number of links pointing to your site and their "anchor text" (This is an anchor text to my site!). If you had a lot of links using your keywords from other sites you would rank! Regardless of whether the link is from a directory site in Kazakhstan, a blog comment made by someone in the Phillipines on an irrelevant site or a real link from a high quality publication like the SMH who is actually repping your business! Quantity ruled the world, quality was an after thought. The algorithm simply was not advanced enough to determine relevance and quality.
The penguin 2.0 update was a massive upgrade to the Google algorithm that made the search engine smart enough to decipher most of the crap, from the real brand mentions and real links that are earned properly through content. It is however still possible to build really deceiving low quality links that look like real links to Google but are actually not. These will work temporarily but it is only a matter of time before Google updates this again too.
What you can do to keep your SEO honest?
Your SEO company should be able to give you a high degree of transparency over the types of links that they are building and have built to your site if they even remotely know what is going on. As a savvy business owner you should be asking your SEO questions like:
What is your linking strategy to my site?
What links have you built in the last month?
How do you approach and select the sites that you are linking to my site and what selection criteria is there?
Any reputable SEO should be able to answer these questions easily as good SEO companies will have a full strategy around link acquisition, where they target to get links from for your site and why. If the SEO company can't answer this the chances are they likely:
Outsource your SEO overseas or to a third party company with no idea on what goes on.
Have something to hide from you with the linking strategy and simply won't tell you as they know if you saw the links you'd immediately know something was astray.
A reputable SEO will look at linking strategies that involve earned media and content. That is, earning good links from good sites by giving them great content they will want to share. Not just spamming your site wherever the hell it will be accepted on the interwebs!
Earned Media and quality linking is all about:
Getting people to talk about your business
Creating crash hot content people will want to share on their sites and link back to you with
Dodgey linkbuilding is about:
Spamming your site anywhere it will be accepted
Over-optimising and manipulating links to get you ranking really quickly
Quantity over quality.
So now you are probably scared and thinking, well what can I do to make sure that this is not happening to my site Mez? Don't leave me hanging! Below are some awesome tools I use on a daily basis to keep an eye on all of this and our competition.
Cool tools to keep SEO company on their toes and increase your visibility of what's going
This tool is one of my favourites and one that our team use regularly to keep a close eye on our existing campaigns, our clients competitors campaigns and of course our competitors. AHREFs is a tool that can tell you all of the links pointing to your site, what sites they are from and when they appeared.
Where to look?
Referring domains tab: This will tell you all of the different websites referring back to your website. Logic prevails here. If you are a plumber, and there are site's in India pointing back to your site saying "plumber Sydney" something funky is going on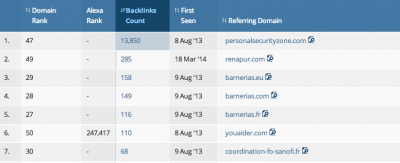 Anchor texts: When you click on this tab you will be able to see all of the different "anchor texts" of the links pointing back to your site. Again, the anchor text is the blue clicky text that links pages together and this is a dead give away of finding out if your SEO has done something dodgey. Most penalised sites will have a lot of anchor texts that are using their main keywords. (also known as exact match linking)
– A good link profile will have no more than 20% of the anchors using their main keywords, in my case "SEO", or "SEO company"
– A good link profile will have lots of natural anchors (minimum 80%) that have branded terms like the company name, or generic terms like "click here" , "visit this page" , "check this out"
– Think about it logically, if someone was to refer to my business on their site, would they say check out SEO COMPANY SYDNEY ? Or perhaps something more normal like check out this great website,
– If you can pick up a pattern in your links, Google is one step ahead of you!
This is not only a great tool for competitive analysis. It can tell you what your competitors rank for, how many keywords they rank for and their ranking movements over 12 months. This is really insightful data to not only benchmark your growth with your competitors, but to keep a close eye on your SEO activities. What to look for?
Keywords: The keyword report tab will give you a look at your sites overall keyword rankings. If you see a sudden drop, or gradual drop then you know your SEO is probably not working! Your overall keywords should increase gradually over time, and this software will be able to show you this easily and graphically.
If you saw a drop in May 2013 there is a high chance there has been a penalty on the site.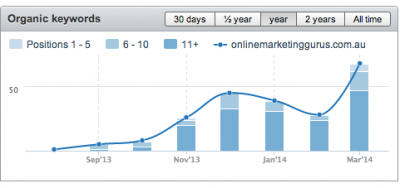 To conclude, the best thing you can do to arm yourself against these types of adverse drops in your rankings and traffic is to educate yourself on what to look for, do your due diligence in looking over your SEO company's work, and holding your SEO accountable. Doing this will mean you will need to invest a bit of time and money into the relationship with your SEO as well as invest in software to do your due diligence in keeping a closer eye on the strategy your SEO is implementing.
As always, prevention is better than cure, I have produced a guide here on how to avoid issues when selecting an SEO, but to cut it short, if it sounds to good to be true, it usually is. Don't fall for the short term promises for long term glory and remember: When Google finds you, they will penalise you!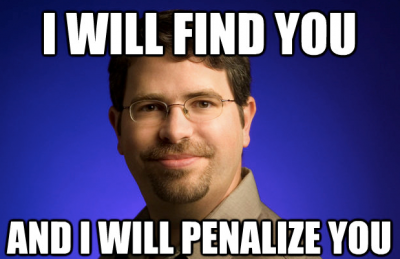 (image source: http://cuttslol.com/wp-content/uploads/2014/01/I-Will-Find-You.png) (For those of you who don't know the fellow above is Matt Cutts, the head of the Web Spam team at Google and the guy who pretty much determines what spam and is considered dodgey".)