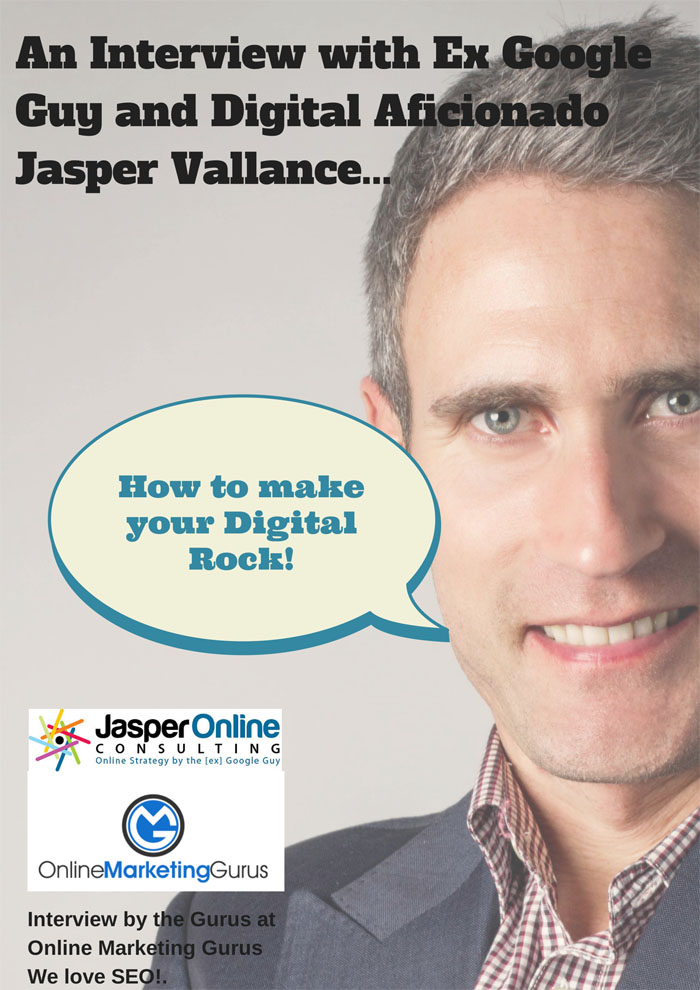 An Interview with ex-Google Guy and Digital Aficionado Jasper Vallance
---
The proliferation of online marketing and digital marketing has been huge over the past 4 years, with online marketing spending of Australian businesses growing 17.1% in the first quarter of 2014 to a staggering $1.67 billion up from last year.
With this huge influx of interest and spending on digital marketing in Australia The Online Marketing Gurus have decided to address our good friend an ex-Google Guy Jasper Vallance to tackle some of the most commonly asked questions, misconceptions and tips for Aussie businesses looking to take the plunge online.
What's on the agenda today?
In our times as industry experts, and consulting with some of Australia's largest eCommerce businesses and sites we have noticed a number of trends and want to tackle these in a helpful interview and blog with Jasper.
Why do businesses fail online?
Common misconceptions Aussie business owners have about digital and online
Where to start your digital journey
Which digital channels are the best?
What to be weary of when outsourcing your digital marketing function
A real live case study of an Aussie business kicking ass and cashing cheques online with a rocking Digital Strategy!
Interviewee bio: Jasper Vallance of Jasper Online Consulting spent 5 years working at Google with some of the biggest brands in the industry. Jasper in 2012 left his 3 meals a day at Google to start his own consulting business providing outsourced digital expertise to help fast growing medium-sized businesses make the right decisions when formulating and executing their digital strategies.
Interviewer bio: Mez is the Co-Founder at The Online Marketing Gurus, Australia's leading Enterprise Organic Search Agency with over 28 staff worldwide. The Online Marketing Guru's specialise in helping Australian startups and mid-tier companies boost their online sales, traffic and leads and exist to make the process of search simple and profitable! The Online Marketing Gurus have written previously for Australian web hosting provider Crucial Blog and have a brand mission to change the way SEO is done and the perception of the industry as a whole, check out our expose here.
Now that our not so shameless self-promotion is done, enjoy the interview!
What are some of the fundamental reasons why businesses in Australia fail online?
Increased competition
Today we operate in different marketplace than we did 5 years ago. The internet has lowered barriers to entry leading to new competitors and consumers have become more empowered with higher expectations. So it's key for any business to evolve or in some cases transform to still remain relevant within their category.
Failing to plan is planning to fail, most businesses simply don't have a strategy. Just doing SEO or PPC is not a strategy.
Having an effective business strategy which works today is key. You need to make sure you have a value proposition which resonates with an existing customer base. Otherwise your investment in your website will be wasted as your offer will not convert customers.
If you have a successful business today then it's more a question of communicating this effectively online and making sure your online and offline channels work together to create a seamless customer experience.
Not having a story behind your brand or a cause.
The brand story and content is equally important as this is what engages customers and differentiates your business. Unfortunately, I see businesses under investing in their website resulting in an online offering which does not do the business justice. The website content and branding is often an afterthought. And given the cost of driving traffic to a website today its vital your website outperforms competitors otherwise you may be disappointed with your return.
Common misconceptions about Online Marketing?
Online marketing is a silver bullet:
I think the most common misconception is that online marketing is some sort of magic wand to drive customers overnight. I see people setting up an online retail offering on the premise ecommerce is growing but without realising how tough it is to connect, engage and convert new customers online. The reality is it can be costly, it takes time to get results and requires the right approach and expertise to get a return.
A website is enough to get customers:
Like having a bricks and mortar fit out, it always comes back to getting your offer right. In retail that means product, price, range and customer experience. Customers can leave your business at the click of a button so you need to get all these aspects right for the audience you're targeting. Doing so online is even more challenging, and requires careful thought out processes of how your customers shop and how you can stand out from competitors.
In short:
It takes time to get results. Online marketing is a test, learn and optimise process so results do not come overnight requiring an ongoing commitment to experimentation until you have a formula that works. When it does work it can be like printing money. But there is always new trends and new aggressive competitors to adapt so requires an ongoing focus.
Where should businesses start their journey into taking their business online?
This first step is to do your research.  Invest time analysing what your competitors are doing online and understanding what customers are looking for.  Searching on Google makes this job easy and setting up an Adwords account so you can access the Keyword Planner will enable you to estimate search volumes for specific products and service to give you an idea for demand.  Be the devils advocate to your business.  Do you have a unique proposition or is there a specific market segment you can go after which you can deliver a better overall offer or customer experience. Often the opportunities lie with niche offerings and serving this market really well.
Use these tools to start your journey:
SEMRush: find out what your competitors are doing and ranking for
 Google Keyword Planner tool: Find out the search volumes of your keywords and estimated costs per click (great for ROI calculations)
 Moz: Find out how difficult your keywords are to rank for
What channels have you found to be the most effective for SMBs
The challenge for smaller businesses is a lack of time and resources.  If you have an offline store location or provide a local service I recommend you focus on the following
Google Places:
Google places is a good first point which can utilise to get your business on the front page of Google for free. Spending time adding photos, selecting the right keywords and getting favourable reviews can improve your rankings on Places and help set you apart from competitors. I would also recommend focusing on Google+ as this is integrated with your Places account and is another opportunity to prove you worth and passion for what you do through the content your publish.
Social Media:
Secondary to search which connects you with new customers I recommend focusing on email and social channels to re-engage past customers to upsell and drive repeat purchases.
While it is time consuming creating content if you create good processes and make this someone's job it's a great opportunity to build relationships and increase word or mouth. The key of course is creating quality and relevant content which add value to your customers through being informative, entertaining or giving them access to exclusive offers.
Success with email is dependent on how your segment your audience and tailor content to them. This may not be necessary if you have a specific target segment but if you have vastly different customers with different needs you need to address these needs differently.
There is a skill to writing effectively but it's only the person who is passionate about your business and what you do that will be equipped to tell your story.
Top tip:
The average customer takes 3-4 brand activations or engagements to buy from you, make sure you are reconnecting with your would be clients after the first engagement
What to be careful of when outsourcing your Digital Marketing
Outsourcing your Digital Marketing as a whole, or to specific vendors can be a great way to maintain focus and save time, but also presents its own challenges.
We all get bombarded with many online marketing agencies trying to sell their services and seems the number continues to grow. The unfortunate reality is that most are more focused on making money rather delivering the best value for customers. There is also a huge breadth of service providers that provide different levels of service at different price points.  So it can make supplier selection challenging.
It's a question of finding the right fit for your business. Depending on your revenue and the role online plays impacting the growth of your business you will want to choose the best value option. You need to spend enough money to get right level of expertise and also the time commitment required to help you get the most out of search.
Good questions to ask a would be SEO/SEM/Digital vendor:
Do they have clients similar to you and have they proven they can get results?
Will they share with you their strategy before signing on the line that is dotted?
Without understanding the industry it can be hard to know what you need which is where I help clients with these decisions or audit how effective their agencies are being.
Check out Mez's guide here on how to pick an SEO provider.
Case study of how Digital has changed a small Australian business
My client Bicycles Online is a good example of a business which tackled ecommerce effectively as they started with a unique offer. They were able to get the distribution rights in Australia for a brand of bicycle called Polygon. Polygon was better value or on par with any other bike brand sold in Australia so you could get a high-spec road or mountain bike for much less. This offer suited those getting into road cycling or mountain biking and capitalised on the growth in popularity in cycling in Australia.
With a compelling offer they then focused on their website customer experience to essentially make it easy to make a purchasing decision online without seeing the bike in person. They used video to communicate the selling points of each bike and sponsored pro bike riders to earn credibility. They also reduced buyer anxiety by offering free returns and test rides and made it easy to access a person with questions providing multiple contact options. Being able to sell bikes online was fundamental to their strategy to enable national reach without the cost of a store network.
With their online offering up to speed it has been a focus on SEM and SEO which has grown the business. Bikes are heavily researched online so Google was great channel to connect with all those looking for their first serious road or mountain bike or looking to upgrade without spending too much.
But is never plain sailing, competitors drop prices to be more competitive. New bike brands continue to enter the market so requires a constant focus on branding, customer experience, pricing and stock management.
Business is not easy, either is online marketing. But with the right value proposition, reasonable expectations, the right approach, expertise and the appropriate investment the rewards can be significant.