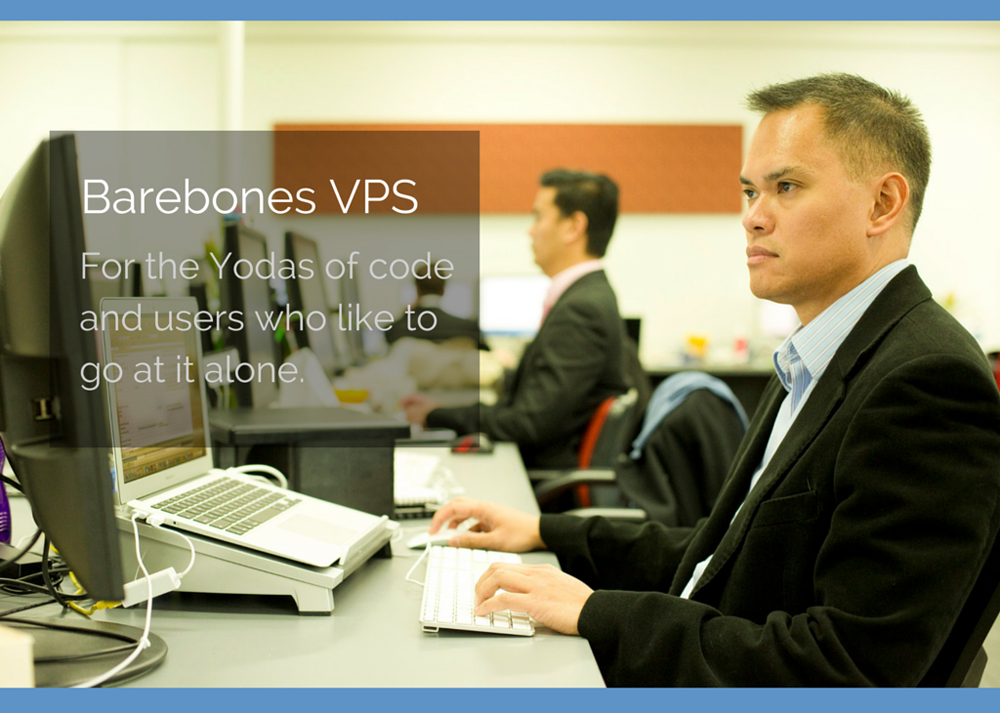 Barebones VPS: Handing You the Tools
---
Barebones VPS does sound quite frightening, but trust me, you're nowhere near being bare or seeing bones. Our Barebones VPS service is a self-managed VPS without a control panel or tech support — so that you're comfortable being left to do that awesome thing that you do.
If you don't already know…
VPS, or Virtual Private Server, works in a similar way to web hosting — it enables you to put your website(s) on the Internet. Where Web Hosting gives you a slice of a server, offering limited, 'shared' resources, VPS Hosting gives you a whole small server, offering dedicated resources such as RAM, CPU, disk space, and in some instances, disk performance. Our Barebones VPS packages are a type of VPS hosting where you're in complete control of your hosting experience — not that you become the web host, but that we provide you the tools for you to build your dream with.
Who is it good for?
Our Barebones VPS packages are great for developers and sysadmins.Lightning fast and reliable VPS hosting is what you need and what you'll love with our Barebones VPS packages. If you trust yourself with the technological stuff, then you'll love the simplicity of SSH or RDP access and fast SSD storage. We give you the launchpad and you launch the rocket. Whether you're a code guru, monkey, wizard, or Yoda, this one's for you.
What's good about it?
Choice of OS – With 8 popular operating systems to choose from, the power is in your hands.
Variety – We offer three different packages to choose from, to suit whatever your business's needs are. They vary in RAM size initially, with 2GB, 4GB, and 8GB packages, but also differ in the amounts of CPU cores, data storage, and monthly data transfer limits.
Fast SSD Storage – Our Barebones VPS packages offer fast and robust storage that loads your website(s) faster for your customers.
Room to Grow – Start small and dream big with our variety of packages, we'll allow you to upgrade as your business upgrades.
Mobile Access – Remain in control of your Barebones VPS at all times through Crucial Control, with stop, start, reboot, rebuild, and console features all included — because we understand the modern need for mobility in today's digital world.
Extra Features – We'll make sure you stay online with a 99.9% uptime guarantee on fast and secure Australian servers, as well as offset your carbon emissions with Climate Friendly, and offer no lock-in contracts. If you're keen on hardware, you can also find tech specs for ninja nerds at the bottom of the Barebones VPS page.
What now?
If you're a lover of code, and like to take things into your own hands, then:
<TheRightThingForYou>
Barebones VPS;
</TheRightThingForYou>
Click here for more information about our Barebones VPS packages, or click here if you would like to explore our fleet of hosting products.
OR if you want to watch a one-minute snippet of what our Barebones VPS service is all about, visit our YouTube channel here, where you can browse our small library of videos that range from product videos to Connect events.