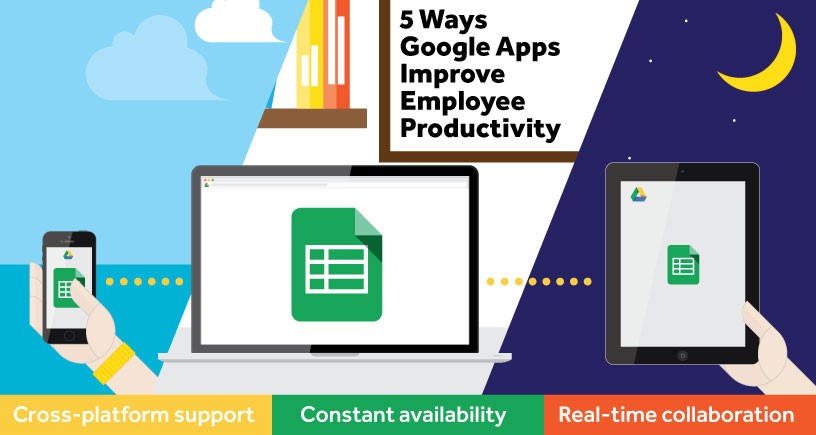 5 Ways Google Apps Improves Employee Productivity
---
In the modern world of cloud computing, it is all about real-time collaboration, user-friendliness and providing your team with all those useful apps and tools they need, so they can work from anywhere, anytime, and on any possible portable device. One of the most important and widespread new mottos is – enable your employees to work the way they live, not live the way they work – and once you are able to do just that, your people will feel much more satisfied with their job, they will become even more productive and your business will start to bloom. With Google Apps, your employees will have the opportunity to collaborate more internally with each other anytime they want, which means they will be more productive, thus your clients more satisfied. Yes, it can be that simple.
Contrary to popular belief, Google Apps is not only suitable and effective in small office environments. Sure, huge companies might encounter a slow rate of their employees gaining and acquiring skills for the new tools, but the latest reports say the reality is actually quite the opposite. With a little strategic planning before adopting Google Apps, your team can take advantage of all the possible benefits and hit the ground running (as opposed to just hitting the ground by using out-of-date software). Here are 5 ways Google Apps can help your transform your business and help your team become more productive and far more homogenous.
Real-Time Collaboration Allows Greater Flexibility
In order to achieve this better productivity amongst your employees, you need to provide them with possibility of real-time collaboration, and Google has just the tool for the job, the app called Hangouts. Hangouts is Google's instant messaging and video conferencing solution which can help your company significantly reduce the number of emails, while it will at the same time increase compactness, work rate and efficiency for your team.  Hangouts can be used, not only for communication within your internal team in the office, but also for closing deals with your clients as well.
You can see whether your client is available or not at the moment, and if they are, you can see which device they are using (desktop computer, tablet, mobile phone, etc). Via Hangouts one can start a video call from almost any device, share documents and projects, work in real-time on a certain document, or simply be there for your client for possible assistance or consulting. If you decide to also add a Chromebox setup to the mix, you will be able to arrange and host meetings like a boss (pun intended).
You can also make online conferences fun with another Google app called Uber Conference. With Uber Conference, hosting a conference call and discussing a project with your clients is a walk in the park. In fact, it can even literally be a walk in the park. This tool is a great add-on service for your consultants and it integrates rather nicely with other Google Apps. One can easily add a dial-in number to their Google Hangout video call so any external party can join in. Neat.
Cross-Platform Support Empowers Mobile Employees

Another way to keep things fresh and everybody in the loop is to present your employees with a user-friendly and effective cross-platform so they can have access to all relevant data anytime and anywhere. Since the traditional server is slowly facing extinction, you need to offer your team a way to work from the cloud. Google Apps' Drive is the way to go.
It doesn't matter if your employee is using their tablet, smartphone device, Macbook or PC, Google Drive is an amazing cloud storage solution which provides unlimited storage for your company data. If you need a cross-platform to collaborate on marketing material, documents, proposals, or any other project together as a group and in real-time, Google Drive is the right platform to do it. It is an easy and painless way to avoid the mundane and tedious sending of files and documents back and forth. With Google Drive app each member of you winning team can easily access the document and make any necessary changes right from their portable device.
Easier And User-Friendly Email Solutions
If you are perhaps an old-school person who likes to stick to plain old email communication, Google Apps has been working on just the right solution for you. If you somehow still don't have a Gmail account, now is as good time as any to make one.
Gmail provides you with your own custom email network for your business with your company domain name. Once you make your account you will experience the power of Google's Mail web interface that is closely integrated with the entire Google Apps Suite, which means all other useful apps will be related and linked to your email account. Google also gives you access to its robust search tools, so you won't have to worry about whether or not you'll manage to find a specific message among the plethora of other emails. Plus, your employees won't have to deal with the nearly extinct local mail clients like Outlook or MAC Mail. Using a proper email solution will definitely make your team work as a unit and be significantly more productive. Which brings us to our next section…
Keeping Everything In Sync
The great way to induce employee productivity and increase work rate is definitely to make sure every document and every team member are in sync (and not 'N Sync). The proper way to achieve this is by syncing Microsoft Office with Google Docs and Google Apps using OffiSync. This app enables users to significantly improve and advance their creativity, collaborate more easily and share their projects with the whole team regardless of their whereabouts. With OffiSync your documents can be edited directly via your Microsoft Office suite, while your collaborators are able to see all the changes in real time. Also, all documents or projects saved via Google Docs are automatically updated.
Backing Up Files Has Never Been Easier
Last but not least, is safety. The app called Backupify will help you secure and back up your data in the cloud like nobody's business, since your data is indeed nobody's business but yours. Backupify is a brilliant way to make sure all your data saved in the cloud is backed up properly. Should your data get corrupted in any way, or deleted by a virus, you can easily recover it to yours or somebody else's account. Better safe than sorry.
Al things considered, Google Apps are a great way to improve your team's productivity, creativity and compactness, and although it may not be a perfect choice for everyone, it is indisputably the most versatile and all-round solution out there.