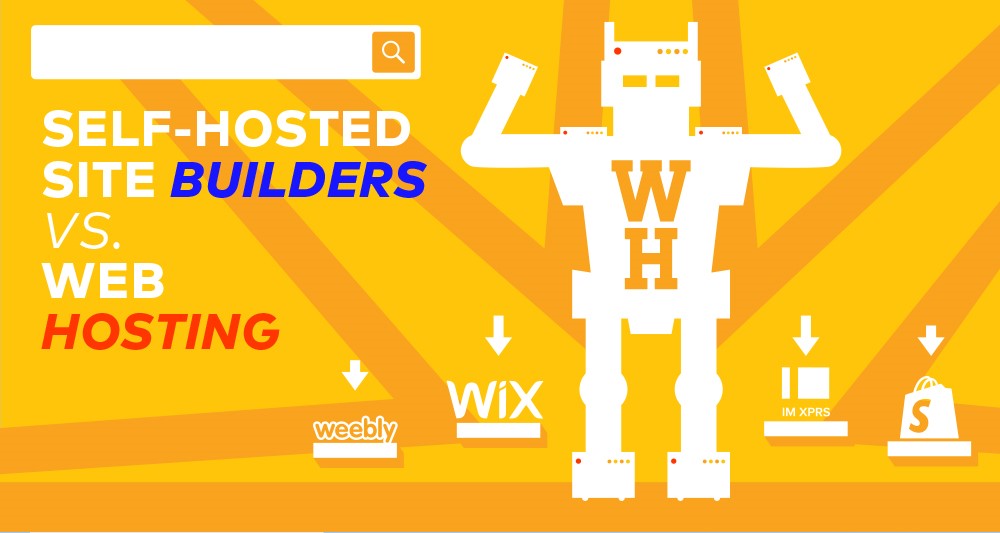 Self-hosted Site Builders vs. Web Hosting
---
Choosing between a self-hosted website builder and a web hosting service is definitely not an easy decision, no matter whether you are just starting off, or you have been in business for a while. Each alternative has its own pros and cons, but the last thing you want to do is make the wrong decision and waste your precious time and energy by building a website using the wrong hosting service.
Depending on your background, objectives and resources, you need to make sure you've chosen the solution that will help you avoid headaches, wasted money and time spent on unnecessary tasks. The first thing you will want to do is figure out your own needs and learn the differences between the self-hosted site builders and traditional web hosting.
Self-hosted site builders
Self-hosted site builders offer the fastest and easiest way to build a website as they usually don't require any technical knowledge from their users. You simply choose a pre-designed template, add your text and images, and you're off in no time. Another seemingly crucial game-changer is the price. Using a self-hosted site builder is the least expensive option for making your site since these platforms go around and avoid the need to separately pay your webhosting provider. Some of the most popular solutions are:
Wix – featuring a wide variety of templates, Wix helps you jump-start a personal website or blog in a matter of seconds. Its premium plans are intended to provide you with more bandwidth and storage resources, while also helping you drive more traffic using the Site Booster option.
Weebly – Like Wix, Weebly is focused on simplicity and represents a quick and intuitive way to create a neat blog, website or online store. Weebly provides you with a wide range of customizable online store templates and allows you to upgrade to better plans at only $8 a year.
IM Creator – Although not as popular as the previous two, IM Creator is another intuitive solution for those who are looking to build a basic website.  It's primarily focused on bloggers and their offer can be really appealing if you're just planning to build a personal blog.
Shopify – As opposed to the solutions listed above, Shopify is one of the biggest players in the eCommerce market and currently hosts thousands of online stores. Shopify's main advantage is the availability of features for building, designing and promoting online sales, which include advanced site builders, 100+ templates, shopping cart customization, etc.
Although these solutions have multiple advantages, working with them typically results in pages that are plain, unimaginative and inflexible. Self-hosted site builders allow a limited number of pages and offer insufficient selection of templates, while they also prevent you from uploading your own pages and don't provide the use of advanced scripts either.
Depending on your skill, you can go from the start screen to having your page running in about an hour using a website builder as all technical aspects are done by the service. Which means your only job is to choose the appropriate design and hit the launch button. Where's the fun in that, right?
The advantages of web hosting

True web hosting delivers a working hosting account with services that maintain maximum uptime and availability. It allows you to build your own unique site by uploading pages with sophisticated functionality, and the possibility to modify your page virtually any way you want. The possibilities are endless, literally. The hosting account includes a set amount of data transfer traffic from your computer to the host's server, which allows you to upload whatever content you see fit, from texts and images to multimedia files, while you can also upload entire pages or change existing ones. Another plus is that you can build eCommerce software in your website, but certain hosting companies even provide it as a basic feature of your account.
Here is a helpful article on how to build a WordPress website in 19 minutes!
More than meets the eye
One needs to think about flexibility, control and the transferability of web design, as well. Sure, building your website using a site builder seems easy and painless with all the provided templates, but that is all an illusion, a pretty façade if you will. You need to grasp the fact that making a website is not just creating visual design meant to be pleasing to the eye. There are many other, far more important aspects to creating a website. Think usability, search engine friendliness, scalability, flexibility, content, transferability, and so on. As your ambition and aspiration grow, you will want your website to grow with you. You will want your page to be more usable and search-engine friendly, but with a site made with one of the site builder platforms you are limiting your page's usability, flexibility and overall control.
It is the same thing with content as well. Site builders provide you with the false sense of user-friendliness and ease of use, but you still need the content, there is no way around it, and we all know content is the most important part of creating any kind of website. Even though creating a page using a site building platform is faster, your content will end up looking cheap, which is exactly the opposite of what you're trying to achieve, isn't it? You still need unique, original and interesting content, and the only person who can come up with good content is you and you alone.
Transferability, or how to avoid locking your web design
Many site building platform users end up with their website being locked to a particular web host. This happens because the templates and/or graphics generated by the builder are copyrighted and licensed for their website only, which means that if they were forced to move to another web host, the template they used is no longer available to them. This might just be the biggest issue with creating your page via site building platforms. There are many reasons why you would want to change your host, for example, your current hosting company may have a lot of downtime or you may want a local host to increase speed, this is when you will want to be able to move to another web host simply by transferring all the data to the other host. This however, is not possible with many of the self-hosted site builders. In these cases you will most certainly end up losing serious money and possibly your website.
The (obvious) verdict
It is rather simple, actually. If you're just starting out and need a simple and functional page as soon as possible, you might want to consider temporarily saving time and money by going with a self-hosting site builder, but if you are looking at the big picture right from the start and want to have a scalable site with more unique designs that will reflect your business, you should definitely opt for traditional web hosting. Regardless of your needs, you're likely to find exactly what you need with crucial.com.au. Give us a try.