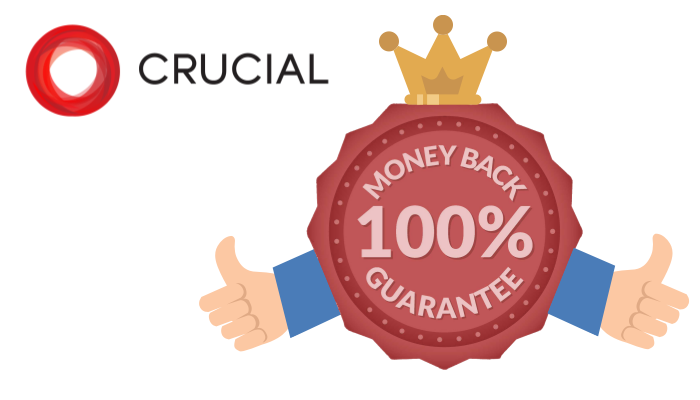 Introducing our Money Back Guarantee!
---
Here at Crucial, we have the utmost confidence that you'll be happily satisfied with our products and services, that we're betting on it! We're excited to let you know that we've included a money back guarantee for our popular base products.
This isn't a bluff or tactic — we have complete trust in the performance of our hardware and our customer support, so much so, that if any customer wishes to cancel their service within their first 10 to 30 days (depending on the service) of use, we will provide a full refund of the cost associated with the service, which includes zero paperwork to complete. That's right, a 100% refund of the product's costs, with little to no effort needed from you!
Refunds by Product:
Refunds for Shared Hosting, which includes Web Hosting and Reseller Hosting, will involve a 30-day money back guarantee, whereas refunds for our VPS Hosting services — Barebones VPS, Control Panel VPS, and Managed VPS — will involve a 10-day money back guarantee.
 Refund Exceptions:
One main condition is that the refunds only apply to a base product — meaning that there are a few exceptions to some of our complementary products. Due to the nature of the products, the money back guarantee does not apply to:
SSL Certificates
Site Migrations
Domain Name Registrations, Transfers, or Renewals
Any Add-ons related to VPS or Shared Hosting Products, such as:

Monthly Management
RAM Upgrades
CPU Upgrades
Extra Information:
With every service offer is a little complication (nitty gritty stuff) — but proudly, no catch!
The money back period (whether that's 10 or 30 days) only starts when the service first activates
Only applies to base products purchased under a subscription period of monthly or yearly
Refunds are not applied automatically, and must be requested within 30 days of account cancellation
And that's it!
Need more info, check out our webpage dedicated to it, here, or contact your customer support team.
If you are looking to request a refund under our Money Back Guarantee, please contact our billing team.