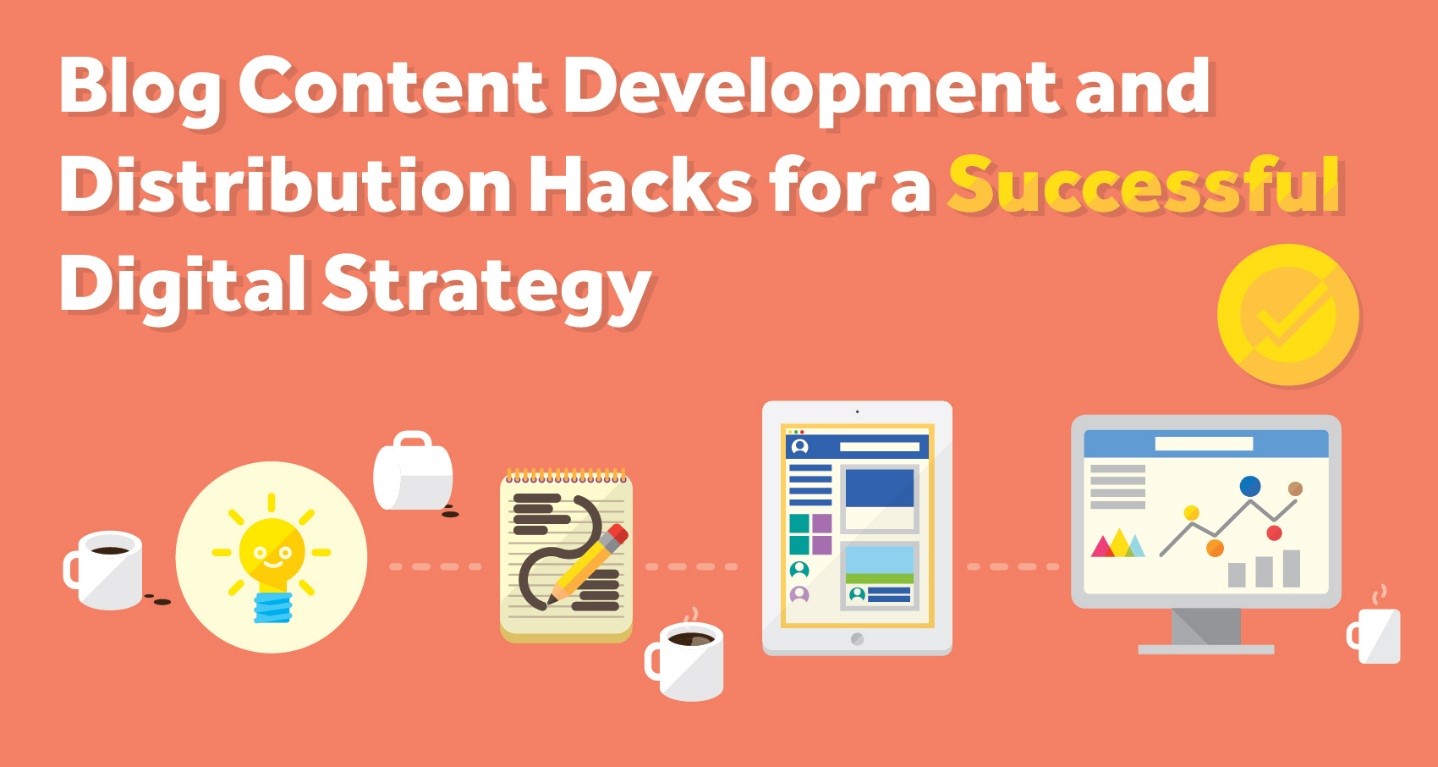 Blog Content Development and Distribution Hacks for a Successful Digital Strategy
---
In today's hyper-connected world, thousands of companies operating in your own niche struggle to have their voices heard online. This makes it practically impossible to drive views and shares to your content, by simply posting it on your website.
A study conducted by New York Times suggests that 73% of users only share posts that help them get closer to people of the same interests. Additionally, 68% share content as a way of expressing who they really are and not because they find that content useful, interesting and innovative. This is exactly why one should delve deeper into planning a successful content strategy, and strategically approach the digital industry, which is now bigger and more developed than ever.
Once you grasp exactly how much content is posted on a daily basis, you'll realize just how many factors need to be considered, aside from writing quality blog content. Matching the right content with the right audience is a key to a successful digital strategy, otherwise you're merely shooting in the dark. There are many different types of content and many different types of people reading it, which is why it is crucial to match the right type of content to the audience you are writing for.
Make sure you plan your articles out from the very start, as this is the most effective way to ensure your content is interesting and engaging.
The value of blog content for your business
In order to come up with innovative and highly engaging content, you need to define your target audience. Take into consideration what people are looking for and whether your post is offering anything new and interesting. Before you even start looking for a new topic, you need to set your final goal by asking the following questions:
Are you trying to get new visitors or to engage your existing clients?
Is your goal to generate links or merely inform your audience of what you have been up to?
Has the topic already been covered?
Is this the right content for your current audience?
Is your new content targeting the right audience?
Are you offering something new, fresh and innovative?
Once you've gone through all these questions and fleshed out the right idea of what you should be writing about, the next step is to make sure you don't make your blog boring. Having a good pattern is helpful, but don't let it turn into a tedious routine, and never stick to only one type of content. No matter how interesting and groundbreaking your writing is, blogs that only contain several blocks of text are boring to many. This is why you need to think about including images, infographics, tutorials, funny and punny memes, videos, etc.
According to recent studies, it could be said that images tell 1000 words, infographics and videos even more.
Make an editorial calendar and stick to it
Your customer's value quality content, but they appreciate consistency as well. Create a timetable of your daily or weekly posts and make sure you stick to it. This contributes to building more stable relationships with the audience because they'll know you'll be delivering fresh and informative content right when they need it.
The vital thing here is to create your content schedule according to your readers, not according to you. If you're catering to the global audiences, the time zones can be a problem. You need to learn about your users' habits, especially the time of day they are typically online. Keep track of when they like, tweet or share your posts and make this your scheduled time for posting your content.
When your content is informative, useful, interesting and engaging, your customers will start looking forward to your posts as a part of their daily routine and will be counting on your new articles, so make sure you don't let them down.
The idea is to create high-quality content that is customer-focused, and will leave your audience gasping for more. Paid traffic can be useful at times, but you should definitely aim for organic traffic that engages your visitors and builds anticipation for your upcoming post. That's the strategy that pays off in the long run.
Consider content curation
Content curation is a marketing tool widely used for selecting information appropriate for corporate blogs depending on the company's niche or business sector. However, it can also be a rather useful tool for finding out which type of content is shared on the post-popular social media channels. No matter how awesome and innovative your own posts are, Michael Gerard, the author at Hootsuite.com says there are three reasons why you should consider sharing other people's content:
You get great content for free as you ethically repost interesting articles other people have written
Your audience will be thankful for you are bringing only the best of what the Internet has to offer within your unique topics and interests
Win–Win situation for both you and the author of the original post as smart marketing gets involved. The author of the original content will appreciate you sharing his/her post, while you give your own customers what they might be missing on your channel (just make sure you give them proper attribution and a link back to the original article)
Engage with your audience
We are wrapping up this article with perhaps the most important tip of all – the only way to get your content out there and truly give your audience what they seek is to engage with them personally. Talk to them and inquire about the quality of your blog. Ask for their sincerest feedback, however harsh it might turn out to be. Never ignore their comments and always answer the questions you receive.
Also, make sure you are always up to date with what is going on inside your niche. The market is constantly changing and evolving, so it is vital that you are keeping up with it. Thousands of new things have happened while you were reading this article, and they are already online. Now go! Explore.