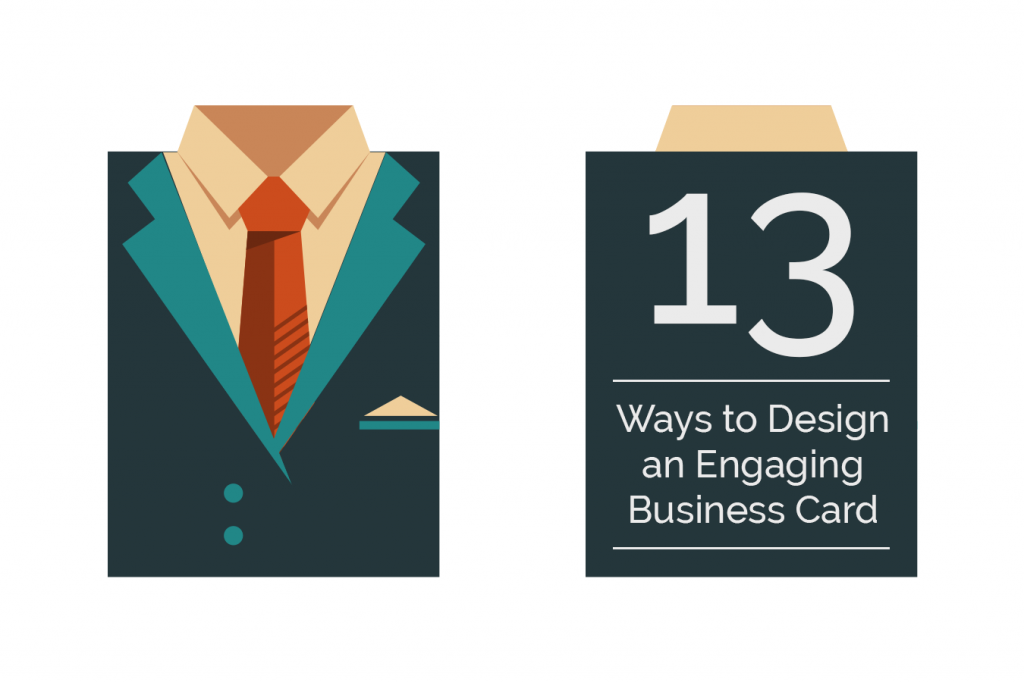 13 Ways to Design an Engaging Business Card
---
A business card can seem like a piece of paper used solely for the means of sharing contact details, but nowadays in an ever-growing, ever-thinking world, we've come to point where plain simply won't satisfy everyone anymore.
There's nothing that says "I'm a business-owner" more than the traditional business card style. It's a popular, widely-used approach, with the main objective to just get the message out, but don't get me wrong, they are effective at doing so. Although, it doesn't incorporate an experience — something that makes you remember the brand because of their business card.
An engaging business card doesn't just give the receiver a message, it makes them feel it.
Think outside the box
It's not only the business card's writing or colours that convey the brand/message, it can be any aspect of the card. A good tip for any creative design is to consider the five senses that make us human: sight, sound, touch, smell, and taste. Here are some of my ideas:
Sight: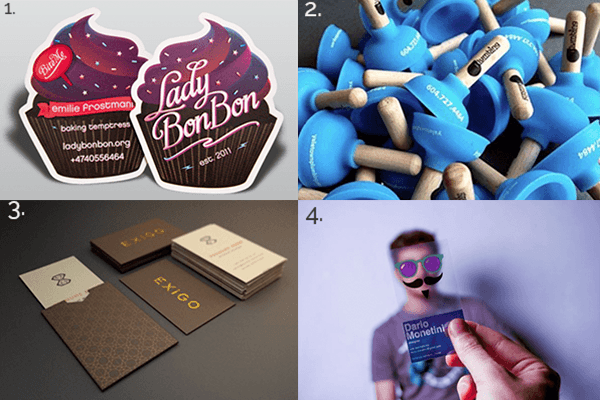 1. Manipulate the shape — make it curved, pointy, etc. Try something unique
2. Manipulate the idea of a "card" — it doesn't necessarily have to be a card, it can be anything small and easy to carry
3. Introduce packaging — e.g. sleeve, mini envelope
4. Incorporate transparency — see-through cards can be fun as well as innovative
Sound:
5. Make it speak — not metaphorically, but you can actually have it make sounds (like those singing birthday cards)
Touch: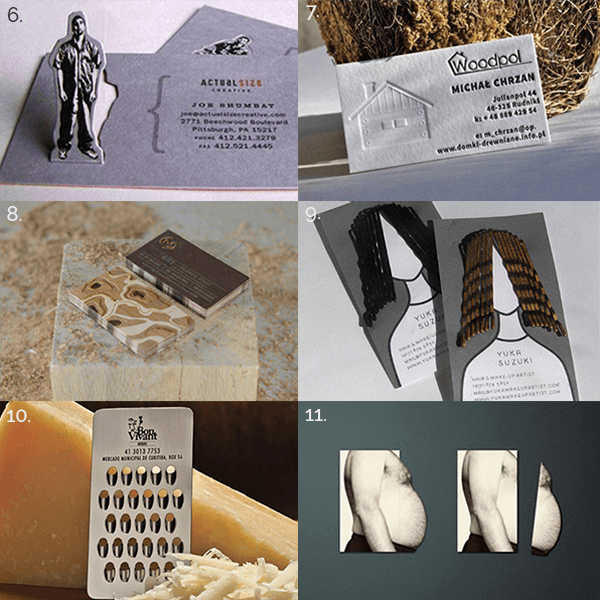 6. Make it fold out or pop up
7. Imprint, indent, or cut out from the card — use symbols or icons, or just create a certain texture for the whole card
8. Use unconventional materials — e.g. wood, metal, velvet
9. Add free stuff — everyone loves free stuff, so add a peelable sticker, a coupon, or even bobby pins
10. Make it useful — something that will be used often (or when needed), is more likely to be remembered; make a bottle-opener out of your business card, cut out a bolt-shape to use it as a spanner, or make it a freakin' cheese-grater
11. Make it tearable
12. Make it smell— as vintage as the idea of scratch-and-sniff seems, it may work for businesses dealing with foods/drinks, flowers, or anything that has a distinct smell, e.g. chocolatiers, florists, candlemakers, winemakers
Taste:
13. Incorporate flavours into a business card — I'm not endorsing this idea, but if you're brave enough to do it, I want a prototype
Reference/relate to what you do
One of the most important aspects of a business card is to make it relate to what you, the business, or the industry does, not only through content and colours, but the business card itself. Different approaches are required for different companies and industries. Here are some awesome examples:
A personal trainer making you work before you even schedule an appointment
A cargo company
For a marriage counsellor
And then, for a divorce lawyer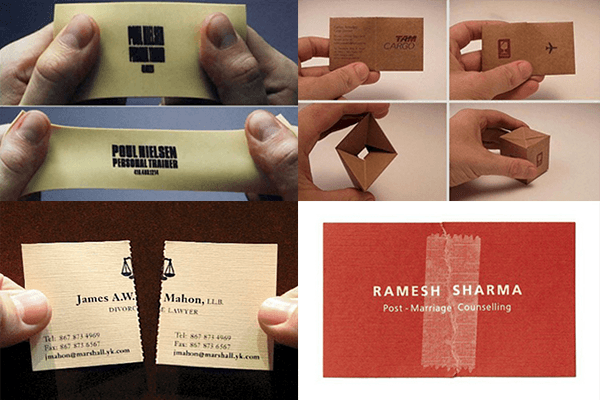 Image Credits: 1, 2, 3, 4, 5, 6, 7, 8, 9, 10, 11, wine stains, personal trainer, cargo company, marriage counsellor, divorce lawyer.