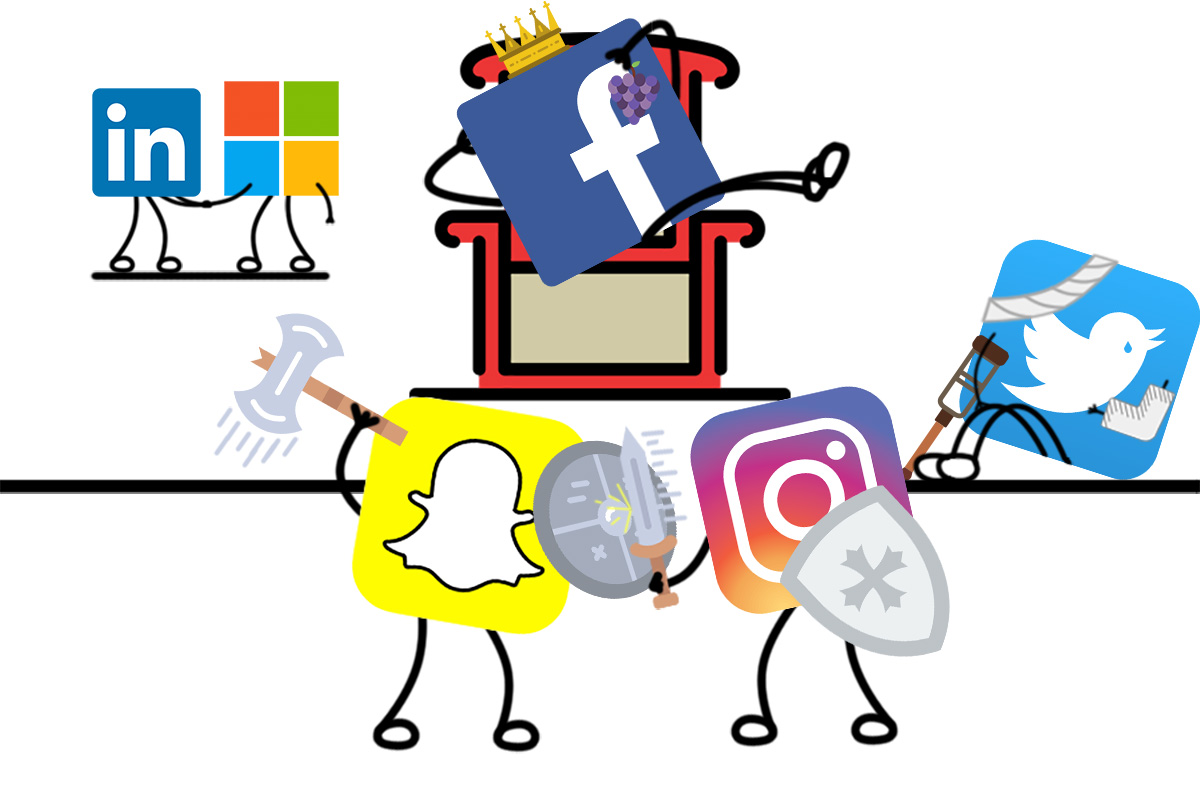 The 2016 Social Media War
---
There's been a whole lot of ruckus happening this year in the vast, seemingly endless virtual world of social media. I'm not talking about the billions upon trillions of content being circulated throughout the colossal and ever-so-efficient Internet machine (most of it being dog videos and dank memes, like my Facebook feed). I'm talking about the war of which the social media titans fight amongst each other.
The social media supergiants (the big dogs) including Facebook, Instagram, LinkedIn, Snapchat, and Twitter, have been battling for supremacy for years on end, and 2016 is just one of the many significant chapters for the fast-paced social media industry.
Here's a quick snapshot of Australia's usage of social media platforms in 2016 (based on telephone surveys of 800 Australians nationally), from the awesome people at Sensis:

The past few months have seen a buttload of news filled with both good and bad things. So, for your visual enlightenment, I've compiled and summarised most of the interesting things that have been happening:
Facebook
Instagram
Stories:

Earlier throughout the year, Instagram introduced their Stories feature allowing users to update their following with pictures and videos that can be viewed in a subsequent order and expire after 24 hours. Well, sounds

similar to

exactly like Snapchat's Story feature…

Live-Streaming:

They also introduced a

live-streaming option

to the Stories feature. Ok, now they've just adopted the same feature from their parent-platform Facebook.

Stickers:

Twitter announced #Stickers back in June. Instagram implements a

similar feature

in December… What the hell Instagram?!
LinkedIn

Snapchat
Snap Inc.:

Snapchat created a parent company called

Snap Inc.

in a similar fashion that Google created Alphabet Inc. Snap Inc. has now considered itself a camera company and holds two child companies — Snapchat and Spectacles.

Spectacles: Snap Inc. is in the process of unveiling to the world a brand of camera glasses that link straight to your Snapchat. Perfect for influencers and social media moguls, Spectacles film exactly what you see at the click of a button and allow you to post that directly to your Snapchat, providing the opportunity for hands-free filming.
On-demand geofilters:

you can now personalise and purchase your own Snapchat geofilters for whatever the occasion.

Partnership with Foursquare:

The deal to access Foursquare's location database of over 87 million real-life places came in November.

IPO:

Snap Inc. filed for Initial Public Offering (IPO)

in November

, valuing somewhere between $20-25 billion US (~$28-35 billion AUD).

Twitter
Vine's repurposing:

The popular looping video app Vine was announced to be closed (breaking millions of hearts), but that was all before it was announced to live on through being integrated into the Twitter app, as

Vine Camera

.

Harassment issue:

Twitter has yet to address worldwide concerns of the platform becoming infamous for online harassment and bullying after Ghostbusters (reboot) star Leslie Jones threatened to quit Twitter if they don't reform the comments system.

Go live:

Twitter announced

live-streaming

of popular events on Twitter which, unlike other streaming sites, played alongside a real-time feed of tweets showing anything to do with the events (e.g. @wimbledon or #wimbledon).

Stickers:

Seemingly adopting Snapchat's idea of putting emojis on a post, Twitter introduced

#Stickers

, which allows users to put stickers on their photos — some stickers link to locations and hashtags.

Failed acquisitions:

Twitter interested but failed to be acquired by potential suitors, including Alphabet Inc. Salesforce.com, and Disney.

Layoffs and departures:

The company laid off 9% of its global staff after its ninth quarter of declining growth, and its share price has fallen 45% in the past year (reported in October). So far this year, Twitter lost top executives such as

CTO Adam Messinger, VP of product Josh McFarland

, and

COO Adam Bain

.
Image credits: Madebyoliver | Flaticons