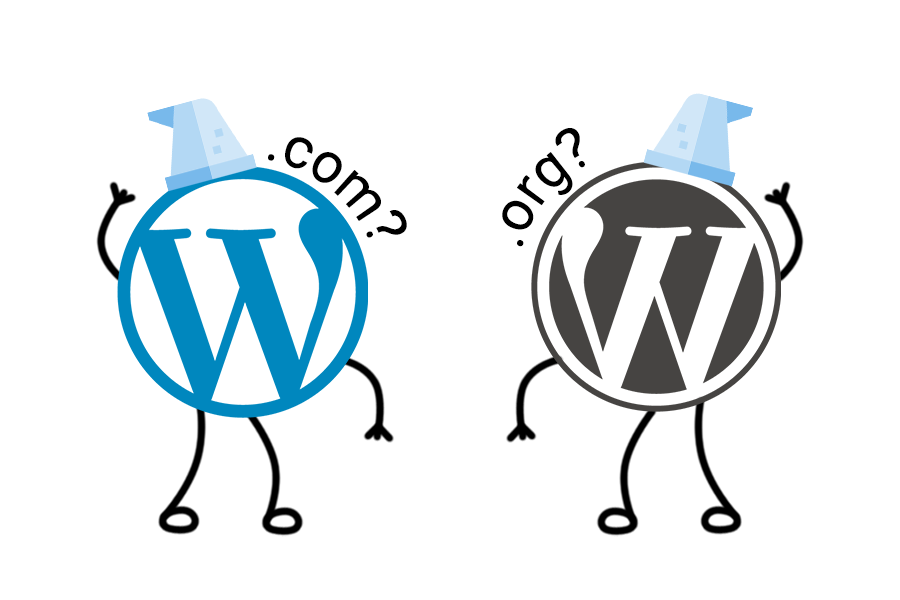 WordPress.com or WordPress.org?
---
.com? .org? .who cares, am I right? Nope, I'm wrong. There are several drastic differences to what seem like very similar versions of the WordPress platform; or two versions that I really thought were just one. I mean, who bothered to check out WordPress.com? I went straight to WordPress.com and did what I needed to do.
WordPress.com
WordPress.com–the .com entity of the two siblings–is the free online platform on which you can build a blog or website on. It's hosted and managed by Automattic–the creators of WordPress, and other helpful software and plugins such as WooCommerce, Jetpack, Akismet, etc.
All you need to do is: register, choose a subdomain (e.g. yourwebsite.wordpress.com), pick a free theme, and add your content.
Strengths:
Free: Yup–you can choose the free plan and receive free hosting, a free subdomain name, free themes, simple customisation, and 3GB of free storage space. Although, it's more suited to those who are looking to start a blog or website from scratch. If you need to expand upon that, there are paid plans that offer more of what you need. Or you may just be suited for a classy web host.
Easy to use: From the second you create your account, your website is blog-ready, That easy!
Weaknesses:
Can't track analytics: If you're looking to monitor traffic or analyse visitor behaviours, you've come to the wrong place–you can only use Google analytics if you subscribe to their highest plan.
You don't own your content: WordPress.com owns it because everything is hosted and managed on their site.
Forget monetization: The site uses only their own default ads on your website(s), meaning you can't integrate your own ads to earn revenue unless you upgrade your plan. I guess it's only fair, considering they're offering the account for free.
No subdomains: Considering they're a multisite themselves, they don't offer the ability to create your own multisite using subdomains.
Limited creativity: The site provides you with free and premium themes as well as plugins, but since you're using their platform, your creative expression is limited to whatever they offer.
Doesn't support eCommerce
WordPress.org
As the more loved child of the two, WordPress.org is the self-hosted version, meaning you've got to do many things yourself–which isn't necessarily a bad thing. It's the free, open-source version, without managed hosting by Automattic.
Strengths:
Online freedom: You get to choose your own domain name, web hosting, and any themes and plugins you can find on the vast galaxy that is the internet.
Creative freedom: With WordPress.org, you get to use your site for whatever your magnificent heart desires–you don't have to choose from the limited templates on that other WordPress that we've already forgotten about; was it WordPress.net?
Supports eCommerce: Free plugins and third party services allow you to run an eCommerce business on your WordPress site.
You actually own your content
Weaknesses:
Extra costs: So, essentially, WordPress itself is free, but the costs involved for web hosting and domain names, among others, can turn out to be a hefty fee, unless you find the web host that's right for you.
Security and maintenance: With WordPress.org, you need to keep the version up-to-date and ensure you're practicing conventional security measures such as frequent website backups. With WordPress.com, all that stuff is done for you. Although, many web hosts do some of that stuff for you anyway, and if you opt for a managed hosting plan, almost everything is done for you; you'll just need to take care of the content.
Installing WordPress: You actually have to install the platform yourself, although many hosting companies offer 1-click installations which is pretty handy.
WPExplorer has a clean and simple infographic to sum all of it up for you: