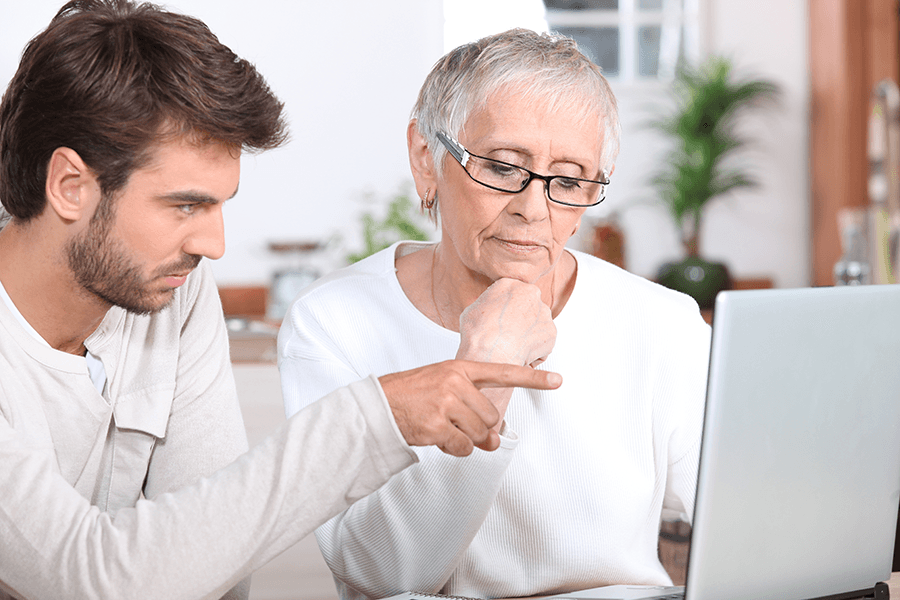 How to Explain Web Hosting to your Grandparents
---
Explain web hosting? Duck soup! It's in the cloud but not necessarily in a cloud, wait, hold on, isn't it the cloud itself? Now we're both confused.
One of our values here at Crucial is to "make complex simple", so I'm going to make web hosting so easy to understand, even your grandparents will get it!
What is it?
Web hosting is a service that puts your website or application on the Internet.
Anyone can access it from a domain name, which is the link in the top of the Internet window (e.g. www.crucial.com.au).
How does it work?
A server is a computer that connects to the Internet.
Web hosting companies own, run, and manage tons of powerful, high-tech servers for thousands of customers. A single server can connect thousands of websites to the Internet.

Analogy: Web hosting is like owning a house on a block. You store all of your important things in this house, and you live on the block with other houses. In short, the house is your website and the block is a server.
Your website shares the server's resources (processing speed and power, memory, storage, etc.), with other people's websites. Although it's a rare occurrence, your website can be affected by some drawbacks of what other websites do on the server — just like your neighbours can sometimes get noisy or annoying. For example, as there are loads of websites on one server, if one or two websites see a surge of people visiting it (or something similar), your website can become slightly slower for an amount of time. That is, unless you have a rock-solid web host.
Cloud hosting?
SO, now that we know these bits of info, the "cloud" is not really a cloud, but a metaphor for the servers that hold all the data on the Internet. Your website connects to a web hosting company's' servers, which connects to the Internet's servers ("cloud") — the wirelessness involved is what gives the cloud its illusion.
What can you do with web hosting?

Who is it good for?
Startups
Small businesses
Entrepreneurs
Bloggers
Anyone with an idea!
Different types of web hosting
Popular web hosting services are just the tip of the iceberg. There are a few different types of web hosting services that many web hosts can offer, including:
Reseller Hosting
Reseller hosting basically means that the web hosting company provides you with the servers to host your own clients' websites.
Good for small businesses, agencies, or freelancers.
You can even run your own web hosting company.
Most companies let you handle the technical support and billing responsibilities for your clients.
Virtual Private Server (VPS)
A VPS is essentially your very own exclusive chunk of a server. Instead of there being thousands of neighbours, you'll have only a few!
More resources than a web hosting service, but less than a dedicated server.
Most web hosting companies offer VPS's with a limited amount of management, whereas others (like Crucial) offer full management of your VPS, meaning that they'll take care of everything related to hosting so all you have to worry about is running your business.
Good for small to medium businesses (SMBs).
Dedicated Servers
Instead of hosting your website(s) on a server that holds thousands of other websites, you will have your own server, dedicated entirely to you.
More resources than a VPS.
Good for larger businesses and small to medium enterprises (SMEs).
Most companies offer management with dedicated servers.
What comes with Crucial's hosting?
Customer support 

—

Companies can offer support that's available 24x7x365 or during working hours, as well as via phone, online tickets, emails, or a live chat system.
Control Panel (cPanel) 

—

A computer application in which you can control your web hosting.
Uptime guarantee 

—

Most companies offer a 99.9% uptime guarantee, meaning your website will be online 99.9% of the time.
Free & instant setup
No lock-in contracts
Green hosting 

—

Some web hosts offer eco-friendly web hosting services, that reduce the negative impacts that web hosting has on the environment.
Backups + recovery 

—

Some companies offer free backups of your website and its information, as well as data recovery if something were to go wrong.