Crucial Paradigm – Ross's Office challenge #1 – You could end up with a FREE PC!
---
As you might have already seen we like doing thing's to Ross's desk while he's away, this could be seen as us picking on Ross however it's all in good fun and a little payback.
You see Ross has a habit of turning up late each day, around 9:30am to be exact which to be honest we don't really mind because he's a dedicated and hard working individual but when he asked us for a new office PC so he can do some testing with VMware we thought why not throw a catch in 🙂
So what's the catch?
The catch is Ross has to turn up to work on or before 9am for consecutively 5 days in a row but if he's late even once we'll be giving his new PC away to the first person who can correctly guess the model of the motherboard that's installed in his new pride and joy!
I bet you're itching to know what the specs of his new office PC are, well they are as follows:
Intel Quad Core Xeon X3220 (4x 2.4Ghz, 8MB Cache, 1066MHz FSB)
8GB Kingston DDR2-800 (4x2GB PC2-6400)
1 x 150GB Western Digital VelociRaptor SATA-II 10,000RPM (Primary)
2 x 160GB Western Digital Caviar SATA-II 7,200RPM (RAID 1) (Secondary)
3Ware Escalade 2-channel SATA RAID1 Controller 8006-2LP
Asus Radeon EAH3450 256MB Video Card
CoolerMaster Elite 310 Case
Sony DVD/CD Writer
Questions
Q) When does the challenge begin?
A) The challenge begins on tomorrow the 19th of November and will run through until the 26th of November
Q) How can I collect the PC if/when he loses?
A) You can pick it up from our Sydney office or you can arrange shipping at your own cost of course
Q) When can i guess the model?
A) We'll be accepting guesses Wednesday the 25th from 09:00am AEST.
Q) Are there any catches?
A) No. Cool huh!
Q) How and where do i submit my guess?
A) You must submit your guess on this blog post, but rememeber no entries will be counted until next Wednesday
Guessing the model of the motherboard wont start until the 25th of November but in the meantime here's a small photo of the motherboard.  We'll release a larger version next Wednesday so in the meantime why not tell us what the current specs of your PC are and what you'll be doing with this PC once Ross loses this challenge 🙂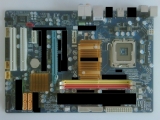 | Hosting Options & Info | VPS | Web Solutions & Services |
| --- | --- | --- |
| | | |
---