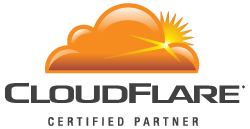 CloudFlare cPanel Plugin Now Available
---
We have recently rolled out support for the CloudFlare solution across our cPanel based Web Hosting and Reseller Hosting services. This is an additional feature now available via your cPanel login area that gives you access to the free (and paid) functionality that CloudFlare offers.
If you recall earlier last year I did a feature blog post on what CloudFlare was all about and since then we have been getting feedback to make the feature available to our Web Hosting and Reseller Hosting customers!
The introduction of the CloudFlare cPanel plugin brings the CloudFlare web performance and security solution to your finger tips. Giving you the ability to improve the speed of your website and protect it from a broad range of web threats.
We've got a great FAQ article in your Support Desk Knowledgebase which can be viewed here if you want to know more.
The rest of this blog post will be an overview about the CloudFlare solution which is worth a glance if you want to get familiar with the benefits of the CloudFlare solution. You can also view this great introduction video.
Any type of website can benefit from the CloudFlare solution. This includes (but is not limited too) blogs, eCommerce sites, business websites, government websites, high end service websites, and so forth, the list can go on. CloudFlare is powering more than 65 billion monthly page views, this is more than Amazone, Twitter, Wikipedia, Bing, Paypal and Instragram combined.
How does CloudFlare increase my site's performance?
The CloudFlare solution sits as an additional layer between the internet and your hosting with us!
CloudFlare operate a large number of data centers across the globe. Each location is strategically chosen to provide the best result for customers in that area.
Once you have signed up for the CloudFlare solution, CloudFlare begins routing your website's traffic to the nearest data center.

As traffic or requests pass through the CloudFlare data centers  CloudFlare scan and calculate which sections of your website(s) have static or dynamic content. The static content is then cached by CloudFlare for a temporary time frame (CloudFlare checks every few hours for new content). By caching the static portions of your content and moving them to the CloudFlare data centers  your websites load time is improved. Your end user would be loading the static content from a CloudFlare server closest to them rather than the actual server running your website!
This caching solution means you save bandwidth on your hosting service and decreases the load on the server running your website. This can save you money, but at the same time, make your website run faster. CloudFlare reports that it's customers have seen upto a 60% decrease in bandwidth usage and total requests. On average CloudFlare has cut the load times of website pages by upto 50% which means happier visitors!

How does CloudFlare improve my site's security?
During 2011 CloudFlare has identified and recorded a 700% increase in the number of DDOS attacks (Distributed Denial of Service) as seen in the chart below. Due to this increase CloudFlare has stepped in to try and offer a layer of protection.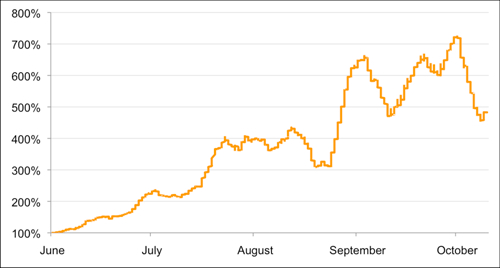 CloudFlare offers a broad rage of protection solutions which include protection against DDos attacks, hacking, or spam submitted to a blog or comment form. The core thing to understand here is that the solution is smart in the sense it learns as more and more site's use the CloudFlare solution.
CloudFlare analyze traffic patterns of hungreds of millions of page requests in real time and looks for trends and adapts all protection offerings accordingly. This ensures only the good traffic gets through and the bad traffic is kept out!
How do I sign up for this CloudFlare solution?
If you have a Business Hosting (Shared Hosting) or Reseller Hosting account, then you can follow the CloudFlare setup process accessible through your cPanel login. Once logged into your Cpanel control panel, just look out of the CloudFlare icon and choose the domain you want to enable and then click the orange cloud. That's it!

The great thing about this is it is FREE to sign up and use the standard CloudFlare service. So give it a try!
If you find you would like to benefit from the advanced features that CloudFlare can offer you can also consider signing up for CloudFlare's "Pro" tier which is $20 / Month. The "Pro" tier includes all the Free / Included features as well as SSL, web application firewalls and faster analytics.
Both Crucial Cloud Hosting and CloureFlare are excited to welcome you too the CloudFlare Community! If you are looking to improve your websites performance and add an extra layer of security this is a good place to start.
I'm a VPS / Dedicated Server Customer how do I use this CloudFlare solution?
You can sign up directly with CloudFlare and get involved that way.

Hosting Options & Info
VPS
Web Solutions & Services
---