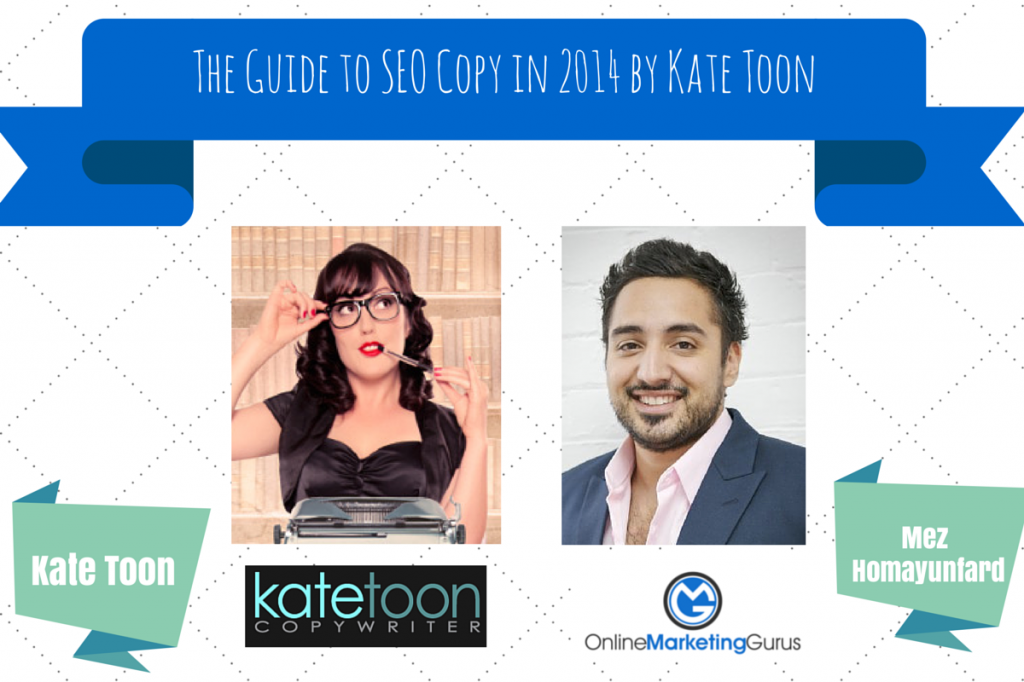 The Guide to SEO Copy in 2014 by Kate Toon
---
The Online Marketing Gurus are pleased to present our interview with our lovely friend and SEO Copy aficionado Kate Toon. Brought to you by the official blog of Crucial, Broadcast.

Some of you may be wondering what the inspiration was for this interview, and its simple. Google has been placing a perpetually higher value on content with every update (the Penguins, the Pandas so on and so forth). As overstated as it may be, in SEO content is king, content is the currency in which the internet is built in, content is what drives visitors, builds brands and most importantly SEO!
Content is also a major area that we find a lot of our clients have a lot of misconception and misunderstandings about and it is because of this we have decided to interview Kate to produce a guide on what SMB businesses need to know about SEO copy and content.

 So what is on the agenda today?
What is SEO copy?
Why is it important?
How has the recent Hummingbird algorithm update changed the way you write?
How has the recent Hummingbird algorithm update changed the way you write?
What is the most important page on the website?
MOST COMMONLY ASKED QUESTION: Do I need to write blogs for SEO?
Some awesome SEO copywriting tools for beginners
The golden rule for SEO copywriting.

Interviewee bio:  To say Kate Toon is a great copywriter would be an understatement. Kate Toon is one of Australia's thought leaders in SEO copywriting and SEO consulting. Having worked with the likes of the RTA, Virgin Mobile, Symantec, American Express and Westpac Kate has built a killer process and earned great experience in all areas to do with writing persuasive and effective SEO copy that search engines love. Kate Toon is the preferred partner for copy for the Online Marketing Gurus and comes highly recommended (you should check out Kate's SEO events in Melbourne and Sydney here).

Interviewer bio: Mez is the Co-Founder at The Online Marketing Gurus, Australia's leading Enterprise Organic Search Agency with over 28 staff worldwide. The Online Marketing Guru's specialise in helping Australian startups and mid-tier companies boost their online sales, traffic and leads and exist to make the process of search simple and profitable! The Online Marketing Gurus pride themselves on our results with our customers as well as building the latest technology to drive higher ROI in SEO for our customers (check out our new industry SEO reporting tool here) The Online Marketing Gurus have written previously for Australian web hosting provider Crucial and have a brand mission to change the way SEO is done and the perception of the industry as a whole, check out our expose here.
Now that the not so shameless self promotion is done, lets get onto the interview and Guide to SEO Copy for 2014.
Part 1: What is SEO copy?
Search Engine Optimised (SEO) copy is website content that has been written to both engage potential readers and satisfy the requirements of search engine spiders.
Writing strong SEO copy involves:
Choosing keywords that deliver the right kind of traffic
Integrating those keywords into the web copy in an intelligent and unobtrusive way
Ensuring the you write for humans first and Google second
As all markets and industries become more competitive and crowded, SEO copywriting also involves writing content that's super engaging and shareable – in the hope that it will earn comments, shares and backlinks.
Part 2: Why is it important?
Search Engines, like Google, use a number of different factors (around 200) to decide where any given webpage should appear in natural search results. Several of these factors are page level, or content related, such as:
The use and position of a given keyword in the title tag
The use of a given keyword in the H1 tag
The use of the keyword in the first 100 words of a page's content
The frequency of keyword usage in the content, along with the use of synonyms and broad match terms
The use of the keyword in other areas such as the H2 and H3 tag and URL
Some SEO types also argue that other factors play a big part in how well a page ranks. Factors such as:
Page length: A recent report by SERPIQ found that content length correlated with SERP position.
Readability: Linchpin SEO discovered that reading level was one factor that separated quality sites from content mills
Formatting: Many feel that using bullets and number lists helps make content easier for humans to digest and that Google may also prefer this
Usefulness: This article by Search Engine Round Table suggested that Google maybe able to distinguish useful content and may be able to penalise content that doesn't bring anything new or useful to the table
Part 3: How has the recent Hummingbird algorithm update changed the way you write?
In short, it hasn't changed my writing in anyway. I've never been one for fretting about keyword density or randomly shoehorning awkward keywords into content where they don't belong.
Essentially, Hummingbird rewards richer writing as it's looking for synonyms and enables Google to better judge context – to tell if a page about 'cakes' is a recipe, a 'how to', a sales page or something else.
I've always tried to write relevant, engaging content that fits the context of the site. I've always aimed at answering the reader's needs and not just spamming them with mindless droning.
Part 4: If a business has limited budget, which pages would you suggest they pay a professional writer to write?
I don't think you can go past the Home page as the number one choice. Yes, often it has few words, but that just means those words need to be chosen super carefully.
The Home page isn't really so much about SEO; it's more about sucking the reader in quickly and directing them further into the site. It needs to marry strong branding and a clear tone of voice with conversion and engagement. That's quite a challenge.
From an SEO point of view, I think that Services pages and Product pages offer businesses great opportunity for long tail conversion, while from a trust and relationship point of view I'd argue that your About page is vital. So, ideally and at the very least, your Home, About and Services pages should be handled by a professional.
Part 5: Is regular blog post writing important for SEO?
The Google Caffeine update favours fresh content, especially for time-sensitive searches, and Google does show the date of a page's last update for certain pages. But truth be told, I don't think the 'newness' of content is the point. If you're updating your blog with content that's a bit crappy – it doesn't matter how new it is.
So instead, I recommend that my clients update their blog with useful, relevant, shareable content. Each new post is an opportunity to rank for a new long tail keyword, but (more importantly) it's an opportunity to connect with your audience, build your brand, increase your authority and drive loyalty.
Part 6: Which tools would you recommend to help someone with SEO copywriting?
I'm loving the Hemmingway App right now. It's great for improving your readability and fixing wordy writing.
In my early days I'd check something like Wordle to see if my keyword focus was clear.
I love Thesaurus.com for thinking of synonyms, Wordpot and Keyword.io for help in coming up with additional keyword ideas, and of course Portent's Content Idea Generator is a lot of fun.
Part 7: If you had to give just one piece of advice to someone writing SEO copy, what would it be?
My advice would be: know your audience.
Understanding who your audience is, where they are, what they desire, fear and feel is vital to all writing, not just SEO copywriting. Getting to know your audience means you'll write content that solves their problems, and this human-first approach is vital if you want to earn quality back links.