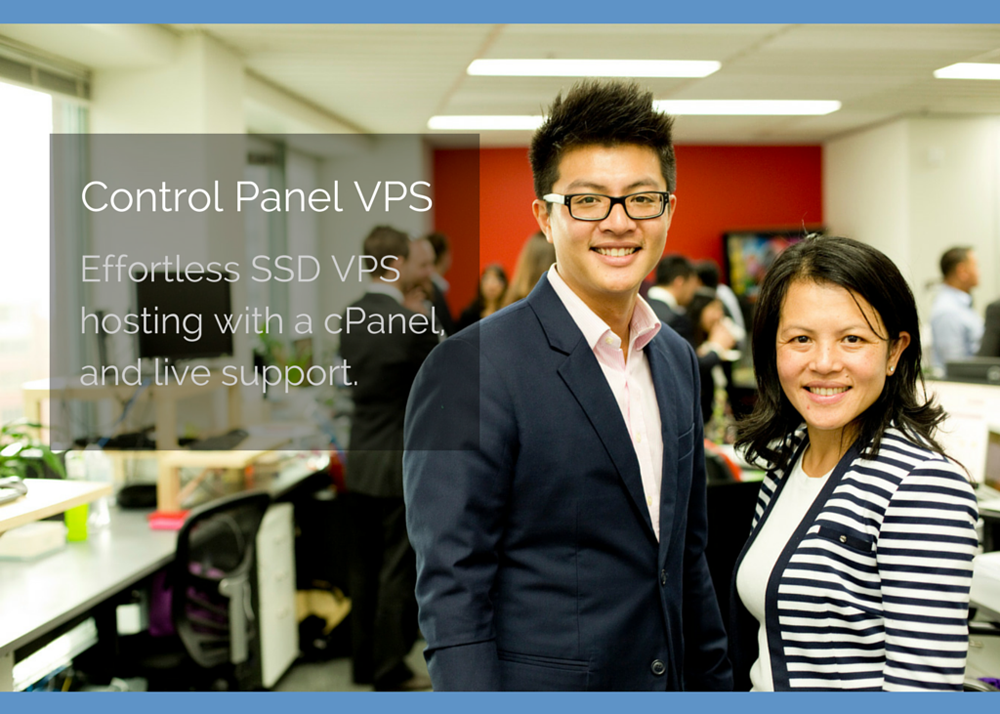 Control Panel VPS: Time for You to Take Control
---
If you're pretty cluey when it comes to hosting and you know your way around a control panel, our Control Panel VPS may be just for you. Our Control Panel VPS packages are for anyone who likes the simplicity of the cPanel to manage their domains. Midway between our Managed VPS and Barebones VPS services, we give you enough control to be comfortable and happy.
If you don't already know…
VPS, or Virtual Private Server, works in a similar way to web hosting — it enables you to put your website(s) on the Internet. Where Web Hosting gives you a slice of a server, offering limited, 'shared' resources, VPS Hosting gives you a whole small server, offering dedicated resources such as RAM, CPU, disk space, and in some instances, disk performance. Our Control Panel VPS packages are a type of SSD VPS hosting where there's shared control of the hosting duties between you and us — just enough to make you feel right at home.
Who is it good for?
Our Control Panel VPS packages are great for anyone who wants a VPS and likes the simplicity of cPanel to manage their domains. This could range from online stores, to digital agencies, and other high-traffic websites. With 24x7x365 live support included, it's a great step up from Web or Reseller Hosting, plus you can easily add backups to ensure you're keeping your data secure — especially you and your customers' financial information.
What's good about it?
Variety – We offer three different packages to choose from, to suit whatever your business's needs are. They vary in RAM size initially, with 2GB, 4GB, and 8GB packages, but also differ in the amounts of CPU cores, data storage, and monthly data transfer limits.
24x7x365 Live Support – Around the clock support gives you the opportunity to spend less time on hosting, and more on what you're passionate about, as well as keeping your clients happy. Our web hosting experts are on the line night and day if you need a helping hand.
Lots of Storage – Our Control Panel VPS packages offer fast and robust storage that loads your website(s) faster for your customers. The storage packages vary from 50GB to 200GB of SSD storage — you'll be swimming in a sea of storage.
Room to Grow – Start small and dream big with our variety of packages, we'll allow you to upgrade as your business upgrades.
Utmost Security – Your VPS will be protected at all times of the day with or rock-solid DDOS protection, preventing the nasty 'distributed denial of service' attacks. We'll keep your VPS under close supervision with pro-active alerts and server monitoring, as well as automatically backup your data nightly, without a quota — backups mean backed-up.
Extra Features – We'll make sure you stay online with a 99.9% uptime guarantee on fast and secure Australian servers, as well as offset your carbon emissions with Climate Friendly, and offer no lock-in contracts. If you're keen on hardware, you can also find tech specs for ninja nerds at the bottom of the Control Panel VPS page.
What now?
If you're halfway between in full control and not bothered at all, getting Control Panel VPS may be the right decision to make for your business or agency.
Click here for more information about our Control Panel VPS packages, or click here if you would like to explore our fleet of hosting products.
OR if you want to watch a one-minute snippet of what our Control Panel VPS service is all about, visit our YouTube channel here, where you can browse our small library of videos that range from product videos to Connect events.