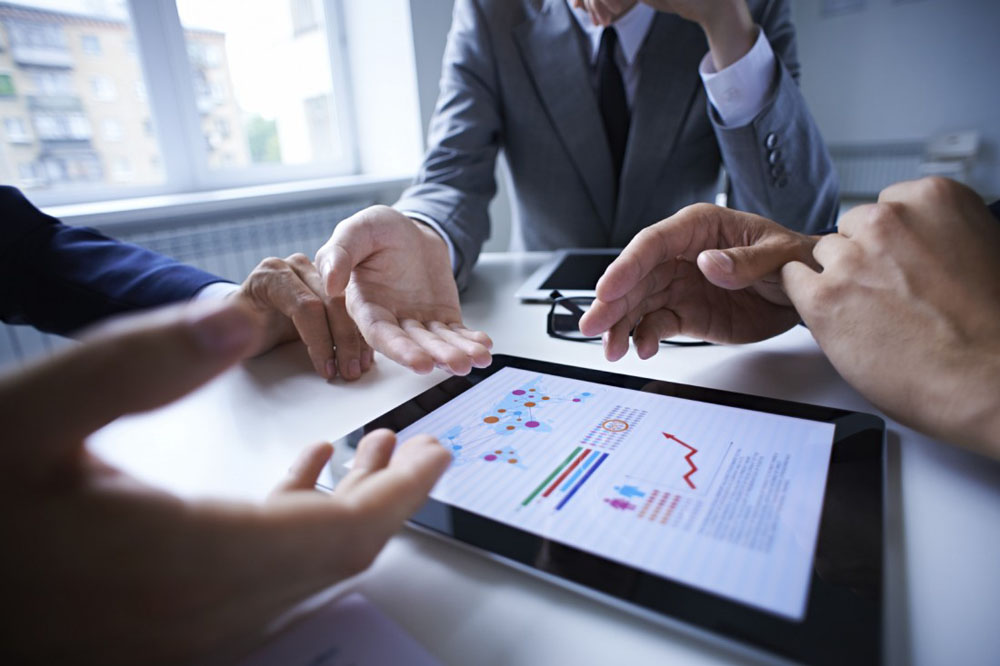 4 Lessons on Starting a Digital Business by Successful Entrepreneurs
---
Loads of people want to become entrepreneurs. However, not everyone has what it takes to be one.
Starting a business may be easier than ever, but running it successfully takes time, energy and probably all the creative juices you have. Of course, the emergence of web-based business productivity solutions and IT tools facilitates certain processes, but there is still a variety of challenges you need to face.
To help you overcome the initial confusion, Crucial talked to four successful entrepreneurs in order to offer you some first-hand experience in the process. We're sure the advice coming from the representatives of successful companies such as Usabilla, Melbourne SEO services, Blue Fountain Media, and myTab is creative inspiration for everyone, and we're grateful for the time they took to discuss this with us.Chanel the ideas and execute the most viable ones: Usabilla
Channel the ideas and execute the most viable ones: Usabilla
Users' feedback should be a crucial part of every business development plan. As one of the companies that recognize the value of this, Usabilla helps businesses collect their users' feedback across multiple touch points and identify the areas where improvements need to be made. In a quick chat with Crucial, Usabilla CEO Marc van Agteren explains what he would do differently if he were starting his business now:
"Focus on sales from day one. A product's value is zero when you can't sell it."
Indeed, many entrepreneurs get stuck with complex technical decisions, forgetting to calculate how they can actually reach the target market and realize a profit. Van Agteren suggests that focus is the greatest challenge for starters:
"As a starter, you have new ideas every month, week, day, hour. The biggest challenge is to channel these ideas and only execute the most viable ones. If you try to do everything you will not succeed at all."
Don't look for shortcuts, build a business that lasts: Melbourne SEO Services
With a professional approach to SEO, web design, and content marketing, Melbourne SEO Services is one of the well-known Australian references for all the issues related to online business growth. As such, they are more than qualified to offer an advice for those who plan to start an online business or develop digital strategies. The company CEO and also founder of systemHUB.com, David Jenyns, explains how the knowledge he acquired over the years would have helped him in the initial stages of starting a business.
"The secret most new business owners miss when starting a new digital business is to get crystal clear on who they're marketing to. Who are they, what problems do they have, what can they sell that that solves those problems, where do they hang out online and other similar questions? All too often business owners try and sell something that no one wants to buy or simply doesn't have the money to buy. Pick your target audience carefully, design a profile of your ideal customer and then always consult it before making any business decision."
As most experienced business owners have learned by now, this single step can determine the pace of your business's expansion. In relation to this, Jenyns highlights that "this simple act will help to inform your website design, your copywriting, your products, where you advertise, your email marketing… everything!"
Similar to Usabilla's van Agteren, Jenyns regards focus as a major challenge for starters:
"The biggest challenge for newcomers is to stay focused – there are literally millions upon millions of things grabbing at your attention online. It's very easy to get thrown off track." According to him, however, there is an efficient way to overcome this:
"Typically, at any point in time, there are 2-3 things you should be focusing on that will give you the best return on your investment of time and money. The key is to find someone (a mentor) who's work you resonate with and follow them. Unsubscribe from everything else and keep focused on the steps they recommend."
Finally, Jenyns believes that when marketing online, "there's a three-step process you must take a client through:
1) You should aim to get their attention.
2) Step two is to get them to want to engage with your content and emails over a period of time.
3) Is to build up enough trust for them to listen to your recommendations.
"Once you're in this position, you're well set up with lifelong customers," notes Jenyns, adding a thoughtful advice for newcomers:
"Don't look for shortcuts, play the long game and build a business that lasts."
Aim for a consistent brand presence: Blue Fountain Media
The potential of digital media makes them an appealing resource for most modern companies. Yet, to truly succeed in this space, you need to maintain consistency in all the processes related to campaign creation, content production, and media promotion. As pointed out by Austin Paley, Corporate Marketing Communications Manager at Blue Fountain Media, it is important to take an integrated approach to digital marketing strategies.
"Historically, most digital businesses will focus on 1-2 digital marketing initiatives when they launch. It's easy to put your efforts into Facebook and Twitter, or email marketing, generally speaking, this doesn't provide new businesses with the results they need well. Most businesses will point to the fact that they don't have the budget to work with every channel, but the reality is that in order to get the kind of measurable growth a new business is looking for the budget and resources need to be set aside for a complete digital marketing initiative for there to be any real results."
Paley emphasizes the fact that the value of this mainly lies in the possibility to create a consistent brand presence across multiple online channels, which improves your visibility.
"With the growing importance of SEO for all businesses, and the need for a consistent brand presence across the internet, having a wide portfolio of digital marketing channels that you can immerse your brand in has proven effective."
When it comes to the advice on starting a business, Paley notes "I would make sure that I had enough resources allocated to cover every marketing channel in at least some capacity," and adds that "having a team of people that knows each marketing channel relatively well, and has a manageable workload of tasks in each, would be crucial.
You can't expect to find success by doing the bare minimum with each initiative—especially with SEO.
Building a backlink profile based off of link directories, and making sure a few of your pages are set up to target a high traffic keyword will no longer be enough to provide measurable benefits for your business. Things like a strong social presence and increased content marketing initiatives are now required to help grow brand recognition and natural inbound links to really get SEO initiatives to a level where businesses can comfortably expect to have their various pages rank for the keywords they are targeting."
Of course, there are some challenges too. For Paley, the biggest one is designing an effective website.
"Depending on the budget allowed, it can be incredibly difficult to have a website built that is unique and tailored to meet your needs and requirements. If a website is poorly designed expanding your brand and fostering measurable growth is going to be a difficult task. You could have the best marketing tactics in place, but if users don't end up on a good website with the intention to convert, you won't generate any revenue."
Evidently, designing with a focus on consumer is the only way to actually turn your website into a profitable business resource. As suggested by Paley, this could be done in several ways:
"To overcome this challenge, partnering with a digital agency or website design firm is a reasonable solution. In addition to website design, they'll help you to develop a coherent strategy that will align your efforts with your marketing plan.
You'll start to understand the goals of your website, how your users can help you achieve those goals, and how other marketing channels will be incorporated with your site. One of the most important things that should be in place with your website design is a consistent brand presence – from your website all the way through to your various digital marketing channels. Partnering with a design firm can help you ensure that this is true for your brand."
Overcoming the gender challenge: myTab
myTab, an online travel gift card that takes the collective volume of crowd funding to a new ecommerce level is another inspiring idea whose development wasn't at all smooth.  Namely, their founder Heddi Cundle has gone through a lot of trouble to keep her idea alive, which is why she can give you some excellent pieces of advice. When we asked her whether she'd do anything differently now, she says:
"I'd do everything differently! Now you know the answers and can accelerate faster and more productively, no logical person would repeat the same mistakes. That's like saying you fell down a pot hole and sprained your ankle, yet now knowing the pot hole's there, you'd want to fall down it again?"
From this perspective, Cundle suggests a set of areas where she would make changes:
"Focusing on one of the most prominent areas I'd have done differently with myTab: I'd have not presumed customers would flock in droves, immediately understanding the powerful depth of what myTab is focusing on. They understood the gist of the business yet preferred the frustration of their existing pre-travel experience. Once I realized this, I started to accentuate myTab's attributes through promoting examples:
1) With saved and/or gifted travel funds, our customers spend 15 minutes from search-to-book versus non-myTab travelers who spend 9 hours frustratingly hunting for deals elsewhere;
2) Using our platform to plan group trips ensures no stressed team leader having to plan the trip and try recoup the costs from the group;
3) Only 70% of gift cards are redeemed per year in the US yet with myTab, over 98% of gifted cash is spent on trips.
4) The more you save & fundraise cash for trips, myTab negotiates exclusive deals with suppliers based on volume through our 'Match myCash' platform. By focusing on the cause and effect, this helped up to scale faster.
I learned to never presume that customers just 'get it.' They sometimes need to be heavily coached until the penny drops. " 
When it comes to challenges, Cundle points to a serious problem in the global startup scene. Namely, as a female entrepreneur, she had to go through some uncommon situations.
"Statistics have now been widely publicized that all male teams are 4 times more likely to get funding and only 7% of female execs were funded in the past year. Silicon Valley promotes an image of supporting pure innovation yet media coverage has correctly exposed them as a misogynistic boys club. Therefore, female entrepreneurs are instantly denied funding, by pure gender default.
With the Ellen Pao sexism lawsuit and data supporting that women are discriminated, this has provided the platform for more female founders to be justified in their frustration. Nevertheless, I truly believe that the more female entrepreneurs who take the bull by the horns and create a start up, the gender issues will eventually become diluted. It's not so much about breaking the glass ceiling, it's about smashing the foundation. Female founders simply need to accelerate in number and not be deterred by the abysmal statistics, or they will solely be responsible for failing in their own opportunities."
Your next steps…
One thing that should be clear to all the novice entrepreneurs is no ultimate schema that can turn your idea into an instant success. However, there are many useful lessons you can learn from those who already had a similar experience and apply them to your own strategies.