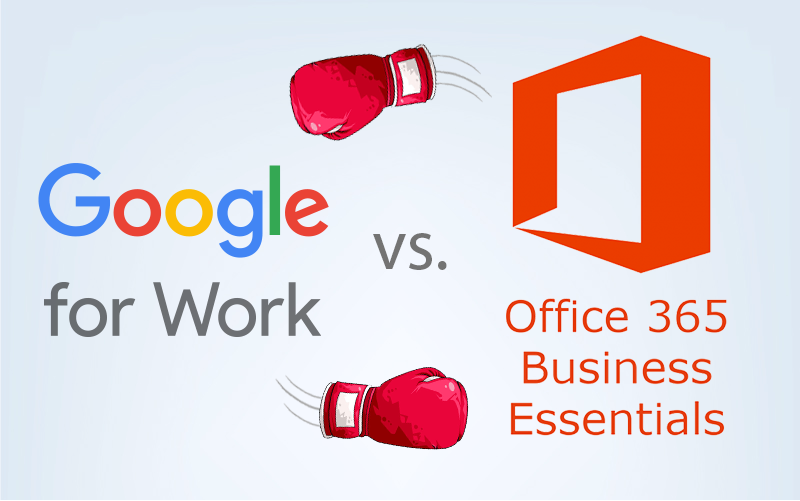 Google For Work vs. Microsoft 365
---
Ever wondered which email hosting platform is the best suited to your business? Let us enlighten you in this faceoff that could well save your business time, effort, and money in the long run.
Managed Google Apps
Product: Google Apps for Work
Price: $9.90/user/mo
Target market: Better targeted to those who work and collaborate together, regardless of their type of work — "Built for business, designed for teams."
Managed: Yes
Features:
Managed solution — Provides a suitable managed solution for both email hosting and most Google Apps for Work products
Online software suite:
No software needed — Nothing to download or install, just pure cloud computing
Custom business email addresses –([email protected])
Seamless online connectivity — Powered by Google's famously reliable servers. Automatic saving and backups keeps everything updated immediately, constantly.
Mobility — Work from anywhere, on any platform (desktop, mobile, tablet, etc.)
Lots of storage — 30GB of online storage for online storage and syncing
Great Support — 9am-5pm Phone and 24×7 email/ticket support
Solid security — Business-grade security and admin controls (Google Admin). This also includes Google's super spam protection.
Mobile-optimized apps — to work on-the-go, adjust admin settings, or voice and video calls
Microsoft sync-ability — sync emails to and from Google Mail and Outlook, as well as other mail clients such as Apple Mail and Mozilla Thunderbird, and sync events and contacts to and from Google Calendar and Microsoft Exchange and Outlook, as well as Apple's iCal.
Microsoft Office 365 for Business
Product: Office 365 Business Essentials
Price: $7/user/mo (yearly) or $8.40/user/mo (monthly)
Target market: Targeted to businesses, with "offices" — some people aren't in the situation to consider themselves businesses with offices
Managed: No
Features:
Online software suite:

Business-class emails and calendars (Microsoft Outlook)
Online video and voice conferencing, and instant messaging (Skype for Business)
Professional and collaborative documents, spreadsheets, and presentations (Microsoft Word, Excel, Powerpoint)
Online file manager (OneDrive for Business)
Professional web-based reports, presentations, newsletters, trainings, etc. (Sway)
Note-taking and organisation (OneNote)
User management (Active Directory)

Installed Software — Available options to use Microsoft desktop software suites already owned by the user
Mobility — Work from anywhere, on any platform (desktop, mobile, tablet, etc.)
Mobile-optimized apps — to bring your online experience on-the-go
Service reliability — 99.9% uptime guarantee
Corporate social network — private collaborative software for information sharing and communication among team members (Yammer, Office Delve)
Lots of storage — A whole 1TB per user for file sharing and syncing
World-class data security — five layers of security and proactive monitoring
Great support — 9am-5pm phone support (24×7 for critical cases), 24×7 email support
Verdict
A win from me for Managed Google Apps. Both software suites have similar features, but Google wins this race for the way in which it has designed, organised and presented its product.
Although Microsoft Office 365 has a few more apps in its suite, upon assessment, they seem confusing and irrelevant — there's Yammer which is a corporate social network app for team members, and then there's Office Delve with is a "search and discovery" app catering your business's information to you, on a social platform… And then you can make an Intranet site for your business? Google utilises collaboration directly in Hangouts, but it's also integrated throughout all of its apps.
Managed Google Apps is offered on one monthly plan, while Microsoft offers a monthly and yearly plan — the monthly option being cheaper, which is a shame.
Google recently rebranded from "Google Apps for Business", to "Google Apps for Work", saying, "we never set out to create a traditional 'enterprise' business–we wanted to create a new way of doing work. So the time has come for our name to catch up with our ambition." Whereas Microsoft are still targeting the "business" side of the market, instead rebranding from "Microsoft Office 365 for Small Business", to "Microsoft Office 365 Business Essentials". Not everyone who works has a business and/or office.
If you're interested in more info on the awesome Google Apps for Work, visit our blog article detailing the massive differences between the free Google Apps and the professional
Google Apps.
Or if you like the sound of our Managed Google Apps service, you can find more information on our website.